University of Miami Athletics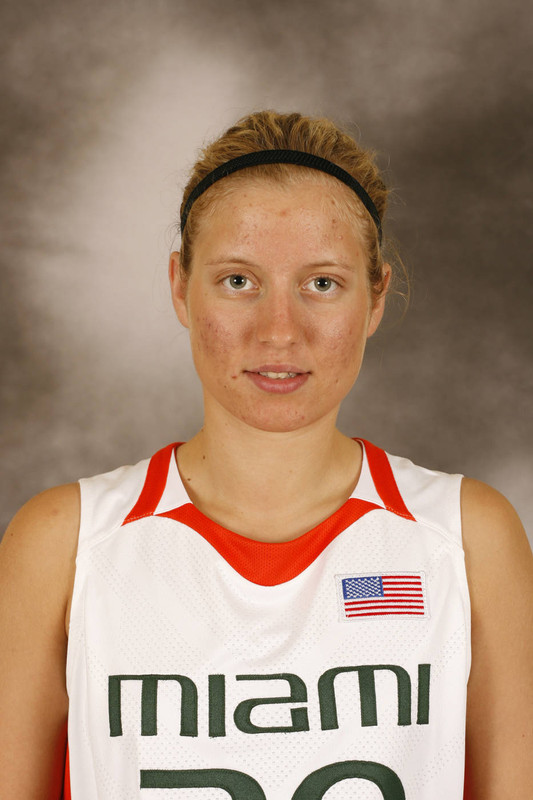 2007-08 (FRESHMAN)
Played in 15 games on the season… Averaged 2.0 points and 0.3 rebounds per game… Made first collegiate free-throws at Wisconsin-Milwaukee (11/28)… Recorded career-highs in points (12) and made three-pointers (4) versus Fordham (11/23)… Scored first collegiate points versus Michigan (11/19)… Recorded a block in season opener versus Florida Atlantic (11/9).
PRIOR TO MIAMI
As a senior, averaged 21.1 points, 4.7 rebounds and 2.7 assists per game for the Miller School in Charlottesville, Va., leading the Red Devils to a 22-2 record and the team's first berth in the Virginia Independent Schools Girls' Basketball Association (VISGBA) Division III State Championships… Scored a team-high 19 points in the finals en route to all-tournament team, first team all-state and Virginia Independent Schools Athletic Association (VISAA) Division III Player of the Year honors… The McDonald's All-America nominee also earned First Team All-Central Virginia and First Team All-Blue Ridge Conference accolades… As a junior in 2005-06, was named Blue Ridge Conference Player of the Year and first team all-conference and All-Central Virginia… As a sophomore in 2005-06, picked up first team all-state and All-Central Virginia honors for the first time… Also plays for the Lithuanian National Team, and competed with the fifth-placing Under-18 team at the 2006 European Championships in Tenerife, Spain, averaging 7.4 points, 2.3 rebounds and 2.0 assists over eight games–including highs of 16 points and six rebounds versus France… Also played volleyball and ran cross country at the Miller School.
PERSONAL
A business major who would like to play professional basketball… Has a younger brother… Also recruited by schools such as Penn State, Seton Hall and Wake Forest.