University of Miami Athletics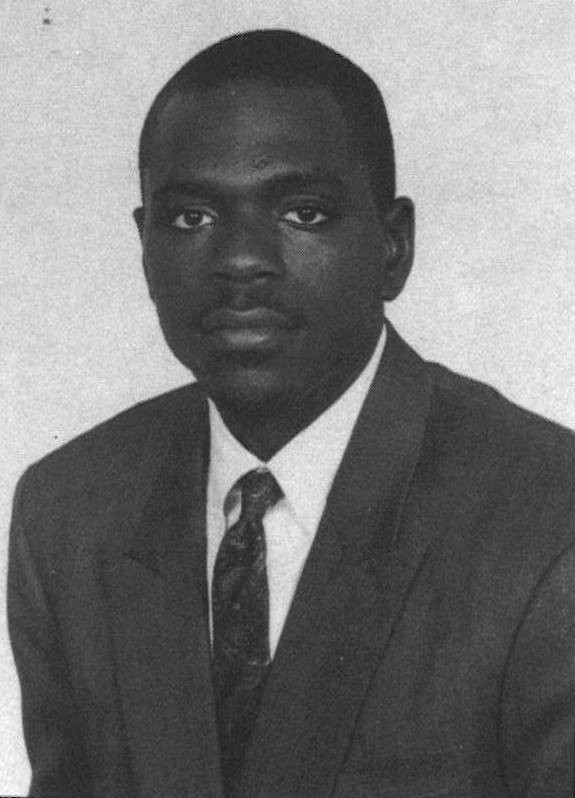 At Miami: Fourth-year senior who made impressive strides in his three years at Miami and has developed into a key player in the Hurricane offense…has an excellent three-point range and is strong enough to post up against a small forward…voted Miami's "most Improved Player" in '90-'91 while earning '89-'90 team honors with "Best Attitude Award"…sign a national letter of intent to attend Miami in the fall of 1988…was Hurricanes' first major recruit from the Miami area, paving the way for current teammates Ochiel Swaby and Steve Edwards.­ 
As a Junior (1991-92): Produced brilliant early and late-season stretches around mid-season slump…shot 47.4% from the field (99-209) and was second on the UM in scoring (8.8 ppg)…led Miami in three-point filed goal win over Maine at the San Juan Shootout and earned a spot on the all-tournament team (hit on 11 of 12 field goal, including two of two three-pointers while adding six rebounds and two steals)…dished out seven assists in season-opener vs. Barry…tallied nine points, including two of two three-pointers, and seven rebounds in the 'Canes' BIG EAST opener at UConn…sank two free throws, his only points on the night, with 9.1 seconds left to mark the final score in Miami's 45-42 win over St. John's 91/12)…left the UM squad on Jan. 19 due to personal reasons and missed four contests before returning to practice on Feb. 3…scored a team-high 20 points in Miami's 68-73 loss to Syracuse (2/29)…exploded for a personal-best 29 points in Miami's 90-82 OT loss to Seton Hall (3/4) on 12-of-19 field goals…recorded 24 points and a career-high nine rebounds vs. Providence (3/7)…continued his hot hand in the BIG EAST Tournament by collecting 25 points, seven rebounds, three assists, three steals and no turnovers in 39 minutes as Miami upset Pitt in the opening round…was the 'Canes' leading scorer (17) and rebounder (6) while playing all 40 minutes in second-round loss to Georgetown…averaged 21.7 ppg in the last six games of '91-'92. 
As a Sophomore (1990-91): Earned a starting position in the seventh game of the season and kept it the rest of the way to record 21 starts in 27 games…led the Hurricanes squad in both three-point field goal percentage (45.1%) and free throw percentage (80.6%)…first two starts of the season came vs. Miami (Ohio) and Mississippi State at the eastern Airlines Palm Beach Classic…vs. Miami (OH), played 49 minutes while recording 14 points, five rebounds and five assists…in win over MSU, led Miami with a season-high 24 points (10 of 13 field goals) in 37 minutes while pulling down a personal-best eight rebounds…had a career-high nine assists vs. Lehigh. 
As a Freshman (1989-90): Saw action in 27 of 28 contests, receiving the starting nod in two games…hit for 14 points, including 12 straight UM points, vs. Arizona…had 13 points, including three-of-three on three pointers vs. Washington…received his first starting job vs. Florida State and responded with a season-high 15 points, two rebounds, three assists, three steals, and a crucial three-point goal in the second overtime. 
High School: Is the all-time leading scorer at South Miami High with 2,643 career points…led Dade County in scoring three consecutive years…finished his senior campaign by averaging 29.2 points, 7.3 rebounds and 4.2 assists per game…finished third in the balloting for Florida's Mr. Basketball…an excellent student who was a member of his school's honor roll…coached in high school by Charles Funk. 
Personal: Enjoys music and reading in free time…full name is Trevor Morris Burton…major in business…born 9/11/71.
| | | | | | | | | | | | | | | | | |
| --- | --- | --- | --- | --- | --- | --- | --- | --- | --- | --- | --- | --- | --- | --- | --- | --- |
|   |   |   |   |   | 3-point |   |   |   | Rebounds |   |   |   |   |   |   |   |
| Year | GP-GS | MIN-AVG | FGM-FGA | FG% | FGM-FGA | FG% | FTM-FTA | FT% | OFF-DEF | TOT-AVG | AST | STL | BK | TO | PF-D | PTS-AVG |
| 89-90 | 27-2 | 298-11 | 51-126 | .405 | 9-22 | .409 | 10-15 | .667 | 13-28 | 41-1.5 | 20 | 9 | 4 | 15 | 19-0 | 12-4.5 |
| 90-91 | 27-21 | 803-30 | 115-242 | .475 | 23-51 | .451 | 50-62 | .806 | 32-44 | 76-2.8 | 75 | 29 | 13 | 67 | 59-2 | 303-11.2 |
| 91-92 | 26-18 | 572-22.0 | 85-181 | .470 | 1-42 | .405 | 43-66 | .652 | 35-44 | 79-3.0 | 46 | 13 | 2 | 46 | 47-0 | 230-8.8 |
| Totals | 1673-20.9 | 251-549 | 251-549 | .457 | 49-115 | .426 | 103-143 | .720 | 80-116 | 196-2.5 | 141 | 45 | 19 | 128 | 125-2 | 654-8.2 |