University of Miami Athletics
Tim Krebs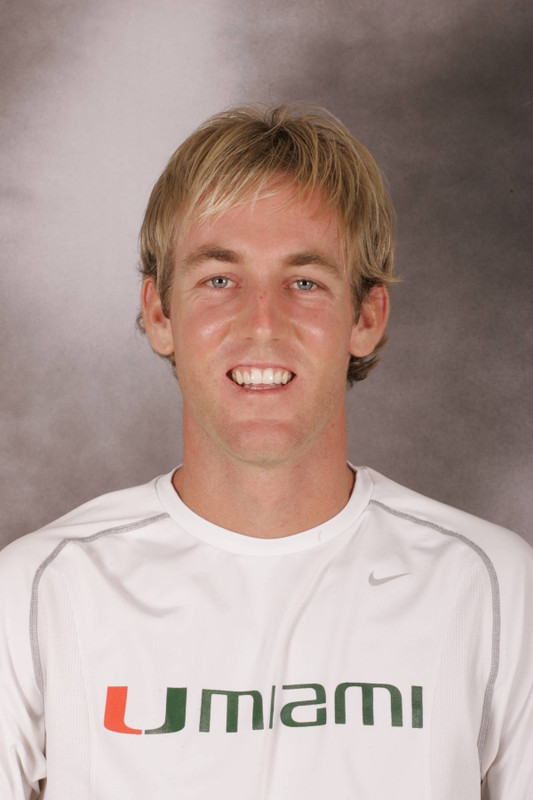 2004-05 (Junior):
Played mostly in the No. 2 posistion, but also saw action at the No. 1 and No. 3 spots as well… finished with a dual record of 12-8 including a 3-2 mark at No. 1 an 8-5 mark at No. 2… finished second on the team with 20 victories…defeated Jonathas Sucupira 3-6, 6-3, 6-2 of No. 22 Florida State in the No. 3 position…defeated Conor Taylor 6-1, 6-2 in a win over No. 46 North Carolina State in the No. 2 spot…was the lone point in against No. 3 Florida defeating No. 47 Greg Ouelette 6-3, 6-2… had a seven-match win streak including the win at Florida…with Vivek Subramanian had a 10 match doubles streak including wins over doubles teams at No. 53 North Carolina, No. 51 Georgia Tech, No. 36 Clemson, No. 23 Wake Forest, and No. 68 Virginia Tech…was leading ranked doubles team Jonas Berg and Ivan Lovrak of No. 11 Pepperdine when match was halted…paired with Subramanian, alternated between No.1 and No.2 doubles and had a 11-3 dual meet record, including 5-3 in the ACC…had an 8-2 record in the in the fall…had two separate four match win streaks…advanced to the round of 16 at the Crimson Tide Championships…advanced to the round of 64 in ITA Southeast Regional Championships… won all three matches at the Gator Invitational… in the fall along with Subramanian posted a 4-1 doubles record including a victory at the Crimson Tide Championships.
2003-04 (Sophomore):
Went 10-8 overall in singles play in dual matches…played primarily at No. 4 singles, going 6-3 overall…missed three matches due to an abdominal injury…went 0-2 in the No. 2 slot, 2-2 at No. 3, 1-0 at No. 5 and 1-1 at No. 6…opened the dual season with a win over Peter Oredsson, 6-4, 6-2 of No. 38 SMU…put together a streak of six straight matches with a win, downing oppents from Florida Atlantic, Florida A&M, Jacksonville, No. 63 Western Michigan, No. 43 Notre Dame and Central Florida…upended Barry King, 6-2, 6-3 of No. 43 Notre Dame…fell to No. 10 Ante Matijevic of 13th-ranked Texas A&M in a dramatic three set match in his first action of his career at the No. 2 spot…went 10-7 overall in doubles play in dual matches…along with teammate Colin Purcell, was ranked No. 41 in the nation in doubles in the ITA preseason polls…paired with Purcell to down the 36th-ranked tandem of Rafael Abreu and Fabrizio Sestini of No. 15 TCU…along with Purcell, downed No. 28 Alex Kasarov and David Hippee, 8-6…finished the fall singles season with an overall record of 8-4…took four consecutive victories to advance to fifth round of the Icy Hot/ITA All-American Championships before falling in three sets to Evghenli Corduneanu from Louisiana-Lafayette 0-6, 6-1, 6-3…recorded two wins at the Gator Invitational including a 7-6, 6-1 victory over No. 53 Paco Antelo from South Florida…paired with teammate Colin Purcell to go 8-4 in doubles in the fall…teamed with Purcell to down the No. 15 team of Paco Antelo and Renato Silveria from South Florida 8-5 at the Gator Invitational and downed No. 28 Scott Schnugg and Jose Maguruza from Georgia Tech 9-7 at the Icy Hot/ITA All-American Championships…along with Purcell, won three consecutive matches to sweep the field at the Miami Invitational.
2002-03 (Freshman):
In singles play, posted an overall record of 6-9, going 1-2 in dual matches and 5-7 in tournament play…downed Cristian Paiz of Florida Atlantic 6-3, 6-2 playing at the No. 3 slot to lead UM to a 7-0 sweep of the Owls…playing in the No. 6 spot fell to South Florida's Jorge Escallon 6-1, 6-1 and was forced to retire in the third set to Dartmouth's Raj Shresth…in doubles play, paired with teammate Andrew Golub for an overall record of 4-3…freshman season was unfortunately cut short due to season-ending ankle surgery.
Prep:
As a senior, state champion as a member of the Kronberg junior team…ranked No. 1 in Hessen…led team to a perfect 9-0 record…defeated No.2 player among youths in Germany (junior rankings) and No. 50 men's player (men's rankings)…as a junior, was ranked No. 1 in state of Hessen and No. 7 in Germany…undefeated as a junior…helped Kronberg team advance to state finals with an 8-0 record.
Personal:
Competed on scholastic soccer, basketball, and cross country teams…actively involved in student government…selected UM because of its "balance between academics and athletics (as well as its) location."…majoring in undecided business.