University of Miami Athletics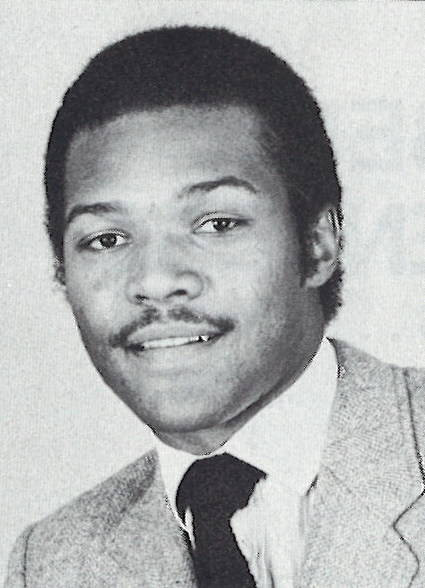 As a junior (1986-87)
Started 19 straight games at the power forward position (from early December to early February) until a wrist injury (vs. Florida State) forced him to miss six games…was the team's third leading rebounder with 120 (4.8 per game)…top overall outing was a 19-point, 10 rebound performance in a disappointing 63-55 loss to Winthrop; also hit on seven of seven throws that night…led the Hurricanes in the rebounding department in three games: North Carolina (11 rebs.), Winthrop (10), and Wisconsin-Green Bay (6)…notched doubled figure scoring totals in six games last year (all of those coming before January)…finished the year as the 'Canes No. 8 ranked scorer with a 6.2 points per game average…ranked second on the team in charges-taken with seven, and finished the year with nine dunks.
As a sophomore (1985-86)
Could not compete until the eight game of the season (UCLA) due to NCAA transfer rules…played in ten games before having to sit out the remainder of the year with a thumb injury that occurred in the first half of the Baptist game (a 71-60 Miami win on 1/23/86)…provided a visible impact in the limited time he played as a physical force underneath the basket…top individual outing came against Towson State when he scored 11 points and had nine assists from the center position…collected nine rebounds against Hofstra and pulled down eight key boards in Miami's stunning upset of Florida State (83-75)…anthough his playing time was limited, Dawson displayed his outstanding leaping ability by finishing third on the team in dunks (5) in only ten games…was an inspirational force on the bench during all 18 of the games in which he could not participate.
As a red shirt (1984-85)
Transferred to Miami in January of 1985 and spent the remainder of the year working out with the Miami "F Troop"…absorbed the majority of his mandatory one-year lay-off (NCAA transfer rule) during this year when Miami played no games.
As a freshman (1983-84)
Saw action in 25 games at George Washington while starting two contests…scored in double figures eight times, while averaging 7.3 points and 3.5 rebounds per game…ranked third on the team in rebounds (88), fourth in points (183), and fifth in minutes played (508)…top games came against Catholic (19, points, 7 rebs.), Rutgers (19 points, 3 rebs.) and Temple (15 points, 7 rebs)…ranked second on the team in total dunks (22) and blocked shots (37)…selected to the Atlantic 10 Conference's All Rookie Team.
High school
One of the most sought after forwards in the east…helped perennial powerhouse Dunbar High to a 59-0 record over two years and a game in final prep season en route to earning first team all-Metro honors from all three Baltimore daily newspapers…was also an honorable mention All-American pick by Street and Smith's, Basketball Weekly, and Blue Ribbon Magazine…never participated in a losing game in high school…coached by Bob Wade.
Personal
Full name is Timothy Dawson…earned Dean's list recognition last year as a criminal justice major…enjoys playing guitar…his photograph has appeared in two different Sports Illustrated feature stories…Tim's father, Ellis B. Dawson, is a Baptist minister in Baltimore. 
| | | | | | | | | | | | | | | | | | | | | | | | | | |
| --- | --- | --- | --- | --- | --- | --- | --- | --- | --- | --- | --- | --- | --- | --- | --- | --- | --- | --- | --- | --- | --- | --- | --- | --- | --- |
| Year  | GP | GS | Min | Avg | FG | FGA | Pct | 3FG | 3A | 3Pct | FT | FTA | Pct | Off | Def | Tot | Avg | PF | FO | A | TO | B | S | Pts | Avg |
| 1983-84* | 25 | 2 | 503 | 20 | 56 | 121 | .562 | – | – | – | 47 | 71 | .662 | – | – | 88 | 3.5 | 76 | 3 | 12 | 25 | 37 | 8 | 183 | 7.3 |
| 1985-86 | 10 | 4 | 179 | 18 | 22 | 46 | .478 | – | – | – | 10 | 19 | .526 | – | – | 38 | 3.8 | 28 | 2 | 12 | 18 | 8 | 2 | 54 | 5.4 |
| 1986-87  | 25 | 22 | 498 | 20 | 60 | 119 | .504 | – | – | – | 35 | 53 | .660 | 47 | 73 | 120 | 4.8 | 68 | 4 | 12 | 39 | 10 | 7 | 155 | 6.2 |
| TOTAL | 60 | 28 | 1180 | 20 | 138 | 286 | .482 | – | – | – | 92 | 143 | .643 | 47 | 73 | 246 | 4.1 | 172 | 9 | 36 | 82 | 55 | 17 | 392 | 6.5 |
*At George Washington University