University of Miami Athletics
Tatsuki Shimamoto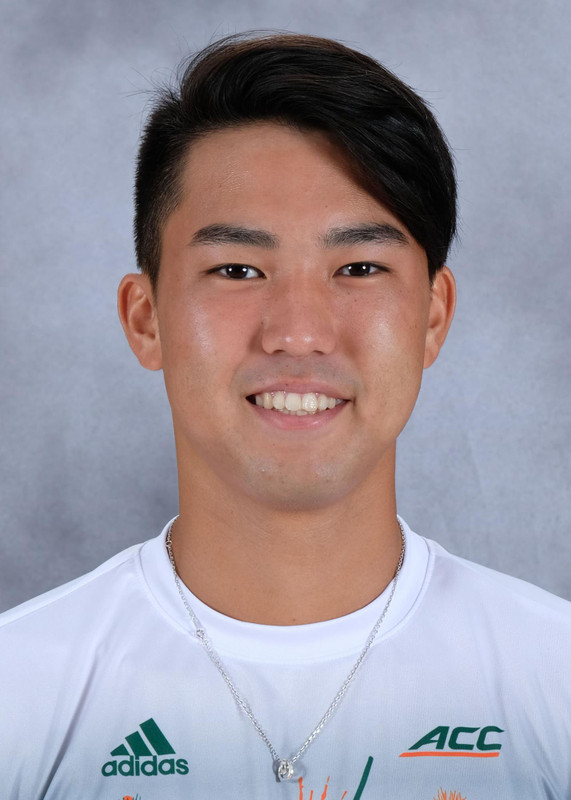 As a Freshman (2017-18)
Fall:  5-5 singles, 7-3 doubles … Partnered senior Nile Clark in the Doubles Gray draw triumph at the Rice Invitational (Sept. 29-Oct. 1) … the pair reached the quarterfinals of the Bedford Cup (Oct. 5-8) … helped Clark to an 8-4 success over Kennesaw State's Corey Smith and Harrison Wood in the opening round of the ITA Southeast Championships (Oct. 12-16) … earned three straight-set victories on his way to the Houndstooth Singles Draw title match at the CCB Collegiate Invitational (Nov. 10-12).
Spring:  4-8 singles, 1-4 doubles … Picked up his first spring singles victory in a comeback fashion against Georgia Southern's Carlos Garcia, 4-6, 7-5, 10-6 at the No. 6 position (Feb. 2) … gave Bucknell's No. 6 Max Garramone only three games in a 6-1, 6-2 win in Coral Gables (Feb. 11) … Earned a victory in singles against Charleston's No. 6, 6-1, 6-3 ( Feb. 23) … defeated Brenden Volk of William & Mary (March 11) in straight sets … continued his doubles partnership with Clark from the fall, playing all three positions in the spring … Earned his first career doubles victory alongside fellow freshman Pablo Aycart, defeating No. 1 Wake Forest's No. 3 pair, Julian Zlobinsky and Ian Dempster, 6-3 (March 23).
Juniors
A native of Japan, Shimamoto has reached as high as No. 363 in the ITF junior world rankings. In July of 2016, won the finals of the ITF junior event, Copa Horizontes De La Amistad in Cuba. Earned four victories in the ITF junior event, VIII Copa Mangu in Dominican Republic, to reach the semifinals of the main draw.