University of Miami Athletics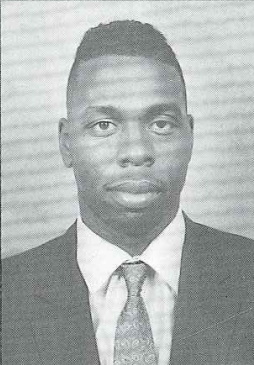 At Miami
Fourth-year senior who transferred to Miami from Wake Forest in January of 1993 in order to return home…is an aggressive post player who provides the Hurricanes with needed muscle on the boards…should be fully recovered from the stress fracture in his lower right leg that caused him to miss three games and hampered him the entire 1994-95 season and a stress fracture in his left leg suffered in June…enters the season ranked 10th on UM's all-time blocked shots list.
As a Junior (1994-95)
Appeared in 25 games and started the first three games at center…missed three games (Dec. 6-20) and was slowed all season by a stress fracture in his lower right leg (suffered in the season-opener vs. Northeastern Illinois) and tendinitis in his left knee…finished second on the team in blocks (17) and dunks (17), third in offensive rebounds (56) and fourth in total rebounds (122)…scored in double figures seven times including five times in the last 11 contests converted 30-46 (.652) from the floor in the final nine games…led the team in rebounds on seven occasions and scoring three times…finished the season converting 34 of his final 44 free throw attempts (.773), after he began shooting one-handed, prior to the switch he connected on only nine of his first 19 attempts (.474)…scored a team and season-high 19 points (7-10 FGs) against Pittsburgh (Feb. 28)…his three-point play with 29.9 seconds left in regulation pulled UM within one vs. Pitt in a game they would later win in overtime despite trailing by five in the final minute of regulation…totaled 13 points, all in the second half or overtime, at Boston College (Feb. 25) and his 10-foot jumper with 14.6 seconds left in regulation sent the game into overtime…scored 18 points in the Canes' nationally televised victory at St. John's (Jan. 11)…ad a key block of a Felipe Lopez shot with 29 seconds left, grabbed the rebound and was fouled with 26 seconds left…hit one free throw to give UM a four-point lead and help secure its first BIG EAST road victory…grabbed a team and season-high 12 rebounds in UM's NIT game at Penn State (March 15)…recorded his third career double-double with 16 points and a team-high 11 rebounds in the season-opener against Northeastern Illinois (Nov. 25)…ISREAL TOUR: Made the trip but did not play after suffering a strained knee while running in the summer.
As a Sophomore (1993-94)
Saw action in 21 games and starts 13 of the Canes' final 14 contests despite being hampered with severe ligament damage to his right hand…was averaging 15 points and 8.8 rebounds before suffering the injury…finished second on the Canes in rebound average (5.1 rpg)…in BIG EAST games he led UM in field goal percentage (.455) and ranked second in rebounds (4.5 rpg) and blocked shots (13)…led the Canes in scoring twice and in rebounds in six games…made his UM debut with six points and six rebounds in 16 minutes at Buffalo (Dec. 19)…followed with a 25-point, 10 rebound performance in 31 minutes at Syracuse (Dec. 22)…established career-highs in points, field goals made (11) and field goals attempted (15) in the Syracuse game…led UM in both points and rebounds while recording his first double-double…scored a team-high 15 points vs. Wagner (Dec. 29)…tallied 14 points and a game-high 13 rebounds in UM's win at Florida Atlantic (Jan. 4)…grabbed a game-high 10 rebounds vs. Boston College (Feb. 16).
As a Freshman at Wake Forest (1992-1993)
Appeared in 12 games and drew a starting assignment in his final game as a Demon Deacon, Jan. 16 at Maryland…scored five points and grabbed a season-high seven rebounds in 16 minutes against Winthrop (Jan. 7)…had five rebounds in six minutes vs. Rhode Island (Dec. 15) and five points and five rebounds in 18 minutes vs. Lafayette (Dec. 30).
High School: Cardinal Gibbons High School in Fort Lauderdale…was a four-year letter winner and a three-year starter at center…led his team to a 23-6 record and the regional finals as a junior while averaging 23 points and 15 rebounds…averaged 21.9 points, 15.9 rebounds and 5.6 blocks as a senior and garnered all-state and all-county honors for the second year in a row…his senior year team captured the district championship…started on a fulltime basis as a sophomore and averaged 16 points and 12 rebounds…was the top rebounder at the prestigious Nike summer camp in 1991…coached by Mark Wilson.
Personal: Majoring in business…full name is Stephen Terrell Rich…born December 5, 1972 in St. Petersburg, FL…parents are Richard and Patricia Middleton…nickname is "Beast"…enjoys dancing and playing pool in his free time.