University of Miami Athletics
Sofia Sewing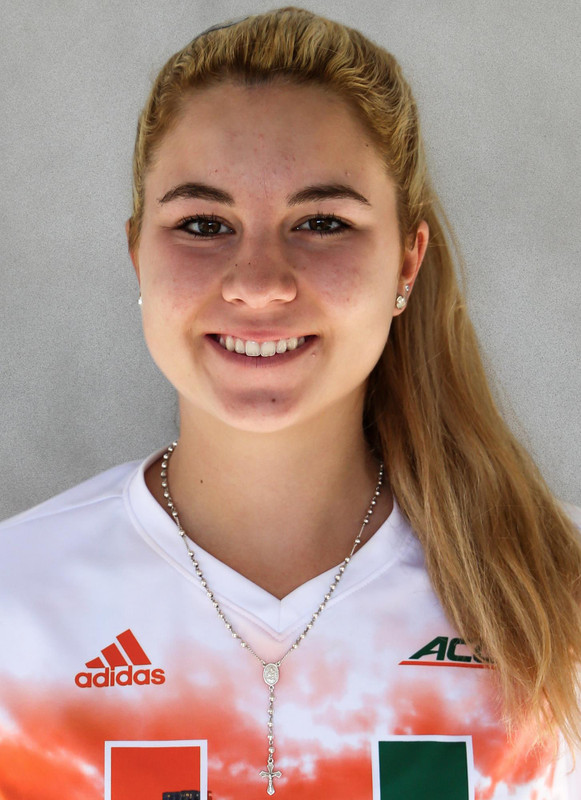 As a Freshman (2017-18): ITA Scholar-Athlete
Enrolled at Miami for the spring semester … Missed most of the season due to injury … Went 1-3 in singles matches and 0-2 in doubles outings … Tallied a 6-0, 4-6, 6-1 triumph against Julia Mikulski of No. 16 Florida State in her first-career singles match … Played with two doubles partners, opening with Ulyana Shirokova for an unfinished decision at No. 31 against Constanza Gorches and Daniela Ruiz in her first collegiate match … Played three matches with Estela Perez-Somarriba, all at the top spot against ranked pairs, logging two results, each a defeat versus a top-five foe.
Prior to College: Ascended as high as ninth in the ITF Juniors rankings on Sept. 4, 2017 … Ended 2017 ranked No. 23 internationally … Listed as the third-best prospect in the nation in the class of 2017 by Tennis Recruiting Network … Made the singles title match at a $15,000 tournament in Guayaquil, Ecuador, in her final tournament before enrolling at Miami … In December 2017, at a $15,000 event in Manta, Ecuador, she won the doubles title and reached the singles quarterfinals … Reached the quarterfinals of a $15,000 singles event in Hilton Head, S.C., in October 2017 … In July 2017, in her second grass tournament, advanced to the Wimbledon Juniors singles quarterfinals and doubles semifinals … Played in Roland Garros Junior French Championships in June 2017 … Won multiple doubles titles, reached multiple singles semifinals in 2017 … Won a Grade 1 tournament in College Park, Md., in August 2016 … Made a doubles final at a $10,000 tournament, in Bethany Beach, Del., in June 2016 … Logged her first ITF Pro Circuit victory in March 2016 at a $10,000 event in Orlando, Fla. … Won the singles and doubles titles at Eddie Herr International Championships in Bradenton, Fla., at the U-16 level in 2015 … Reached the second round of the qualifying draw of the U.S. Open Juniors in September 2015 … Earned a quarterfinal berth at the U-16 Junior Orange Bowl in December 2014, shortly after sweeping the championships at Eddie Herr at the U-14 level … First tournament final berth came at a Grade 5 event in Cuba in July 2013 and won the singles and doubles crowns at a Grade 4 competition in Mexico soon after … Began her ITF Juniors career in September 2012 at age 13, advancing to the quarterfinals in each her first four tournaments.
Personal: Full name is Sofia Catalina Sewing … Last name is pronounced SOO-Ing … Nicknames are Sof and Sofi … Born July 22, 1999 … Parents are Christian Sewing and Karen Graham Sewing … Father is a massage/physical therapist and mother works for the Miami-Dade County Public Schools … Has a younger sister, Victoria … Grandfather, Peter Graham, also attended Miami … Intends to major in sport administration … Career goal is to be a professional tennis player … Enjoys reading books and marine science … Favorite athlete is Roger Federer because of his class, sportsmanship and level of play … Best sports memory is playing Wimbledon Juniors … Chose Miami because of its proximity to home, her love for the school and it being the best choice for her tennis-wise … Committed to Miami over Duke, Georgia, Pepperdine and many others.
 SINGLES
YEAR
TOTAL
FALL
SPRING
DUAL
ACC
*RNK
2017-18
1-3
0-0
1-3
1-3
1-3
0-1
CAREER
1-3
0-0
1-3
1-3
1-3
0-1
DOUBLES
YEAR
TOTAL
FALL
SPRING
DUAL
ACC
*RNK
2017-18
0-2
0-0
0-2
0-2
0-2
0-2
CAREER
0-2
0-0
0-2
0-2
0-2
0-2
*RNK = record vs. ranked opponents