University of Miami Athletics
Sharon Danquah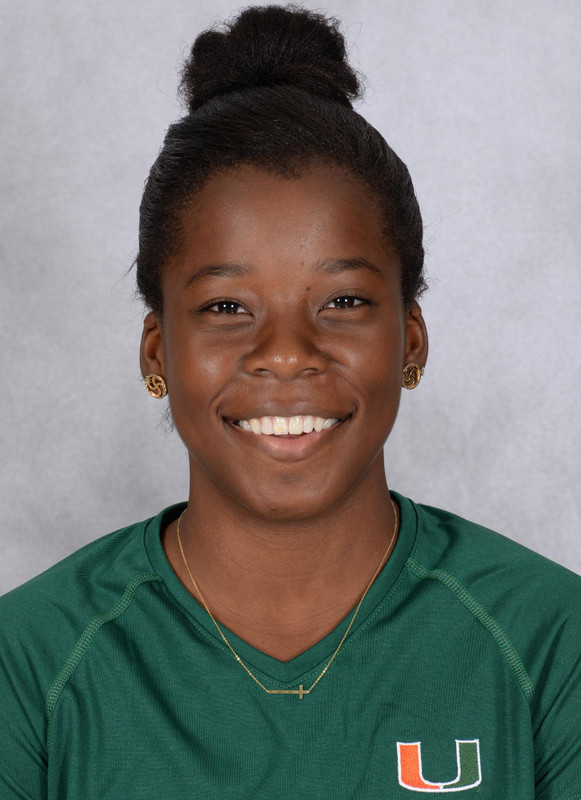 As a Junior (2017-18): ITA Scholar-Athlete
Tallied overall records of 1-2 in singles and 0-3 in doubles … Went 1-1 in spring singles competition, with both outings coming during the season-opening Miami Spring Invite … Topped Ohio State's Hannah Cseplo, 6-2, 6-1, for her first victory as a Hurricane … Partnered with Sara Culbertson for all three of her doubles matches, each taking place in the Miami Fall Invite.
As a Sophomore at Illinois-Springfield (2016-17): Tallied overall records of 8-12 in singles and 10-12 in doubles … Finished 7-10 in dual match singles play, with all but three results at the No. 2 spot … Began the season with a 6-1, 6-1 win against Brianna Dao of Illinois Wesleyan … Edged Marisa Thome, 6-4, 6-3, at Truman State … Earned a 6-0, 6-1 victory over Vanessa Olson at St. Joseph's (IN) … Defeated Missouri Baptist's Ashley Bonine, 6-2, 6-1 … Concluded the year 9-10 in doubles play in dual matches, all with the same partner at the No. 1 position … Opened the season by topping Brianna Dao/Gail Mar of Illinois Wesleyan, 8-0 … Recorded an 8-0 win versus Elizabeth Clayton/Katie Laughlin at Kentucky Wesleyan … Posted an 8-2 triumph over Lauren Huddlestun/Becca Richison at William Jewell … Started conference play with an 8-6 defeat of Southern Indiana's Kelsey Shipman/Brenna Wu … Earned her final doubles victory with the Prairie Stars by topping Mary Huffine/Assya Trimari, 8-4, at St. Joseph's (IN).
As a Freshman at Illinois-Springfield (2015-16): Posted overall marks of 15-14 in singles and 12-16 in doubles … Went 12-11 in dual matches singles action with all but two matches at the No. 2 position … Topped Illinois Wesleyan's Brianna Dao, 6-0, 6-1, in the first match of her career … Went 2-1 at the QU Tournament … Logged a perfect 6-0, 6-0 win at Lindenwood-Belleville against Teah Flynn … Downed Oakland City's Ashley Forbes, 6-0, 6-1 … In her second match playing No. 1, beat Missouri Baptist's Krista Tyson, 6-1, 6-1 … Registered an unblemished 6-0, 6-0 triumph over Nikki Steiner of Lewis & Clark … Earned her first conference victory by defeating Janelle Fung, 6-3, 6-1, at McKendree … Downed Tate Hickey of St. Joseph's (IN), 6-1, 6-0 … Recorded a 6-0, 6-0 victory against Blackburn's Samantha Brown … With three different partners, notched an 11-14 mark in dual match doubles play, posting 13 results at the No. 1 spot … In her opening match, registered an 8-0 win at the top position versus Illinois Wesleyan's Dana Dray/Randi Wilson … In her first true road outing, defeated Lindenwood-Belleville's Teah Flynn/Teadorah Sandic, 8-2, at the No. 1 spot … Registered her first conference victory, 8-6, at McKendree against Jessica Gaither/Charlee Goodman … At Illinois College, notched an 8-0 victory over Kitty Justice/Kathryn Ryan at the No. 1 position … Tallied an 8-0 triumph versus Megan Camp/Mediha Husejnovic at Fontbonne … Beat Samantha Brown/Elizabeth Orr of Blackburn, 8-0.
Prior to College: Graduated from Lakota West High School … Three-year varsity letter winner … Named team MVP each of her final two years, playing the No. 1 singles position in both campaigns … Qualified for the Ohio district tournament her last two seasons … Sectional runner-up as a senior, finishing with a 16-10 record … Logged an 18-8 mark and won the sectional title as a junior … Did not play as a sophomore, instead competing in tournaments … Concluded her freshman season playing No. 3 singles … Member of the honor roll as a sophomore, junior and senior … Ryan Kelly of the Indianapolis Colts, Jordan Hicks of the Philadelphia Eagles, Jacob May of the Chicago White Sox and former NFL fullback John Conner also attended Lakota West.
Personal: Full name is Sharon Owusu Danquah … Last name is pronounce DAN-Kwuh … Born June 15, 1997 … Parents are William and Patience Danquah … Mother owns a business … Has an older brother, Rudi, and a younger sister, Sasha … Intends to major in broadcast journalism … Career goal is to be a sports anchor … Enjoys painting, photography, public speaking and doing ceramics … Favorite athletes are Serena Williams and LeBron James … Best sports memory is a straight-set win in her first high school tennis match … Chose Miami to pursue a quality broadcast journalism degree and play tennis for the Hurricanes.
 SINGLES
YEAR
TOTAL
FALL
SPRING
DUAL
CONF
*RNK
2015-16!
15-14
8-3^
7-11
12-11
2-4
0-0
2016-17!
8-12
4-3^
4-9
7-10
3-3
0-0
2016-17!
1-2
0-1
1-1
0-0
0-0
0-0
CAREER
24-28
12-7^
12-21
19-21
5-7
0-0
DOUBLES
YEAR
TOTAL
FALL
SPRING
DUAL
CONF
*RNK
2015-16!
12-16
5-3^
7-13
11-14
2-4
0-0
2016-17!
10-12
5-3^
5-9
9-10
3-3
0-0
2016-17!
0-3
0-3
0-0
0-0
0-0
0-0
CAREER
22-31
10-9^
12-22
20-24
5-7
0-0
! = at the University of Illinois-Springfield
^ = includes dual matches
*RNK = record vs. ranked opponents