University of Miami Athletics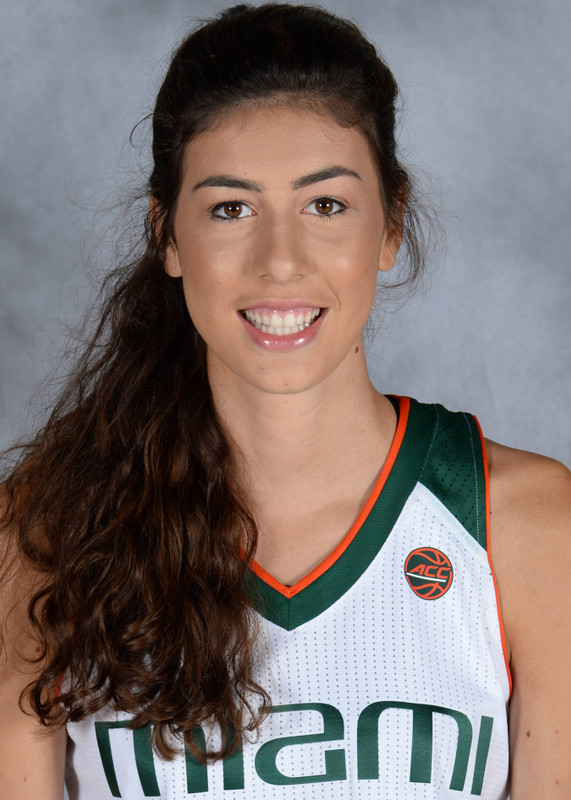 As a Sophomore (2017-18): Played in 27 of 32 games, including each of the first 13 … Averaged 2.7 points, 2.1 rebounds and 0.9 blocks in 8.7 minutes per game … Placed third on the team in blocks (0.9) and third (no min.) in field goal percentage (49.2) … Notched multiple blocks seven times, including six times in the first 13 games, with three-plus on four occasions … Tied for the team lead in most single-game blocked shots with four … Led or co-led Miami in blocked shots nine times … Paced all players with two blocks in the season opener versus FIU (11/10) … Set career highs in blocks (game-high four), free throws made (three) and free-throw attempts (four) against Vermont (11/12), making both her field goal attempts and totaling seven points in a then-career-best 18 minutes … Grabbed four rebounds at Colorado (11/18) … Notched six points against New Orleans (11/21) … Registered six points on 3-of-4 shooting versus Maine (11/24) … Logged her first-career assist against No. 15/15 Maryland (11/26) … Posted a team-best two blocks, plus made both her free throws and tallied five boards, versus St. John's (12/3) … Scored a career-best eight points on a career-high four made field goals, as well as set then-career highs in rebounds (seven) and minutes (19) while leading all players with three blocks against Alabama State (12/15) … Set or tied career highs in points (eight), made field goals (four), rebounds (eight) and minutes (20) versus Sacramento State (12/18), also logging three blocks … Against Southern Illinois (12/20), notched multiple steals for the first time … Recorded a game-best three blocked shots against Bethune-Cookman (12/28), reaching that total for the third time in four outings, and tallied a career-high-tying two steals … In the win at Boston College (1/21), matched her top career mark with two steals and set a career high in ACC play with 17 minutes of action … Shot 3-of-4 and finished with six points, four rebounds and a co-game-high two blocks in the win over Pittsburgh (2/15).
As a Freshman (2016-17): Played in 12 games and ended the year with 17 points, 16 rebounds and four blocked shots … Shot 53.8 percent from the floor, connecing on seven of her 13 field goal attempts … Made all three of her free throws … Debuted with a co-season-high three rebounds and one blocked shot against Albany (11/13) … Notched her first three points, plus two rebounds, versus Grambling State (11/25) in her first home appearance … Logged two points and two rebounds in a season-high eight minutes against Coppin State (12/19) … Had two points and one rebound at Pittsburgh (1/2) in her first ACC action … Scored a season-best four points and pulled down a pair of rebounds at RV/No. 24 Syracuse (1/22) … Recorded two points and season-high-tying three boards against Clemson (2/12).
High School/Prior to Miami: Graduated from KA Redingenhof Leuven … Ranked by ProspectsNation.com as a four-star recruit and the No. 18 international player in her class, including fifth among post players … Averaged 8.1 points and 8.3 rebounds per game at the U20 FIBA European Championship Division A in July 2016 … Tallied 10.2 points, 8.1 rebounds and 2.1 blocks per contest at the FIBA U18 European Championship Division A in August 2015 … Led all players in the event in blocks per game and single-game blocks (five), plus ranked ninth in defensive rebounds per contest (5.9) … Notched 8.7 points and 6.1 rebounds a game at the FIBA U19 World Championship in July 2015 … Averaged 10.8 points, 6.8 rebounds and 3.8 blocks an outing at the FIBA U16 European Championship Division A in July 2013 … Logged two double-doubles in the tournament, led all players in blocks per game and single-game blocks (10), as well as finished fourth in field goal percentage (45.7) … Also played in three other FIBA tournaments with Belgium from 2012-16 for a total of seven … Participated in the EuroCup with the Lotto Young Cats in both 2014 and 2015 … Soccer player Dries Mertens of the Belgian Men's National Team and former Alabama men's basketball player Retin Obasohan also attended KA Redingenhof Leuven.
Personal: Full name is Serena-Lynn Petra G Geldof … The "G" in her middle name is for her godfather, whose name is Guy … Goes by Serena … Born March 2, 1997 … Parents are Paul Covemaecker and Sandra Geldof … Father is a mechanist and mother is a physiotherapist … Has an older stepbrother, Vic … Intends to major in forensic science … Career goal is to be a forensic scientist for the police … Enjoys swimming, lifeguarding and reading … Favorite athletes are Ann Wauters and Emma Meesseman because they are Belgian centers who played in the WNBA … Best sports memory is winning a tournament in Vienna … Chose Miami because of the coaching staff, the vibe of the team and Katie Meier's familiarity with playing overseas … Committed to Miami over Illinois.