University of Miami Athletics
Selma Cadar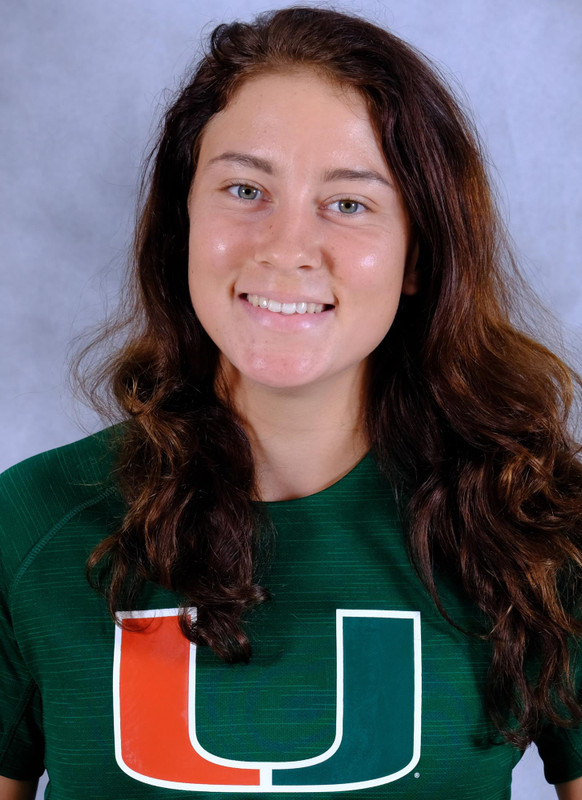 As a Second-Year Freshman (2020-21): No fall season due to COVID-19 pandemic … Opened the spring ranked No. 102 nationally in singles … Went 0-2 in singles competition, with one match at the No. 2 spot and the other at the No. 4 position … Earned a victory in her lone doubles outing, partnering with Isabella Pfennig for a 6-1 victory at the No. 3 spot against Radka Buzkova/Katerina Filip at Florida Atlantic.
As a Freshman (2019-20): Spring season cut short due to COVID-19 pandemic … Finished 14-11 in singles and 11-11 in doubles … Ascended as high as No. 69 in the ITA singles rankings and held the No. 102 spot when play stopped … Peaked at No. 53, alongside Daevenia Achong, on the doubles list, and sat at No. 74 when the season halted … Tallied a 4-7 mark against ranked singles players, good for the third-most victories amongst Hurricanes … Went 2-2 versus ranked doubles foes, tying for the team lead in such wins … Co-led Miami in overall doubles wins and placed third in both singles triumphs and combined singles/doubles victories (25) … Completed the spring with a 7-3 record in singles play, going 6-2 in dual matches, 4-1 in ACC play and 2-2 versus ranked foes … Primarily competed at the No. 3 spot … Went 1-1 in the Miami Spring Invite, topping No. 10 Vanderbilt's Emma Kurtz, 6-4, 6-3, for her first spring singles win … Notched a 6-4, 6-4 victory over UC Santa Barbara's Shakhnoza Khatamova in the ITA Kick-Off Weekend action for her first dual match singles triumph … Earned her first ACC decision by downing No. 93 Gia Cohen, 6-4, 6-3, in Miami's win at No. 17 Georgia Tech … Registered a 4-6, 6-3, 1-0 (10-8) triumph against No. 86 Nandini Das of fourth-ranked Florida State … Totaled a 6-7 ledger in spring doubles matches, finishing 4-6 in dual matches, including 1-4 in ACC outings … Went 2-2 against ranked pairs, with both wins over top-20 opponents … Split results evenly across the top two positions and played with four partners … Finished 2-1 at the Miami Spring Invite, including partnering with Achong for her first spring doubles win and first ranked doubles win, a 6-2 result against No. 12 Georgia Drummy/Christina Rosca of No. 10 Vanderbilt … Earned her first dual match doubles triumph, alongside Maya Tahan, by downing No. 20 Jessica Anzo/Lucia Quiterio of No. 18 Texas A&M in ITA Kick-Off Weekend action … Competing with Nada Dimovska at the top spot, tallied a 6-2 victory against Tennessee State's Aarushi Kakkar/Claudia Sole … Back with Achong, downed Camerona Morra/Elizabeth Scotty of top-ranked North Carolina, 6-2 … Playing at the top position, defeated Natalia Boltinskaya/Louie McLelland of Florida Atlantic, 6-3 … Recorded a 7-8 mark in fall singles action, including a 2-5 mark versus ranked players … Finished 4-1 at the Milwaukee Tennis Classic to begin her career, advancing to the semifinals … Topped Eastern Illinois' Christine Gouws, 7-5, 6-3, in her first collegiate match and defeated No. 82 Martina Capurro of Oklahoma, 2-6, 6-4, 6-3, in the Round of 16 for her first ranked triumph … Went 2-3 at the USTA Fall Ranked Spotlight, playing four ranked foes, earning a 7-5, 5-7, 6-2 decision against No. 23 McCartney Kessler of Florida and a 6-4, 6-4 result versus Tennessee's Tenika McGiffin … Totaled a 5-4 record in fall doubles matches, playing with two partners … Split her matches, alongside Yuna Ito, at the USTA Fall Ranked Spotlight, beating Isabelle Boulais/Irina Cantos for her first doubles win … With Achong, went 2-1 at the ITA Southeast Regional Championship to reach the quarterfinals … Tallied a 2-1 ledger at the Texas Invitational, including downing Texas' Fernanda Labaraña/Mara Perez Mur, 7-6 (7-5).
Prior to College: Ascended as high as No. 36 in the ITF Juniors singles rankings in October 2018 … Logged 10 WTA singles victories, including eight against foes who have earned an international ranking … Reached the semifinals of a $15K tournament in her hometown of Bucharest, Romania, in August 2018 after topping three straight ranked players … Recorded 10 WTA doubles triumphs … Made the semifinals of four $15K events, advancing to two finales and winning a title in Cairo in December 2018 … Won multiple Romanian national titles and earned the country's top ranking at the U14, U16 and U18 levels … Reached the second round of the 2018 US Open Junior Championships in both singles and doubles … Won the doubles title at the 2015 U16 Eddie Herr International Junior Championship and advanced to the doubles semifinals of the 2017 U18 Junior Orange Bowl, both in Florida … Claimed two Grade 2 doubles crowns, one Grade 1 doubles title, a Grade 3 singles championship and a Grade 1 singles title … Earned a silver medal in doubles and a bronze medal in singles at the 2015 European Youth Festival in Georgia … Garnered the Romanian Tennis Federation's Junior of the Year distinction in 2018 … Led her high school to three Romanian national championships … Simona Halep, Andrei Pavel and Horia Tecau also attended Liceul cu Program Sportiv Nicolae Rotaru.
Personal: Full name Selma Stefania Cadar … Last name is pronounced Kuh-DARR … Born April 27, 2000 … Parents are Turugai and Luiza Cadar … Father is a sailor … Has an older sister, Adnana … Major is undecided … Favorite athletes are Roger Federer and Dominika Cibulkova … Best sports memory is winning her first Grade 1 singles crown in Berlin in July 2018 … Finished second in her class academically in 2019 and 2018 after placing first in 2017 … Won a national poetry contest in 2018 … Chose Miami because of her connection with the players and coaches … Committed to Miami over South Carolina, Texas, Texas Tech and Vanderbilt.
 SINGLES
YEAR
TOTAL
FALL
SPRING
DUAL
ACC
*RNK
2019-20
14-11
7-8
7-3
6-2
4-1
4-7
2020-21
0-2
N/A
0-2
0-2
0-0
0-0
CAREER
14-13
7-8
7-5
6-4
4-1
4-7
DOUBLES
YEAR
TOTAL
FALL
SPRING
DUAL
ACC
*RNK
2019-20
11-11
5-4
6-7
4-6
1-4
2-2
2020-21
1-0
N/A
1-0
1-0
0-0
0-0
CAREER
12-11
5-4
7-7
5-6
1-4
2-2
*RNK = record vs. ranked opponents
No fall season in 2020-21 due to COVID-19 pandemic