University of Miami Athletics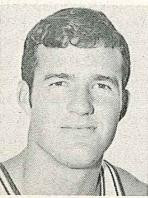 As a Sophomore (1970-71): Moved up to varsity.
As a Freshman (1969-70): Averaged 12.8 points per games… Recorded 35 percent on field goals and 65 percent from the free throw line.
 Personal: From Phoenix, Arizona… Was All-City, All-Academic, All-Valley, and All-State in high school… High school coach was Will Nobley. 
 
Year
GP
GS
Min
Avg
FG
FGA
Pct
3FG
3A
3Pct
FT
FTA
Pct
Off
Def
Tot
Avg
PF
FO
A
TO
B
S
Pts
Avg
 1969
5 
 
 
 
 2
 5
 .400
 
 
 
 1
 2
 .500
 
 
 
 
 
 2
 
 
 
 
5 
1.0