University of Miami Athletics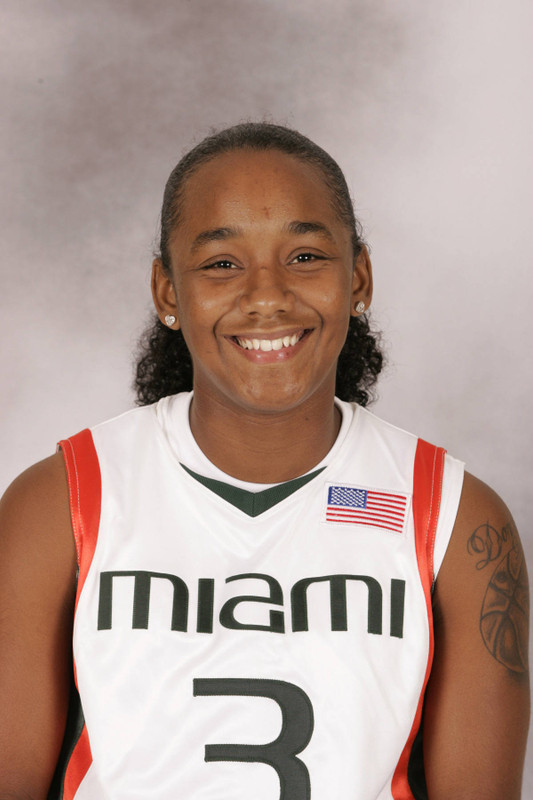 2006-07 (Senior):
An All-ACC Second Team pick after leading the league in both scoring (18.6 ppg) and free throw percentage (84.3)… Also ranked among the ACC's leaders in three-point field goals per game (2.3) and three-point field goal percentage (31.3)… After scoring in double figures in 53 of 60 career games at Miami – including 28 of 30 games this season – she became just the sixth Hurricane to break the 1,000-point plateau in her first two seasons and wrapped up her two-year Miami career with 1,025 points to rank 19th among UM's all-time scoring leaders… Set a school record with 42-point performance at Houston on (12/19), and tied the school record with seven three-pointers in that game… Sank five three-pointers versus Georgia Tech (2/15), and hit three-or-more 12 times this season… Finishes her collegiate career as the `Canes' most efficient free throw shooter, converting 84 percent from the line, and is fourth in three-point field goals made with 118 in just two seasons… Among approximately 40 top global prospects invited to the 2007 WNBA Pre-Draft Camp.
2005-06 (Junior):
Earned All-ACC Honorable Mention honors…Playing in all 30 games while starting all but one, Taylor finished sixth in the ACC and second on the team in scoring with 15.6 points per game…Despite being the ACC's smallest player at 5-foot-2, she finished second in the ACC in free throw percentage (.836), third in steals per game (2.37) and 10th in assists per game (3.83)…Averaged 17.0 points per game in ACC play…Her 83.6 percent free throw percentage on 112-of-156 attempts ranks second among UM's all-time single-season leaders…Hit 49 three-pointers, marking eighth-highest single season total in UM history…Her 150 three-point attempts marks the fourth highest total in school history…On two separate occasions (NC State, UCF) set the second-highest single game total for three-point field goal percentage, connecting on 5-of-6 attempts from the line…Against Virginia (1/22) became just the seventh player in UM history to hit at least 10-of-10 free throw attempts in a game…Recorded 27 field goal attempts – the seventh-most in school history – against Maryalnd (2/1)…Scored 20 or more points nine times…Scored a career-high 29 points on the road against NC State (1/26)…In just the second game of her UM career, she scored 22 points with five rebounds, four steals and four assists…Recorded a career-best seven steals in a win over No. 21 Boston College (1/19).
Prior to Miami:
As one of the nation's top players in junior college, led the country in scoring with 30 point per game at Monroe Community College in 2004-05 season…Helped lead MCC to two NJCAA National Championships…Was a two-time NJCAA Division II First Team All-American…Was named the NJCAA Division II MVP…Earned Region III First Team Honors twice and was named the Region III Player of the Year in 2005… MCC's Female Athlete of the Year in 2005…A two-time NJCAA Championship Tournament MVP…Two-time Pete Pavia Scholarship Tournament MVP…Led the Nation in assists and steals at MCC in the 2003-04 season…As a prep standout, was selected as nominee for the McDonalds All American game in her senior year (2003) at Monsignor Scanlan High School…Voted First Team all New York City her junior and senior seasons at MCHS…Was named the team MVP junior and senior year…First Team All Slam Jam Tournament in 2000, 2001, and 2002 for AAU team the Riverside Hawks…Slam Jam's Yogi Award Winner for the best point guard in 2002…Made Gaucho Round Ball Classic's All Tournament Team in 2002.
Personal:
Major in liberal arts…enjoys shopping, eating and sleeping.