University of Miami Athletics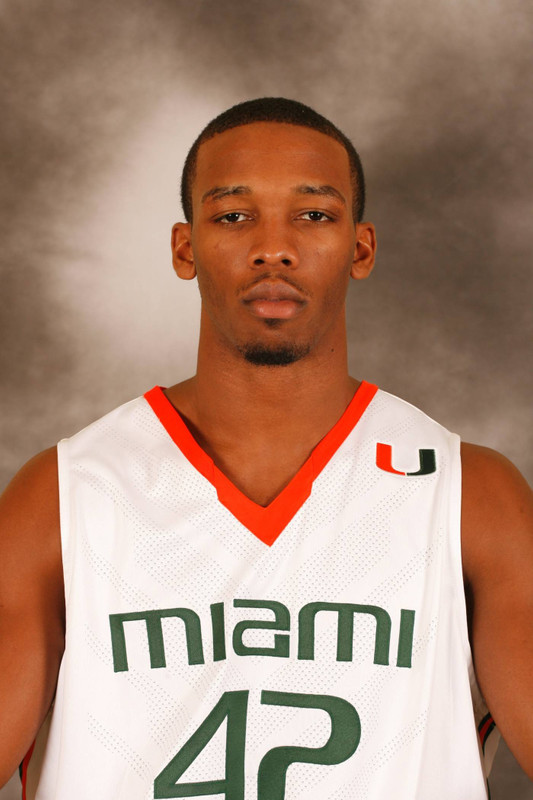 As a Junior (2006-07)
Started three of 23 games played…averaged 5.3 points, 2.5 rebounds and 19.1 minutes per game…ranked fourth on the team in field goal percentage (.485), hitting 48-of-99 shots from the floor…ranked second on the team in free throw percentage (.697) among all non-guards…scored a career-high 16 points against Virginia Tech (1/23/07) highlighted by a eight-of-eight performance from the free throw line…pulled down a season-high seven rebounds against the Hokies…hit a career-best six field goal attempts versus Stetson (12/16/06)…played a career-high 33 minutes against Virginia (2/3/07)…scored double figures in six different games including three games of 12 or more points…recorded four or more rebounds in five games.
As a Sophomore (2005-06)
Played in 32 games making two starts…averaged 4.7 points and 2.8 rebounds in 16.4 minutes per game…in Miami's five post season games (2 ACC, 3 NIT) Hicks averaged 8.4 points while shooting 17-27 (.630) from the field…Scored 11 points against Virginia Tech (2-22-06)… was one rebound shy of his first career double-double against Georgia Tech (2-4-06) posting 10 points and nine rebounds while blocking two shots in 22 minutes… had three points and tied a career-high with six rebounds in 19 minutes off the bench against Temple (11-27-05)…scored a career-high 11 points and a season-high five rebounds against North Carolina A&T (11-22-05)…made first career start in the season opener against Texas-Arlington (11-13-05) scoring four points…averaged 10.0 points, 4.0 rebounds and 2.0 assists while shooting 8-13 (.615) from the field in two games at the ACC Tournament…had eight points and two rebounds against Clemson (3-9-06)…played 32 minutes off the bench against Duke (3-10-06) recording a career-high 12 points, six rebounds and three assists…scored 12 points, on 5-7 shooting, against Michigan (3-22-06)…recorded one point and two rebounds against Creighton (3-20-06)…had nine points, four rebounds, one assist and one steal in 20 minutes of action against Oklahoma State (3-15-06).
As a Freshman (2004-05)
Played in 23 games averaging 1.7 points and 1.1 rebounds in 6.4 minutes per game…was 16-32 (.500) from the field this season including 4-7 (.571) from three-point range…scored a season-high seven points, all in the final five minutes of the first half, to go with one rebound and one block against Clemson (2-12-05)…played a season-high 12 minutes against North Carolina (1-22-05) scoring three points and pulling down a team-high six rebounds…had two points, one rebound and one steal in 10 minutes against Appalachian State (12-30-04)…registered four points against Stetson (12-18-04)…played two minutes against UMass (12-12-04) recording two points and one rebound…played four minutes against Xavier (11-27-04) recording two points, the first of his collegiate career…made collegiate debut in Miami's season opener against Wofford (11-20-04) recording five rebounds in 10 minutes of action off the bench.
High School
Longview High School…averaged 21.2 points and 10.1 rebounds per game as a senior leading Longview to a 29-4 record and its first district title in seven seasons….earned All-State and District 11-5A Co-MVP honors as a senior…team MVP and team captain as a senior…averaged 15.1 points and 8.6 rebounds as a junior…holds Longview school records for points in a game (42), season (698) and career (1,487)…selected as a Texas High School Coaches Association Basketball All-Star…nominated for the McDonald's High School All-America team as a senior…coached by Tim Martin.
Personal
Majoring in Liberal Arts…enjoys listening to music and watching football in his spare time.