University of Miami Athletics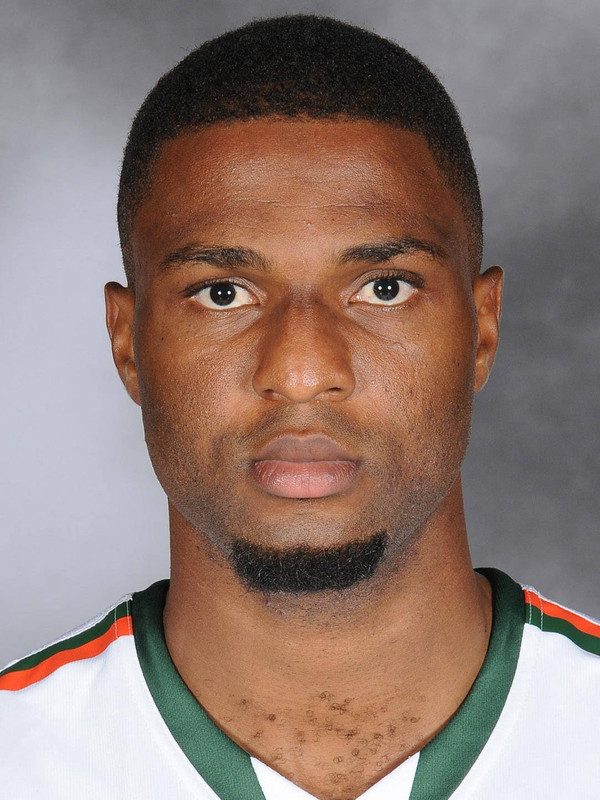 Raphael Akpejiori name pronunciation | Raphael Akpejiori name pronunciation video
Fast Breaks (2013-2014)  |  Fast Breaks (2011-2012)
All-ACC Academic Honor Roll – 2011-12, 2012-13
Career (2010-14)
Career statistics

Averaged 1.1 points, 1.5 rebounds, 0.4 blocks in 7.0 minutes per game … Started 10 of 85 games … Totaled 97 points, 128 rebounds and 38 blocks … Connected on 42.4 percent (28-66) from field and 61.2 percent (41-67) at free throw line … In ACC play averaged 0.8 points, 1.4 rebounds and 0.4 blocks … Totaled 31 points, 58 rebounds and 15 blocks in 41 games played (eight starts) … Hit 10-27 (37.0%) from field and 11-21 (52.4%) at free throw line … Career highs: 8 points vs. NC Central, 11/19/10; 8 rebounds vs. NC State, 2/8/14; 4 blocked shots, twice, last vs. UNF, 11/19/11; 27 minutes at Virginia, 2/26/14.
As a Senior (2013-14)
Akpejiori 2013-14 game-by-game stats 

Averaged 0.8 points, 1.8 rebounds and 0.5 blocks in 10.8 minutes per game … Started seven of 25 outings … Connected on 5-15 (33.3%) from field, 9-15 (60.0%) at free throw line … Grabbed one rebound in all but three games … Played 13+ minutes nine times … Led team with eight rebounds vs. NC State (2/8) … In ACC play started seven of 17 outings … Averaged 0.8 points and 2.1 rebounds in 13.0 minutes per game … Played 8.0 minutes per game in ACC Tournament, averaging 1.0 point and 2.0 rebounds … Season highs: 4 points at Florida State, 2/10; 8 rebounds vs. NC State, 2/8; 3 blocked shots at Florida State, 2/10; 27 minutes at Virginia, 2/26 … Book Buster (3.0 spring semester GPA).

As a Junior (2012-13)
Akpejiori 2012-13 game-by-game stats 

ACC Academic Honor Roll …Averaged 4.0 minutes in two NCAA tournament games, grabbing two rebounds … In 10 ACC games, recorded six points and six rebounds in 48 minutes … Season highs: 4 points at Boston College; 4 rebounds twice – vs. Maryland and at Georgia Tech; 1 assist vs. Florida State; 1 steal three times; 2 blocked shots vs. Charlotte; 13 minutes at Georgia Tech.
As a Sophomore (2011-12)
Akpejiori 2011-12 game-by-game stats

Season highs include seven points vs. Tennessee Tech, seven rebounds at Purdue, four blocked shots vs. UNF, 22 minutes vs. UNF … Averaged 1.6 points, 1.5 rebounds, 0.5 blocks in 22 games played … Shot 48.1 percent from the field and 58.8 percent at the line … In ACC play, recorded 1.0 ppg and 1.0 rpg in eight games … Averaged 3.1 points and 2.6 rebounds in the first nine games of the season … Led (or tied) for team game highs in blocked shots three times and in rebounds once … Was perfect from the field in five games, including 3-of-3 against Tennessee Tech … Notched five points, four rebounds and four blocks in 22 minutes against UNF… Book Buster (3.0 GPA)… Athletics Director Honor Roll (3.2 GPA)… Dean's List (3.5 GPA).
As a Freshman (2010-11)
Akpejiori 2010-11 game-by-game stats

Saw action in 20 games as a true freshman, averaging 1.6 points and 1.6 rebounds in 4.9 minutes per game… Aggressive defensive player that excels at rebounding and shot blocking…Productive during his time on the hardwood, with his 12 blocks tying for third most on the squad… UM's second most active player on the glass, pulling down 18.5 percent of the rebounds when he's in the game – including 20.8 percent of the defensive boards… Hit both free throws at UNC Greensboro (2/15), converting five of his last six attempts from the charity stripe during the season… Sank a pair of free throws and put up a game-high tying two blocks in five minutes versus Florida State (1/19)… Grabbed three boards in five minutes during his ACC debut at No. 1 Duke (1/2)… Saw a season-high 12 minutes of action in the win over Oral Roberts (12/21), grabbing four rebounds… Registered at least one block in four-straight games – including a career- high four blocks in the win over McNeese State (11/24), for the second-most blocks in a game by a Cane in 2011… Also grabbed four boards and shot 2-of-3 from the line for a pair of points versus McNeese… In four minutes at Florida Gulf Coast (11/27), grabbed a pair of boards, put up a block and scored a point from the charity stripe… Pulled down two offensive rebounds, blocked a team-high two shots, and went 4-of-4 from the free throw line in six minutes at Rutgers (11/21)… Put together 11 strong minutes on the court versus North Carolina Central (11/19), setting season-highs in most statistical categories – with 8 points on 3-of-3 shooting from the field and 2-of-3 shooting from the line, five rebounds and a block… Hit his first collegiate field goal at No. 19 Memphis (11/15).
High School
Kansas All-State Class 1-A Honorable Mention selection… Rated as the No. 64 power forward by ESPN… Helped his team finish with just two losses in 2009-10, with one of those to nationally-ranked power Providence School (Fla.) who won the 2-A FHSAA state title… Poured in a game-high 23 points (including three dunks) and 12 rebounds in a win over Liberal… Added another double-double with 14 points and 10 rebounds against Dodge City… Named to the Fantasy of Lights All-Tournament Team after helping his team to a championship game win over Mansfield Timberview… Sat out the 2008-09 season with an injury… Named to the Hawk Challenge All-Tournament Team following back-to- back double-digit scoring performances in the state of Florida… Played AAU basketball for Baltimore Elite… Played in the international game during the 2008 Jordan Brand Basketball Classic in New York City… Coached by Kyle Lindsted at Sunrise Christian.
Personal
Full name is Ethasor Raphael Akpejiori … Goes by Raphael … First name is pronounced A- tha-saur … Last name is pronounced AHK-peh-jour-ee … Born Oct. 10, 1990 … Son of Pius and Clara … One brother, Eshemokha, and four sisters, Okhiaofe, Ilamosi, Ideoghena and Eboshogwe … A standout in the classroom as well as on the court, majoring in mechanical engineering, graduating in May 2015 with a dual degree BSME/MSME – bachelor of science in mechanical engineering and master of science in mechanical engineering … In August of 2013, averaged 9.2 points and 5.8 rebounds for Athletes in Action through five games played in Jamaica. Game high was 12 points against the Jamaican National Team, against former teammate Durand Scott … Also recruited by Texas A&M, Colorado, USF and UCF.
Raphael Akpejiori
Year
GP
GS
Min
Avg
FG
FGA
Pct
3FG
3A
3Pct
FT
FTA
Pct
Off
Def
Tot
Avg
PF
FO
A
TO
B
S
Pts
Avg
10-11
20
0
98
4.9
5
10
.500
0
0
.000
21
32
.656
13
18
31
1.6
16
0
0
5
12
2
31
1.6
11-12
22
3
147
6.7
13
27
.481
0
0
.000
10
17
.588
21
12
33
1.5
27
0
2
7
11
4
36
1.6
12-13
18
0
81
4.5
5
14
.357
0
0
.000
1
3
.333
6
14
20
1.1
8
0
1
3
3
3
11
0.6
13-14
25
7
269
10.8
5
15
.333
0
0
.000
9
15
.600
16
28
44
1.8
40
1
2
7
12
1
19
0.8
TOTAL
85
10
595
7.0
28
66
.424
0
0
.000
41
67
.612
56
72
128
1.5
91
1
5
22
38
10
97
1.1