University of Miami Athletics
Pedro Ast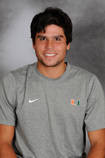 2010-11 (Freshman):
Spring: 0-3 singles, 10-7 doubles. 
Posted a 10-7 doubles record in dual match play, including an 8-2 mark versus ACC opponents… Pairing with Eduardo Pavia, the duo closed the regular season on a seven-match win streak en route to a team-high 8-1 mark… The duo cruised past Jared Pinsky and Fred Saba of No. 10 Duke, 8-3… Also defeated the 71st-ranked pair John Collins and Tommy Laine of No. 43 Maryland, 9-8 (7-4), and No. 19 North Carolina's Jose Hernandez and Zach Hunter, 9-8 (7-5)… Did not play in the fall.
Prep:
Advanced to the quarterfinals of the Challenger Quito and the finals of both the Panama Future and Venezuela Future tournaments… Defeated Rafael Arevalo, who was El Salvador's top ranked player in the Davis Cup and a participant in the 2008 Beijing Olympics.
Personal:
Son of Pedro Ast, Sr. and Nuria Brillembourg… Has one brother… Off the court, enjoys the beach, playing soccer and hanging out with friends… Lists Pete Sampras as one of his favorite athletes… His father Pedro Ast competed in tennis in the Davis Cup and in college as well… When he is on a winning streak in his matches, he likes to eat at the same restaurants and wear the same outfit… An entrepreneurship major.