University of Miami Athletics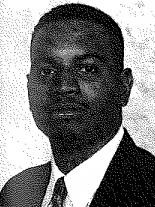 As a Junior (1993-94): A strong rebounder…Challenged shots from much taller players.
As a Sophomore (1992-93): Appeared in 26 of 27 games… Started 16 games including 14 in the Big EAST… Miami's second leading rebounder with 5.7 per game… Shot 47.8% from the field and 22.6% from the line… Set career highs of 12 points, 10 rebounds and played 26minutes in season opener vs. FIU. 
As a Freshman (1991-92): Appeared in 30 games, averaging 12 minutes per game… Second on UM block list with 17 blocked shots… Had four points, two blocks, and three rebounds in 12 minutes vs. UConn.
High School: Attended Gibbs… Averaged 24.6 points, 14.3 rebounds, 4.3 assists and 2.1 steals as a senior… Led his team to a 31-3 record 2nd place finish in the State playoffs… Voted first team all conference, all city and all state by the St. Pete times and Tribune… Was an honorable mention All-American by both Street and Smith and USA Today… Was runner up as Gatorade player of the year in Florida … Was a member of his high school honor society with a 3.57 G.P.A … Coached by Fred Dyles.
Personal: Born on November 28, 1972… Enjoys fishing and listening to music in his free time… brother Anthony, played basketball for three seasons (one red shirt) at Alabama and now attends St. Pete Junior College… Parents are Vincent and Karen Lawrence… Full name is Patrick Eugene Lawrence… nickname is Todday… Majoring in mechanical engineering.
 
Year
GP
GS
Min
Avg
FG
FGA
Pct
3FG
3A
3Pct
FT
FTA
Pct
Off
Def
Tot
Avg
PF
FO
A
TO
B
S
Pts
Avg
 1991
30 
0 
 
 
27 
74 
.365 
1 
2 
.5 
11 
40 
.275 
37 
34 
71 
2.4 
58
0 
12
30 
17 
17 
 66
2.2 
1992 
 26
16 
 604
23.2 
64 
134 
.478 
0 
0 
0 
14 
62 
.226 
64 
85 
149 
5.7 
90 
6 
20 
42 
16 
28 
142 
5.6 
1993 
 24
12 
 406
16.9 
41 
101 
.406 
0 
0 
0 
14 
24 
.584 
37 
50 
87 
3.6 
61 
2 
 23
33 
13 
13 
96 
4.0 
TOTAL
 80
28 
1,010 
40.1 
132 
309 
1.249 
1 
2 
.5 
39 
126 
1.085 
138 
169 
 307
11.7 
209 
8 
55 
105 
46 
58 
304 
 11.8