University of Miami Athletics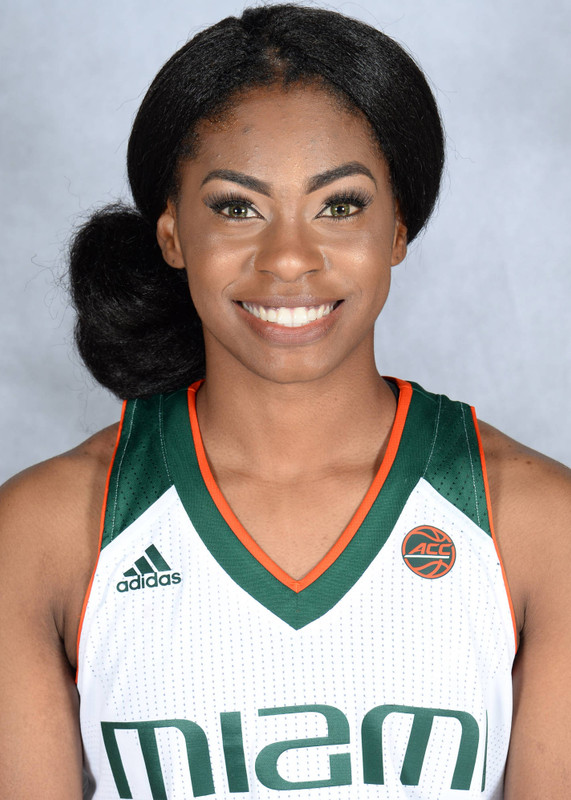 As a Senior (2017-18): Played in the first 21 games of the campaign before suffering a season-ending lower extremity injury … Averaged 3.2 points, 1.5 rebounds and 1.7 assists in 13.4 minutes per game … Led the team (no min.) in 3-point percentage (33.3) and free throw percentage (78.6) … Ranked third among Hurricanes in assists per game and tied for fifth in made 3-pointers (12) … Led or co-led Miami in assists on six occasions … Tallied six points and a season-high five rebounds against Vermont (11/12), connecting on a pair of 3-pointers … Recorded six points and a season-best three steals, tying for the team lead, versus Maine (11/24) … Scored five points against No. 15/15 Maryland (11/26) … Posted a season-high nine points to go along with a team-best five assists in 21 minutes in Miami's win over Michigan State (11/30), going 4-of-4 at the line to tie her career high in makes … Logged six points to go along with a team- and a season-best six assists while playing 20 minutes versus Sacramento State (12/18) … Posted a season-high-tying nine points, finishing 3-of-5 from the floor to match her season-best mark in makes, against Southern Illinois (12/20) … In a season- and co-team-high 24 minutes, totaled six points, a co-team-best three assists and two steals versus Bethune-Cookman (12/28), hitting two 3-pointers … Had five points and three assists against No. 14/15 Duke (12/31) … Scored six points, on a pair of 3-pointers, at second-ranked Notre Dame (1/4) … Recorded two steals and co-led all players with three assists versus Wake Forest (1/7) … Had a co-team-high three assists to go along with four rebounds in a season-high-tying 24 minutes in the triumph over Syracuse (1/18) … At Boston College (1/21), tied for the team lead in assists with three … Made her final appearance as a Hurricane against fourth-ranked Louisville (1/25).
As a Junior (2016-17): Sat out the first nine games of the season during the fall semester in accordance with NCAA transfer rules … Played in seven games, finishing the year with two points, two rebounds and three assists … Committed just one turnover … Made her Miami debut at FIU (12/16) … Tallied a pair of assists in the first home outing of her career against Coppin State (12/19) … Notched her first point and rebound as a Hurricane in a season-high five minutes at Pittsburgh (1/2) in the first ACC playing time of her career … Registered one point at RV/No. 24 Syracuse (1/22).
As a Sophomore (2015-16): Transferred from Auburn University after fall semester … Sat out season due to NCAA transfer rules.
As a Freshman at Auburn (2014-15): Played in all 31 games, starting the final 16 … Scored in double digits five times … Led the Tigers in assists per game (3.2) and finished third in steals (38) … Also ranked fifth on the team in points per game (5.5) … Made her college debut against Troy (11/14), tallying six points, five assists and four rebounds in 21 minutes … Recorded 11 points and connected on a season-high three 3-pointers against Southeastern Louisiana (12/4) … Scored 10 points and tallied a season-best eight assists at FIU (12/29) … Posted 10 points her first-career conference game at top-ranked South Carolina (1/2) … Logged five assists in the first start of her career at No. 10/11 Kentucky (1/8) … Scored 11 points against No. 18/20 Mississippi State (1/26) … Posted eight points and pulled down a season-high nine rebounds at Missouri (2/8) … Tallied nine points in a season-high-tying 30 minutes of action at Vanderbilt (2/26) … Notched a season-high 12 points at Alabama (3/1).
High School: Graduated from Grandview Preparatory School … Played varsity basketball at American Heritage (Delray Beach) School in eighth and ninth grade … Rated as a three-star prospect and a top-20 guard recruit by ESPN HoopGurlz … McDonald's All-American Game nominee … Grandview Prep's all-time leader in points, assists and steals … Scored over 1,800 points in her career … Four-time team captain and four-time district champion … As a senior year, helped team to the class 2A state title, the first in school history … Named MVP of the state final … Tabbed as an FABC First Team All-State selection as a senior … Chosen as the Palm Beach Post Small Schools Player of the Year as a junior … Selected as the Sun Sentinel 5A-2A Player of the Year as a sophomore after leading the team to the first of three consecutive 2A state semifinal trips … Four-time Sun Sentinel All-County selection, including as an eighth grader … Participated in the 2011 USA U16 National Team Trials in Colorado Springs, Colo. … Member of the Spanish National Honor Society, chess club and debate club.
Personal: Full name is Neydja D'Jenay Petithomme … Name is pronounced NEE-Zhuh PET-Ee-Home … Parents are Dr. Yveny Petithomme II and Junette Petithomme … Father is a doctor and mother is a nurse … Has a younger brother, Yveny III … Majoring in broadcast journalism … Career goal is to be a television anchor or broadcaster … Enjoys playing the piano and volunteering at her church … Favorite athlete is Chris Paul because of his finesse, smooth style of play … Best sports memory is winning the state championship as a high school senior … Chose Miami because of its great academics, quality of its conference and the coaching staff.
 STATS
YEAR
GP
GS
MIN
AVG
FG
FGA
PCT
3FG
3FGA
3PCT
FT
FTA
PCT
REB
AVG
AST
TO
BLK
STL
PTS
AVG
 2014-15 (AUB)
 31
16
683
 22.0
67
206
.325
19
66
.288
18
39
.462
66
2.1
98
87
3
38
171
5.5
2015-16
0
0
0
0.0
0
0
.000
0
0
.000
0
0
.000
0
0.0
0
0
0
0
0
0.0
2016-17
7
0
13
1.9
0
2
.000
0
0
.000
2
4
.500
2
0.3
3
1
0
1
2
0.3
CAREER
38
16
696
18.3
67
208
.322
19
66
.288
20
43
.465
68
1.8
101
88
3
39
173
4.6