University of Miami Athletics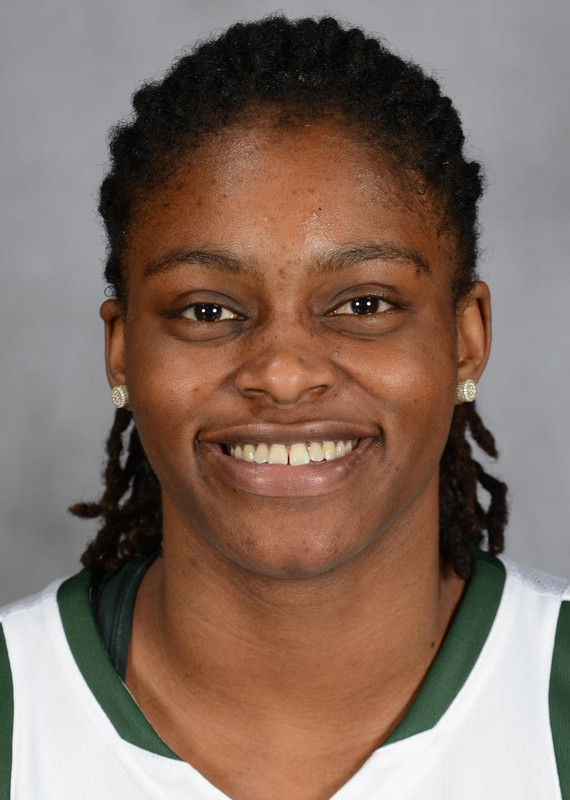 2014-15 (As a Senior): Miami Holiday Tournament All-Tournament Team
Played in 32 games with nine starts and scored double digits eight times, including in three of Miami's final four games … Led the team in three-point field goal percentage (36.2), good for No. 12 in the ACC, and finished second on Miami in made three-pointers (42) and third in made field goals (84) … Ranked fourth among Hurricanes in points per game (7.2) and averaged 8.6 points over the final 23 games of the season … Scored five points and grabbed five rebounds against UNF (11/21) … Recorded seven points, three rebounds and tied for a game-high with a career best three steals in the win over Illinois State (11/28) … Posted 10 points and tied for a team-high two steals in the Miami Thanksgiving Tournament championship game win against Tulsa (11/29) … Recorded eight points and made two three-pointers for the second time in her Miami career against Coppin State (12/13) … Set career highs in points (20), field goals made (eight), field goal attempts (13), and three-point field goals made (four) in the game at Tulane (12/19), also had then-season highs in rebounds (six) and minutes played (27), and her 80 percent shooting from long range equaled the eighth best mark in program history (min. 4 3PA) … Scored 15 points and shot 3-of-4 from three-point range in the Miami Holiday Tournament championship game against LSU (12/29) … Scored eight points and shot 2-of-2 from three-point range in the win over fourth-ranked Notre Dame (1/8) … Poured in a game-high 17 points and matched a then-career high with four made three-pointers against Clemson (1/15) … Scored a team-high 17 points and set a new career best with five made three-pointers at No. 16/14 Duke (1/18), also matching her then-season high with six rebounds … Had eight points and equaled her then-season high with six rebounds at fourth-ranked Louisville (1/25) … Scored eight points and set career bests in free throws made (six) and attempted (seven) in Miami's win over Georgia Tech (2/15) … Posted nine points and five rebounds in her eighth start of the season on senior day against No. 9/8 Florida State (3/1) … Scored 13 points and made a trio of three-pointers in the ACC Tournament second round victory over Virginia (3/5) … Scored 11 points, grabbed four rebounds and tied her season best with a team-high three assists in the NCAA Tournament first round win over No. 6 seed Washington (3/20) and also became one of three Hurricanes ever to make multiple three-pointers in an NCAA Tournament game without a miss … Posted 15 points and grabbed a season-high, team-leading seven rebounds in the NCAA Tournament second round game at third-seeded Iowa (3/22), also tying her season highs in assists (three) and career high in minutes played (31), while finishing with 54.5 percent (6-of-11) mark from the field, good for the eighth best in an NCAA Tournament contest in program history (min. 10 FGA).
2013-14 (As a Junior): Appeared in 27 games … Averaged 5.3 points, 3.0 rebounds and 1.1 assists in 14.6 minutes per game … Totaled 142 points, 80 rebounds and 29 assists in 394 minutes … Hit 36.9 percent (52-141) of shots from field, 35.6 percent (16-45) from three and 68.8 percent (22-32) at free throw line … Played in 13 ACC games … In ACC play averaged 5.2 points and 2.6 rebounds in 11.5 minutes … Totaled 67 points, 10 assists and 34 rebounds … Hit 41.5 percent (22-53) of shots from field, 37.5 percent (6-16) from three and 77.3 percent (17-22) at free throw line … Provided huge offensive spark down stretch, averaging 9.4 ppg over final seven games … Reached double-figures in scoring in five games … Season highs: 16 points vs. Pittsburgh, 3/2/14; 9 rebounds at Oakland, 11/19/13; 5 assists vs. Pittsburgh, 3/2/14; 28 minutes vs. Richmond, 11/10/13.
Junior College: Sterling comes to Miami by way of Gulf Coast State College … Was named all-conference to the All-National Tournament Team.
High School: Graduated from Stonewall Jackson High School in 2011 … Earned four varsity letters … Played for AAU team Horizon Sandstorms.
Personal: Born on Aug. 21, 1993 in Los Angeles, Calif. … Majoring in liberal arts … Hobbies include watching movies and watching basketball … Daughter of Zenetta Looper-Scott … Has one brother, Nicholie Scott.
 STATS
YEAR
GP
GS
MIN
AVG
FG
FGA
PCT
3FG
3FGA
3PCT
FT
FTA
PCT
REB
AVG
AST
TO
BLK
STL
PTS
AVG
2013-14
27
2
394
14.6
52
141
.369
16
45
.356
22
32
.688
80
3.0
29
40
3
13
142
5.3
2014-15
32
9
658
20.6
84
228
.368
42
116
.362
21
37
.568
85
2.7
32
35
4
24
231
7.2
CAREER
59
11
1,052
17.8
136
369
.369
58
161
.360
43
69
.623
165
2.8
61
75
7
37
373
6.3