University of Miami Athletics
Nacho Serra Sanchez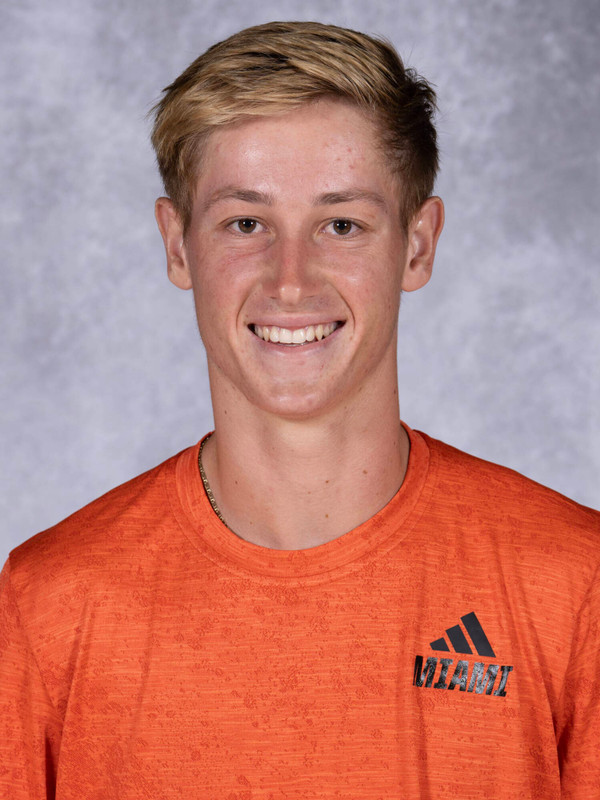 NIL Opportunities
Powered By

Engage with Nacho today!
As a Freshman (2022-23): Finished his freshman year with a 22-13 overall singles record and a 7-8 doubles mark…Led the Hurricanes in total singles victories (22)…Recorded a 15-5 mark in dual match action and a team-best 8-3 record in ACC play…Primarily alternated between fifth (9-2) and sixth (5-3) singles, but recorded a 1-0 mark at fourth singles…Defeated Jake Vassel (Boston College), 6-1, 6-2…Went 3-0 at third doubles and tallied a 4-8 mark in tournament doubles play…Clinched the doubles point for Miami every time he played a full doubles match…Was responsible for the match-clinching singles point on four occasions, the most by a Hurricane this year.
Prior to Miami: Ranked as high as 410 in ITF Juniors…Posted a 12-9 record in ITF, ATP and Davis Cup professional matches in 2022…Competed in eight tournaments in 2022, both M15 and M25 events…Qualified for the main draw in four of the eight tournaments…Won two team Spanish Championships.
Personal: Born Dec. 1, 2004…Intends to major in international business…Enjoys hanging out with friends and playing other sports…Chose Miami for the coaches, facilities and the overall fit.
SINGLES CAREER STATS
| | | | | | | | | | | |
| --- | --- | --- | --- | --- | --- | --- | --- | --- | --- | --- |
| Year | Overall | 1 | 2 | 3 | 4 | 5 | 6 | Dual | Tour | National |
| 2022-23 | 22-13 | | | | 1-0 | 9-2 | 5-3 | 15-5 | 7-8 | 0-1 |
| TOTAL | 22-13 |   |   |   | 1-0 | 9-2 | 5-3 | 15-5 | 7-8 | 0-1 |
DOUBLES CAREER STATS
| | | | | | | | |
| --- | --- | --- | --- | --- | --- | --- | --- |
| Year | Overall | 1 | 2 | 3 | Dual | Tour | National |
| 2022-23 | 7-8 | | | 3-0 | 3-0 | 4-8 | 0-1 |
| TOTAL | 7-8 |   |   | 3-0 | 3-0 | 4-8 | 0-1 |