University of Miami Athletics
Millie Haffety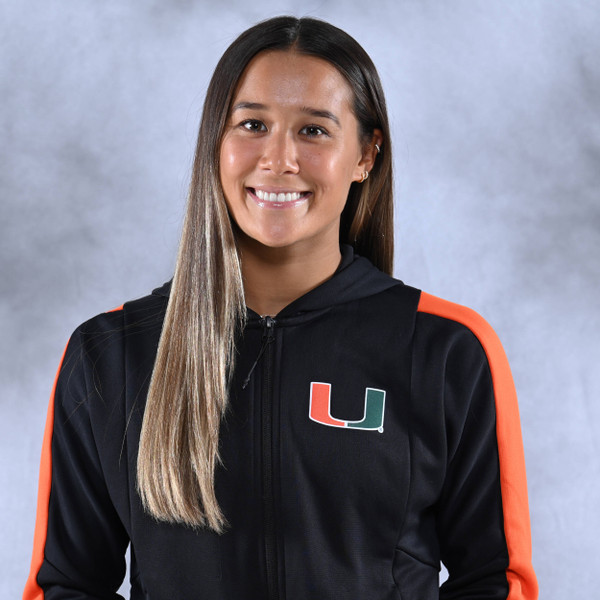 2020-21 (Junior): Won both springboard events in dual meet with FGCU (Jan. 13), taking top honors in 1-meter (296.18) and 3-meter (324.53)…Finished second in both springboard events in matchup with FIU (Jan. 22), scoring 315.38 in 1-meter and 329.78 in 3-meter …Scored points for Hurricanes in 1-meter (266.30, 11th) and 3-meter (251.20, 19th) at ACC Swimming & Diving Championships in Greensboro, N.C. (Feb. 17-20), finishing in the top 20 of both events.
2019-20 (Sophomore): Finished in second on both springboard events in tri-meet with FIU and Illinois (Nov. 2)…Captured second-place finishes in both 1-meter (316.13) and 3-meter (308.63) in dual meet win over FGCU (Jan. 18)…Finished 13th in 1-meter at 2020 ACC Swimming & Diving Championships (Feb. 19-22) in Greensboro, N.C., scoring 246.10…Posted score of 223.75 on 3-meter at ACC Championships…One of top-18 finishers at NCAA Zone B qualifers (March 9-11) in Athens, Ga., on 1-meter, finishing with preliminary round score of 262.90 and final score of 515.90…Qualified for finals in 3-meter at Zone meet, finishing in 12th overall (577.50) in event.
2018-19 (True Freshman): Delivered impressive regular season as true freshman…Captured first two wins of collegiate career in quad-meet hosted by Georgia Tech (Oct. 19), sweeping springboard events…Won 1-meter event with score of 294.60 and 3-meter with 293.70…Competed in 1-meter (256.40) at Texas Diving Invite (Nov. 15)…Won 3-meter in tri-meet with Alabama and Florida State (Jan. 12) and finished third on 1-meter (277.80)…Won 3-meter (290.92) in road dual meet with FGCU (Jan. 19) and took second place in 1-meter (305.17)…Ended in fifth place in 1-meter (280.50) in first-ever trip to ACC Swimming & Diving Championships…Qualified for finals in 1-meter with score of 264.95 during morning preliminaries.
Before Miami: Named Sports Person of the Year at Silverdale School in 2015 and 2017…Competed for City of Sheffield Diving Club…Earned bronze medal in both 1-meter and 3-meter springboard at British National Championships / Commonwealth Games trials in January 2018…Took silver medal in 3-meter synchronized springboard at British Championships…Captured silver medal in 3-meter synchro at 2017 national championships…Took gold medal in 1-meter junior nationals in back-t-back years (2016, 2017).
Personal: Parents are Ian and Lie…Has three sisters…Intends to major in psychology.