University of Miami Athletics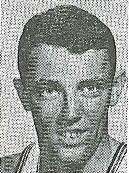 At Miami
 Mike was the most improved player on the 1965-66 squad and his final scoring average of 21.8 was the fourth best ever at University of Miami. That ranked him 48th nationally. Only Dick Hickox in 1960 and Rick Berry in his final two campaigns did better. Wittman also did an excellent job rebounding, leading the team with an even 10 rebounds a game, although he never was the tallest player on the floor. Often he was outranged by two and even three of the opposing team members. Wittman enters his senior basketball campaign at Miami with 734 points to his credit—18th highest total for any Hurricane player. His 16 games of 20 or more points is fourth best in one season at Miami—and puts him in seventh place in the all-time category for a career. His 392 rebounds in two campaigns has been exceeded by only nine Miami players in their entire careers.
As a Junior (1965-66)
 Mike quickly earned a starting role at forward and started every game. Miami's center troubles had him working there on occasion. He had only two poor games in his 26 junior year performances. He was held to six by Florida early in the year at Miami—and garnered 22 when he battled Florida in Gainesville. He was stopped at six in Houston. At Santa Clara, Wittman had 17—and in each of his other games, his total was 18 points or higher. He wound up with 20 or more points on 16 occasions and was over 30 three times, his high being 35 against Ohio U. His rebounding fluctuated more. Against towering Florida at Miami Beach, the New Yorker made only three rebounds but he finished with 17 against Stetson, 15 against Florida State, and 17 against LaSalle. He was in double figures 12 times.
As a Sophomore (1964-65)
Mike put in a solid year of backing up Rick Barry and Wayne Beckner, compiling a promising seven point scoring average and a 5.5 rebounding mark. Twice he scored 18 points in a single game. He grabbed 16 rebounds vs Houston.
As a Freshman (1963-64)
Mike played his freshman basketball at Los Angeles State college but smog conditions played havoc with an asthma condition and he had to seek a more favorable climate.
 High School: Made the Dell and Parade All-America basketball teams. The New Yorker played high school football and baseball as well. He earned four letters in each in basketball and baseball, three in football at Nanuet High where his high school coach was Charles Walsh.
Year
GP
FG
FGA
Pct
FT
FTA
Pct

Shots

Missed

Rebounds
RAvg
PF
FO
Pts
Avg
64-65
24
65
141
.461
37
51
.726
90
132
5.5
57
4
167
7.0
65-66
26
208
446
.466
151
206
.733
293
260
10.0
90
2
567
21.8
66-67
26
219
453
.483
147
184
.799
271
303
11.5
88
4
585
22.3
Total
76
492
1,040
.473
335
441
0.759
654
695
9.0
235
10
1,319
51.1