University of Miami Athletics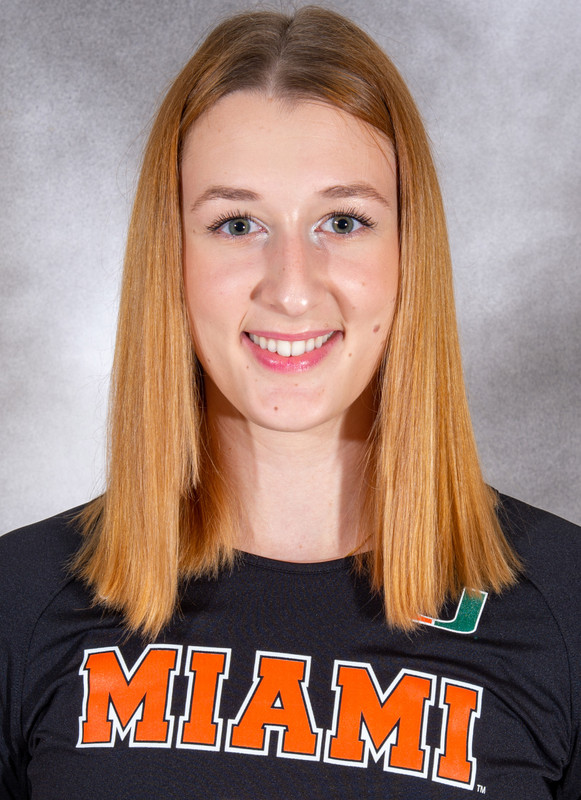 2021 (Sophomore): Saw action in two matches… recorded a kill against FAU.
2020 (Freshman): Debuted for the Canes appearing in 5 of Miami's opening 10 sets of the season against Georgia Tech (9/24, 9/25)… Appeared in the match at Wake Forest (10/2)… Recorded her first career kill against Clemson and tallied a career-high three digs (10/8)… Played in four of the seven sets against FSU over two matches, finishing with two digs (10/15, 10/16).
Spring 2021: Competed against NC State (3/6)… Finished with a career-high four kills and one dig against No. 14 Notre Dame (3/7)… Saw action against Virginia (3/14)… Recorded her first collegiate aces (2) and finished with two digs in the five-set win at Duke (3/19)… Recorded a season-high eight kills in the 3-1 road loss to Boston College (3/26)… Registered three kills and two blocks in a 3-1 win against Virginia Tech (3/27)… Hit four kills and three blocks in a 3-1 loss to No. 11 Louisville (4/1)… Helped the Canes sweep North Carolina to end the season with three kills and one ace (4/2)
High School: Rola, a six foot tall outside hitter, has competed on Poland's U18 and U19 National Team with much success and currently plays on her club team Karpaty Krosno.