University of Miami Athletics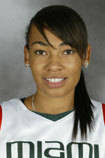 At Miami
Coming off the second ACL injury of her career, Knight returns as a redshirt senior in 2005-06 who should reclaim her role in UM's starting backcourt as one of the Hurricanes' primary offensive options…Enters the season ranked 10th all-time in career three pointers made (50), eighth in three point field goals attempted (77) and tied for ninth in three point field goal percentage (.314) at UM…An extremely gifted shooter who works well in the offense and in transition…One of the best defensive players on the roster.
2004-05 (Senior)
Received a medical redshirt after missing the entire 2004-05 season with a torn ACL suffered in preseason workouts.
2003-04 (Junior)
Started 28-of-29 games played in 2003-04…Averaged 9.3 points and 4.4 rebounds…Ranked second on the team in assists per game (3.5)…Was third on the team in three point field goal percentage (.319), three point attempts (69) and three pointers made (22)…Finished fourth on the team in scoring (9.3 ppg) and rebounding (4.4 rpg)…Scored in double figures in 12 games…Was named the Hilton Concord Thanksgiving Classic MVP after averaging 14.5 points and 5.0 rebounds in the tournament to lead UM to the Championship game…Recorded a career-high nine rebounds and scored a season-high 16 points against Syracuse (12/18)…Dished out a career-best 10 assists against Florida International (12/2)…Scored 11 points in the first half of play against St. John's (2/10)…Opened the season averaging 13.0 points, 4.8 rebounds and 3.4 assists in the Hurricanes' first five games.
2002-03 (Sophomore)
Recorded starts in 16-of-28 games…Averaged 6.6 points and 3.7 rebounds per game…Ranked second on the team in three point field goal percentage (.360) hitting 18-of-50 shots from beyond the arc…Finished third on the team in field goal percentage (.458) and three point field goals made (18) and ranked fourth on the team in three pointers attempted (50)…Scored in double figures in 10 games…Posted a career-high 23 points with seven rebounds against Maryland (12/29)… Hit a season-high 10-of-12 (.833) from the floor, including 3-of-4 (.750) from the three point line against the Terps…Had a season-high five assists against Pittsburgh (1/22).
2001-02 (Freshman)
Appeared in 20 games – more than any other freshman on the team – before suffering a season-ending ACL injury against Florida International (2/16) which caused her to miss the final seven games of the year…Recorded one start…Averaged 3.7 points and 1.7 rebounds…Scored a season-high 16 points against Yale (12/28)…Averaged 10.1 points over a four-game span against Yale (12/28), Minnesota (12/30), Notre Dame (1/2) and Rutgers (1/5).
Prior to Miami
A four-year starter at William Penn Charter High School…Left as the school's all-time leading scorer with over 1,000 career points…Set the school record with a 47-point game her senior year…Averaged 24 points, 10 rebound and four assists as a senior on her way to being named an All-Conference, All-State, All-City and All-Area First Team selection…Named to the Philadelphia Inquirer and Daily News All-City First Team…Selected as an Adidas Top Ten Camp All-Star as the third leading scorer of the camp her senior year…Ranked 111th overall and 23rd among all guards as a senior by the All-Star Girls Report…Also a four-year letterwinner in soccer, played lacrosse and was a member of her high school track and field team.
Personal
Gradutated from UM with a bachelor of business administration in marketing in the spring of 2005 and is currently pursing a second undergraduate degree within the UM School of Business.