University of Miami Athletics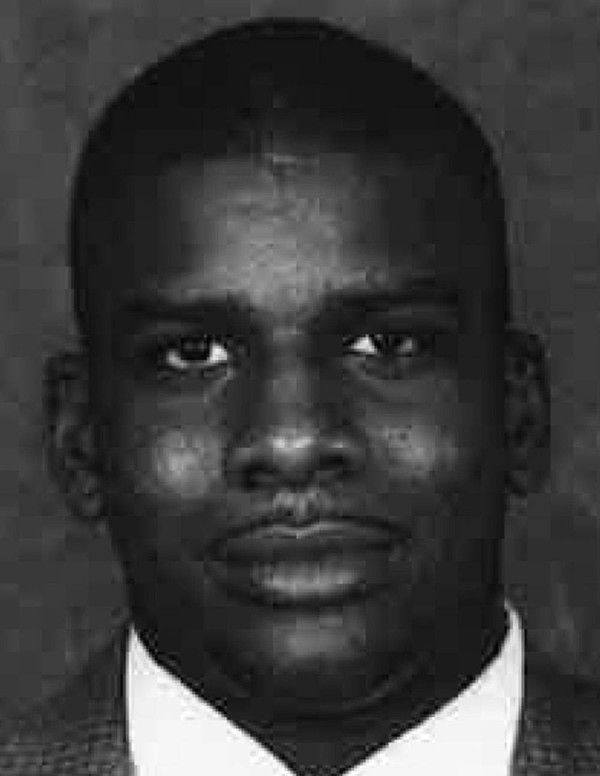 Senior 1999-2000: Played in 34 games… Recorded 430 points with a .473 FG percentage… Posted a personal best 42 assists… Defensively collected 26 steals and 11 blocks.
Junior 1998-99: Played in all 30 games making 28 starts at center…averaging 11.2 points and 6.0 rebounds in 26.8 minutes per contest… Led the team in field goal percentage (.590)…ranked third on the team in scoring and second in rebounding… Has hit 6-11 (.545) from three-point range….Ranks second on the team with five double-doubles…has recorded three double-doubles in the last six games…Scored 18 points and pulled down 10 rebounds in the Hurricanes' season opener against Florida Atlantic (11-13-98)…was 7-of-9 from the floor and 4-of-5 from the line in 28 minutes…Recorded second double-double of the season with 16 points and 10 rebounds in 29 minutes against Northern Iowa (11-27-98)…shot 8-of-9 from the floor and registered two assists and one steal…Started and played 32 minutes at No. 8 Kentucky (12-5-98)…recorded 14 points, on 6-of-9 shooting, and eight rebounds…Connected on 7-of-8 from the field on his way to 20 points against Rutgers (1-13-99)…scored 18 in the second half including nine in a 17-1 run as Miami took control…also recorded five rebounds, two assists and one steal in 30 minutes…Scored a career-high 21 points in 25 minutes against No. 1 ranked Connecticut (1-20-99)…was 6-7 from the floor and 9-12 from the line…Also recorded two rebounds…Played 32 minutes against No. 18 Syracuse (2-8-99) and recorded 12 points and five rebounds…was 4-7 from the field and 4-4 from the line…Recorded his third double-double of the season with 11 points and 10 rebounds against Villanova (2-16-99)…played 23 minutes and was 4-6 from the floor with three assists and one steal…Recorded his second consecutive double-double with 16 points and a career-high 14 rebounds against No. 2 ranked Connecticut (2-20-99)…Was 6-8 from the field including 1-1 from three-point range…Recorded fifth double-double of the season with 10 points and 12 rebounds in 28 minutes against Rutgers (2-27-99).
IN THE BIG EAST TOURNAMENT:
Averaged 13.5 points and 8.5 rebounds in the Hurricanes' two games…Recorded a team-high 19 points and nine rebounds in Miami's win over Georgetown…Recorded eight points and eight rebounds in the semifinal against St. John's.
IN THE NCAA TOURNAMENT:
Averaged 9.5 points and 8.0 rebounds in two games…Had five points and five rebounds in 19 minutes of action in the Hurricanes opening round win over Lafayette…Recorded his sixth double-double of the season with 14 points and 11 rebounds against secon round opponent Purdue.
1998 SOUTH AMERICA TOUR:
Played and started in three of four games at center … Averaged 8.3 points and 3.3 rebounds per game … Shot 61.5 percent from the field connecting on 8-of-13 from the floor … Recorded 12 points and four rebounds in the tour opener against Boca Juniors … Scored 11 points and pulled down three rebounds in the Hurricanes second game versus Andino Sports Club … Had two points and three rebounds against the Argentine National Team … Did not play in the final game of the tour as a precautionary measure after suffering a sprained right knee against the Argentine National Team.
Sophomore (1997-98): Started all 27 contests in which he played averaging 11.6 points and 6.4 rebounds in 26.9 minutes per game…Missed Miami's game with Georgia State (12-12-97) after suffering a subluxation of the left shoulder…Ranked third on the team in scoring and second in rebounding…Shattered the Miami record for single season field goal percentage connecting on 122-of-200 (.610) field goal attempts…Broke the old record of 58.4 percent (255-437) set by Eric Brown in 1988-89…Led conference in field goal percentage hitting 62.1 percent (90-of-145) from the floor in league games..Is only the third Hurricane to lead the league in a statistical category and the first since Jake Morton led the conference in three-point field goal percentage in 1992-93..His 62.1 percent field goal percentage was the highest in league play since Patrick Ewing connected on 107-of-165 (.648) field goal attempts in 1983-84… Scored in double figures on 19 occasions including four of Miami's last five games… Recorded two double-doubles. In the Regular Season: Recorded second double-double of the season with 19 points and a career-high 11 rebounds against Syracuse (1-10-98)…Hit 8-of-12 from the field and 3-of-5 from the line..Tied for the team lead with 14 points, on 6-of-10 shooting, while recording eight rebounds, three assists, one steal and one block in 23 minutes against 8th-ranked Connecticut (1-6-98)…Recorded first career double-double with 12 points and 10 rebounds vs. Seton Hall (12-31-97)…recorded 14 points, 12 in the second half, and seven rebounds in a career-high 36 minutes against Georgia Tech (12-27-97)…Was 5-of-11 from the field and 4-of-6 from the line…Returned from subluxation injury against Memphis (12-22-97) and recorded 13 points, hitting 6-of-7 from the field and 1-of-1 from the line, and six rebounds…Set a career-high with 19 points against Rutgers (12-2-97)…Hit a career-high 8-of-12 field goals and was 3-of-4 from the line…Also recorded eight rebounds, one block and two steals…Scored 15 points and set career-bests in free throws (9), free throws attempted (11) and blocks (3) against Eastern Kentucky (11-24-97).
In the BIG EAST Tournament: Played only 21 minutes in Miami's loss to Georgetown… Was knocked unconscious late in the first-half after being hit in the head with an inadvertent elbow while chasing a loose ball…Did not score and recorded two rebounds. In the NCAA Tournament: Poured in a team-high 18 points and grabbed eight rebounds in Miami's NCAA Tournament game against UCLA…Went 6-of-8 from the floor and 6-of-10 from the line.
Freshman (1996-97): Appeared in all 29 games making seven starts … averaged 4.1 points and 3.1 rebounds per game … his 3.1 rebound average ranked fourth on team … grabbed 89 rebounds in 391 minutes of action … his average of 9.1 rebounds per 40 minutes was tops on the team … led the team in rebounds on five occasions, including three straight games from Feb. 19-25 … scored in double figures twice … averaged 6.4 points, 4.1 rebounds, 18.4 minutes and shot 29-55 (.527) from the floor in UM's final 11 games. In the Regular Season: Started and had eight points and seven rebounds (including a team-high 6 offensive) in UM's win at Seton Hall (2-10-97) … made his first career start, playing 22 minutes, in UM's upset win at Georgetown (1-4-97) … made his collegiate debut against Buffalo (11-22-96) and had two points and four rebounds in nine minutes. In the BIG EAST Tournament: Had 10 points in 21 minutes off the bench in UM's quarterfinal round BIG EAST Tournament game against Georgetown (3-6-97). In the National Invitational Tournament: Totaled four points, a team-high five rebounds and one blocked shot in 24 minutes off the bench in UM's NIT game at Michigan (3-13-97).
HIGH SCHOOL
Callaway High School in Jackson, MS…was a two-time All-State selection and the all-time leading scorer at Callaway High (2,363 points)..Eearned four varsity letters and garnered first-team All-District honors in each of his four seasons…Was named The Clarion-Ledger Boys Player of the Year his senior season after averaging 26.2 points, 15 rebounds, four assists and three blocks…Was a Dandy Dozen pick and received the team's MVP award in both his junior and senior seasons…Participated in the Mississippi vs. Alabama High School All-Star Game in 1996..Received All-City honors his final three seasons…Selected first-team All-Metro as a junior and senior and third-team as a sophomore…Led the Chargers to the Class 5A Boys State Tourna-ment as a sophomore and junior…Coached by Leonard Braddy.
PERSONAL
Majoring in Business Management…Full name is Mario Christopher Bland…Nickname is `Big Bland'…Born May 25, 1978 in Jackson, MS…Parents are Larry Sr. and Theresa Bland…has one sister (Denise-24) and one brother (Larry, Jr.-23)…Earned first-team All-America honors at the 1995 National AAU Tournament where he was coached by current UM assistant coach Stan Jones…lived in Perrine, Florida from sixth through eighth grades before moving to Mississippi…likes to spend his leisure time playing pool and table tennis, or watching videos
Career Highs:
Points-21 vs. Connecticut (1-20-99)
FGM-8 vs.four opponents (last vs. Georgetown, 3-4-99)
FGA-14 vs. Georgetown (3-4-99)
3-PT FGM-1 vs. six opponents (last vs. Purdue, 3-14-99)
3-PT FGA-1 vs. 12 opponents (last vs. Purdue, 3-14-99)
FTM-9 vs. Eastern Kentucky (11-24-97) and Connecticut (1-20-99)
FTA-12 vs. Connecticut (1-20-99)
Rebounds-14 vs. Connecticut (2-20-99)
Assists-4 vs. Lehigh (12-30-96) and Jacksonville (11-29-97)
Blocked Shots-3 vs. Eastern Kentucky (11-24-97)
Steals-5 vs. vs. Southern Illinois (11-14-97)
Minutes-36 vs. UCLA (3-13-98) and Georgia Tech (12-27-97)
Mario Bland
 
Season
G
FG
FGA
FG%
2P
2PA
2P%
3P
3PA
3P%
FT
FTA
FT%
TRB
AST
STL
BLK
PTS
SOS
1996-97
29
48
100
0.48
48
100
0.48
0
0
0
22
37
0.595
89
10
8
8
118
5.91
 
1997-98
27
122
200
0.61
122
198
0.616
0
2
0
70
117
0.598
173
24
24
9
314
6.37
 
1998-99
30
125
212
0.59
119
201
0.592
6
11
0.545
81
124
0.653
181
36
30
7
337
9.18
 
1999-00
34
155
328
0.473
151
304
0.497
4
24
0.167
116
159
0.73
237
42
26
11
430
5.39
 
Total 
120
450
840
0.538
440
803
0.546
10
37
0.178
289
437
0.644
680
112
88
35
1199
6.71