University of Miami Athletics
Marco Stancati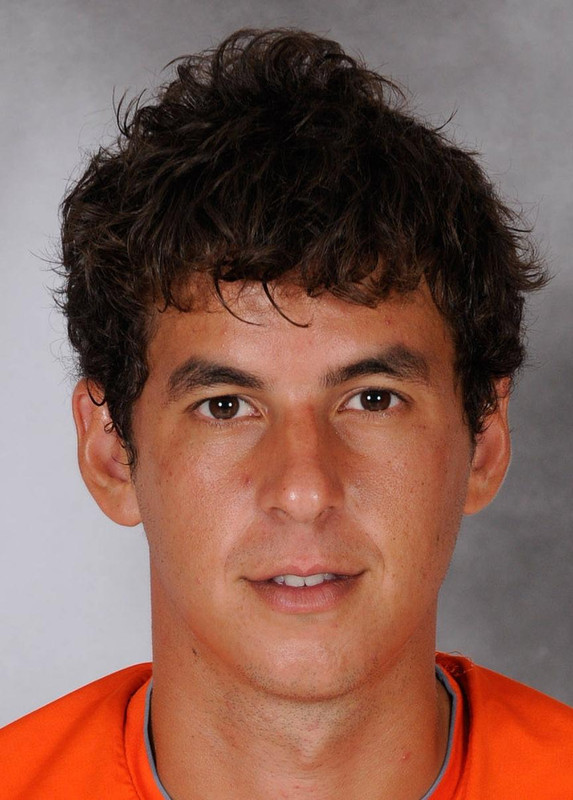 Photo Gallery
Q and Ace interview with Marco Stancati
2012-13 (Junior)
Marco Stancati 2012-13 match-by-match
Fall: 4-3 singles, 2-1 doubles. Spring: 8-9 singles, 8-11 doubles. 
Played to an 8-9 singles record while amassing eight doubles wins… The eight doubles wins are tied for tops on the team… Won three consecutive singles matches over New Mexico, Georgetown and Florida Gulf Coast… Notched a 1-0 record at No. 3, 2-1 at No. 4, 4-8 at No. 5 and 1-0 at No. 6… Tied for third on team with three ACC singles wins… Started the season with Wilfredo Gonzalez at No.1 doubles but later partnered with Henrique Tsukamoto and Jack Murphy at No. 3… Tallied two wins at No. 1 doubles and six at No. 3… Recorded a 5-5 mark with Tsukamoto including a 2-4 record in ACC matches… Swept then-No. 63 Georgia Tech's Colin Edwards and Anish Sharma, 8-0… Only Miami duo to blank an opposing doubles team in the 2012-2013 season… Alongside Tsukamoto, he notched an 8-4 win over then-No. 16 Florida State's Blake Davis and Domonic Cotrone… Posted a 4-3 overall singles dual fall match record… Recorded a 2-1 overall doubles match record while partnering with Wilfredo Gonzalez… Advanced to the semifinals of the singles consolation draw of the USTA/ITA Regional Championships before losing to fourth-seeded Mike Alford of Florida. 
2012 (Sophomore) 
Marco Stancati 2012 match-by-match

Spring: 2-6 singles, 2-9 doubles. 
Posted a 2-4 overall singles dual match record with a 1-2 mark in the ACC … Played all six matches at the No. 6 position … Was 2-9 in doubles play, all at the No. 3 spot … Defeated South Florida's Oliver Pramming in three sets to help Miami defeat the No. 56 Bulls … Downed Oystein Steiro from No. 21 UNC in straight sets to earn one of Miami's two points against the Tar Heels … In doubles, paired with Victor Mauz to defeat South Florida … Defeated Wake Forest with teammate Mark Schanerman.
Personal 
Born Sept. 26, 1989 … Son of Carnela and Giovanni … Has an older brother named Raffaele … Grew up in Napoli, Italy … Enjoys playing video games and cards… Nickname is Stanca… Sports heroes include Goran Ivanisevic and Marat Safin… Majoring in history with a minor in sports administration.