University of Miami Athletics
Luigi D'Agord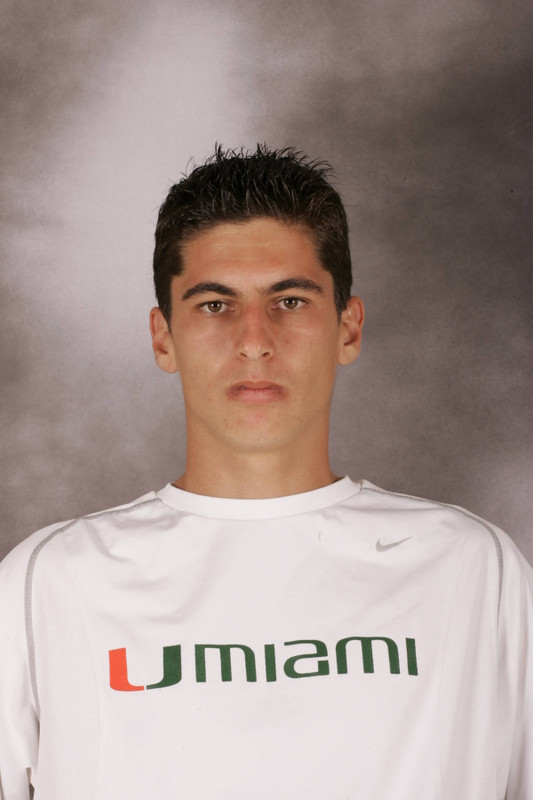 2005-06 (Junior):
Helped the Hurricanes sweep ACC accolades for the first time in league history as the 2006 ACC Player of the Year selection… Also earned All-America honors and finished his first season with Miami ranked third in the nation… Compiled a 36-5 overall singles record to tie former UM great Conny Falk for the second-most wins in a single season in program history… Went a perfect 11-0 in ACC competition at the No. 1 singles position, including six-straight wins over top-15 players… Defeated No. 5 Ludovic Walter of fourth-ranked Duke, 6-1, 3-6, 6-3… Picked up straight sets wins over No. 9 Somdev Devvarman of Virginia (6-3, 6-4) and No. 13 Todd Paul of Wake Forest (6-4, 6-3)… Over the season, defeated 23 ranked players in singles competition… Also used straight sets to win his first two NCAA Tournament singles matches, downing No. 55 Alex Skrypko of SMU, 6-1, 6-2, and then No. 24 Kevin Anderson of Illinois, 7-6 (3-0), 6-3… Won 21 straight prior to his "Sweet 16" NCAA Tournament appearance… Wrapped up his singles season with a 2-6, 0-6 loss to No. 3 Clement Reix of Clemson in that round… Four of his five losses were to ranked players… Lone loss to an unranked player was a 5-7, 2-6 decision to Ryan Sweeting of No. 1 Florida… Went 24-8 in doubles, including a 19-5 mark in the No. 1 position with Daniel Vallverdu… The pair finished 9-2 in ACC play and ranked as high as No. 10 in the nation during the season… Finished the spring No. 13… Downed North Carolina's sixth-ranked doubles pair of Brad Pomeroy and Raian Luchici, 8-3… Defeated a pair of top-30 doubles teams en route to a quarterfinal appearance in the NCAA Doubles Tournament… Had won seven straight, before falling in the NCAA quarterfinals to Pepperdine's third-ranked duo of Scott Doerner and Andre Begemann, 6-7, 6-7.
Prior to Miami:
Posted an overall record of 27-18 as a sophomore at Alabama in 2004-05 to garner All-SEC Second Team honors… Twice named SEC Athlete of the Week… First player in the SEC history to be named SEC Athlete of the Week in his first week of eligibility… 27 wins rank eighth all-time on Alabama's single-season list… In the fall, won 17 matches — including eight straight… Claimed the Crimson Tide Fall Championship with a 7-5, 6-2 win over Virginia's Marko Miklo… Advanced to the round of 16 at the ITA All-Americans before falling to the top-ranked player… Finalist at the Southern California Intercollegiates, nearly becoming just the second non-California player to win in 39 years… Posted a 7-4 doubles record with Eric Molar in the fall.
Prep:
Led Sunset to two state championships… Selected to represent the Bahamas in Davis Cup play for Spring 2004… Defeated Notre Dame's former No. 1 and current tour player Casey Smith during a 2003 USTA Futures event… Reached the final round of the Decatar, Ill., Future in 2003.
D'Agord's Career Stats
SinglesYear	Dual	ACC	Overall2005-06	22-2	11-0	36-5Total	22-2	11-0	36-5
Doubles Year Dual ACC Overall 2005-06 19-6 9-2 24-8 Total 19-6 9-2 24-8