University of Miami Athletics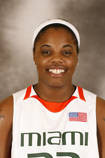 2007-08 (JUNIOR)
Team captain… Played in all 30 games, with 15 starts… Averaged 6.7 points and 2.2 rebounds an outing… Scored 11 points versus Boston College (3/2)… Scored 10 points and played a career-high 40 minutes at Florida State (2/28)… Tied a career-high with four steals and played 38 minutes at Wake Forest (2/28)… Scored 11 points versus No. 2 North Carolina (2/21)… Tied a career-high with four steals versus Virginia (1/21)… Scored 15 points with three three-pointers at Georgia Tech… Scored 11 points with three three-pointers versus Charleston Southern (1/2)… Scored 15 points in come from behind win against Southern Miss (12/18)… Scored 12 first-half points versus Florida International (12/4)… Set a career high with 17 points and tied a career high with four made three-pointers at Wisconsin-Milwaukee (11/28)…Made two three-pointers for six points versus Michigan (11/19)… Dished out a career-high nine assists as well as matching a career-highs with four three-point field goals and 16 points in win over Florida Atlantic (11/9).
2006-07 (SOPHOMORE)
Team co-captain… Played in all 30 games, making three starts… Averaged 4.5 points and 3.1 rebounds an outing… In just her third career start and second of the season, scored a career-high 16 points–including a career-high four 3-pointers–in a career-high 36 minutes at No. 2/2 North Carolina… Hit a 3-pointer in three-straight ACC games (2/1-2/8) and in as many as five straight (11/25-12/16)… Grabbed a career-high 10 rebounds versus Wake Forest (2/8) and added 10 points en route to her first double-double… Also dished out five assists versus the Demon Deacons to finish just shy of her season-high six registered versus three opponents, including No. 1/1 Maryland (1/10)… Recorded three-or-more assists nine times… Grabbed six rebounds in back-to-back ACC games–at Georgia Tech (1/15) and versus Boston College (1/18)… Posted her first blocked shot in the win over Boston College (1/18)… Four-point play versus Florida State (2/1) got the 'Canes within three points with 23 seconds remaining… Scored a then- career-high 12 points versus Wisconsin-Milwaukee (11/13).
2005-06 (FRESHMAN)
As Miami's first option off the bench, averaged 4.4 points and 2.1 rebounds per game… Played in all 30 games, with one start… Averaged 22.9 minutes per game, the most among all non-starters and the fourth-most on the team… Had seven points and seven assists versus Fairleigh Dickinson (12/2)… Recorded 11 points against FIU (12/6) and scored a career-high 14 points in the following game over Hartford (12/10), converting a career-best six field goals on a career-high 12 attempts… Played a then- career-high 33 minutes against Virginia (3/22) in the Second Round of the WNIT.
PRIOR TO MIAMI
A four-year starter at La Jolla Country Day, leading the team to four regional championships from 2002-05… Ranked among the top 75 high school guards in the class of 2005… Named the San Diego Tribune's Player of the Year as a senior, averaging 10.1 points, 6.6 rebounds and 2.8 steals per game… Also earned All-Coast South League, All-CIF Division 4 and UT All-San Diego Section First Team honors that season… 2005 adidas Evaluation Camp MVP… Averaged 12.2 points, 5.5 rebounds and 3.6 steals per game as a junior, earning All-Coastal South League Second Team accolades… As a sophomore, named to the All-Coastal South League and All-CIF Division 4 First Team… Received all-league honorable mention honors as a freshman after leading LJCD to the state title… Played with Stanford's Candice Wiggins for three seasons at LJCD… Also ran cross country for three seasons and track all four years, earning All-Coastal League First Team honors each year.
PERSONAL
A sports administration major… Likes to "sit back and chill" with friends, watch T.V., talk on the phone and sleep during her spare time… Is a women's basketball representative on the SAAC committee.