University of Miami Athletics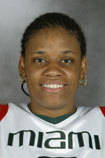 2007-08 (JUNIOR)
Played in all 30 games, starting three… Averaged 4.3 points and 3.9 rebounds per game… Scored 11 points versus Virginia Tech (2/11)… Grabbed seven rebounds versus Maine (12/29)… Recorded a solid statline with eight points and seven rebounds versus Florida International (12/4)… Set a career-high with 14 points and recorded second double-double of season versus UCF (12/2)… Finished with nine points in win at Wisconsin-Milwaukee (11/28)…Scored 12 points versus Butler (11/24)… Recorded first career double-double and set a career high with 12 rebounds versus Fordham (11/23).
2005-06 (SOPHOMORE)
Started 12 of the last 30 games of the season… Averaged 4.6 points per game, including 6.9 points and 5.5 rebounds per game as a starter… Hitting 55-of-114 shots, ranked third on the UM roster with a 48.2 field goal percentage… Finished second on the team in total rebounds (118) and third in rebounding average (3.9)… Second on the team with 13 blocks on the year… Recorded a career-best 13 points on two occasions, first in a 79-71 win at Wake Forest (2/5) and then again against Georgia Tech (3/2) in the First Round of the 2006 ACC Tournament… Nearly notched first career double-double in a double-overtime victory over Georgia Tech (2/26), with nine points and a career-high nine boards… Scored 11 points with six rebounds to help lead UM over Florida International (3/18) in the First Round of the 2006 WNIT.
2004-05 (FRESHMAN)
Played in 17 games in 2004-05 as a true freshman… Averaged 1.1 rebounds and just under a point in 3.5 minutes per game… Posted best game of the season against NC State (1/20), with a season-best six points on 3-of-4 field goals and with four rebounds in 16 minutes of action… Recorded three rebounds in four minutes of play against Loyola Marymount (12/29) in the championship game of the UM Holiday Classic.
PRIOR TO MIAMI
A standout guard at South Broward High School… Florida District 5A Player of the Year while garnering District 5A First Team and All-Broward County First Team honors, while averaging 17 points and 10 rebounds per game as a senior… Helped lead SBHS to four state championships from 2000-04… Played with former UM teammate Tamara James during her freshman, sophomore and junior seasons and with Toccara Williams, formerly of WNBA's Silver Stars, during her freshman season at SBHS… Spent one year at Patterson Preparatory School following graduation from SBHS, averaging over 16 points per game.
PERSONAL
A music business major, who graduated in May of 2008… Continues to take music related classes at UM… Wants to become an entrepreneur and pursue careers in singing, producing and songwriting… Performed at the Zo's Summer Groove in 2008.