University of Miami Athletics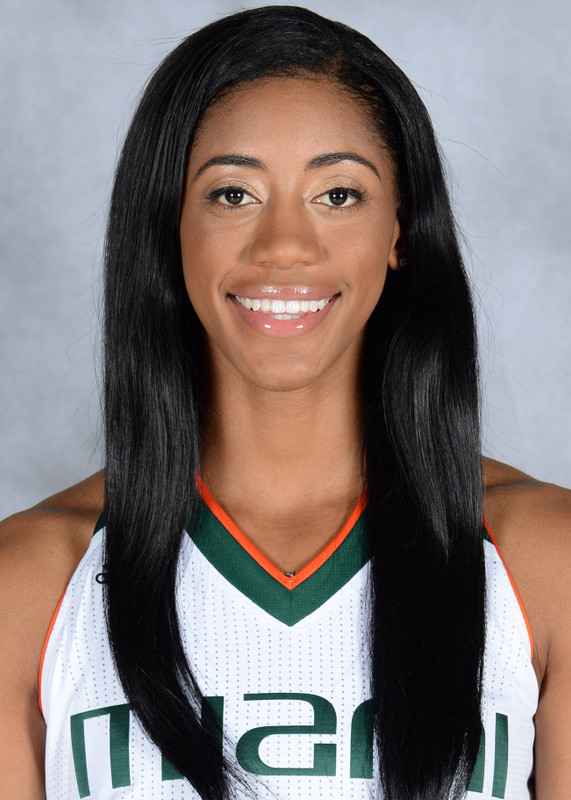 As a Senior (2017-18): Redshirted due to left leg injury.
As a Junior (2016-17): Allstate WBCA Good Works Team Nominee
Played in 27 games … Missed the final five games of the season with a left leg injury … Averaged 1.2 points and 2.5 rebounds … Ranked third among Hurricanes in offensive rebounding (1.5) … Co-led the team in rebounding one time … Registered a co-season-high five points to go along with four rebounds against Charlotte (11/16) … Posted a season-high-tying five points versus Grambling State (11/25), also pulling down five rebounds … Notched two points and five rebounds against Loyola Chicago (12/6) … Blocked a season-best two shots, good for a game high, and had two rebounds at FIU (12/16) … Posted two points and four rebounds against No. 15/16 Virginia Tech (1/11) … Tallied a season-high six rebounds, tied for the most on the team, at No. 9/8 Louisville (1/15) … Registered two points and five boards at Wake Forest (2/2) … Finished with four points, two rebounds and a season-high two steals, tied for the game lead, at fifth-ranked Florida State (2/6) … Recorded four points and four rebounds in a season-high 17 minutes at No. 13/14 Duke (2/19) … Suffered a season-ending injury in Miami's regular season finale versus Georgia Tech (2/26).
As a Sophomore (2015-16): Played in all 33 games and earned a pair of starts … Averaged 1.9 points and 2.7 rebounds … Finished fifth on the team in both blocked shots (nine) and offensive rebounds (38) … Scored four points and grabbed six rebounds in 20 minutes against Bethune-Cookman (11/15) … Tallied six points and made both of her free throw attempts versus Milwaukee (11/27) … Led all players with eight rebounds in Miami's win over UMass Lowell (12/6) … Recorded six boards and attempted a career-high six free throws against FIU (12/22) … Pulled down seven rebounds in a co-season-high 21 minutes in the Hurricanes' victory at North Carolina (1/17) … Blocked two shots at Boston College (2/4) … Logged six points on 3-of-4 shooting to go along with a team-best six rebounds, a game- and career-high three blocked shots and a co-game-high, career-high-tying three steals at third-ranked Notre Dame (3/5) … Made the first start of her career in an overtime win versus Virginia Tech (2/21) and scored Miami's first basket of the game … Also received the starting nod against No. 10/10 Louisville (2/25).
As a Freshman (2014-15): Played in all 33 games … Averaged 1.8 points and grabbed 105 total rebounds, good for 3.2 per game … Ranked third on the team with 15 blocked shots … Made her Miami debut against Oakland (11/14), scoring four points in the game … Had a then-career-best six rebounds in 13 minutes in the win over North Florida (11/21) to tie for the game high … Grabbed five rebounds against Illinois State (11/28) … Her five rebounds in 11 minutes against Jacksonville (12/6) tied for the game high … Set career highs with six points and three made field goals against Florida A&M (12/28), also grabbing five rebounds in the game … Matched career highs with six points, a team-high six rebounds, three made field goals and two steals in the Miami Holiday Tournament championship game against LSU (12/29) … Blocked multiple shots for the first time in her career in the win over Boston College (1/4) … Matched a then-career high with six rebounds in 20 minutes of action at Virginia Tech (1/11) … Set a then-career high with 23 minutes played against Virginia (1/21) and also equaled her then-career best with six rebounds … Blocked two shots at fourth-ranked Louisville (1/25), tying her season best … Recorded multiple assists for the first time in her career against Virginia Tech (2/5) and also equaled her season high with two blocks … Grabbed a team-leading, career-high 10 rebounds at No. 9/8 Florida State (2/8) and also played a career-high 27 minutes in the game.
High School: Graduated from Riverdale Baptist School … Averaged 12 points, 12 rebounds and 2.5 blocks as a senior, and her team was ranked No. 10 by ESPN … Won the Dick's Sporting Goods High School National Tournament at Madison Square Garden as a senior and the National Association of Christian Athletes championship … McDonald's All-American Game nominee and MVP of the 2014 Roundball Classic … Selected to the All-Gazette Second Team as a senior … As a junior at North Point High School, helped the team to a 4A state title and the first undefeated season in school history at 27-0, finishing No. 25 in the ESPN rankings … Started every game of her high school basketball career … Received two varsity letters in cross country and two in track and field … Won the Minds in Motion Scholar Award and the Scholar Athlete Award at North Point … Riverdale Baptist Distinguished Honor Roll as a senior, North Point Highest Honors and Honor Roll the prior three years … Member of the National Honor Society … WNBA veteran Tianna Hawkins also attended Riverdale Baptist.
Personal: Full name is Khaila Alese Prather … Name is pronounced KAY-Luh PRAY-Thur … Nicknames are "KP" and "KK" … Born June 21, 1996 … Parents are Craig and Susan Prather … Father is a captain in the U.S. Navy and played basketball at the U.S. Naval Academy, where he was a teammate of eventual NBA Hall of Famer David Robinson on the 1986-87 team that went 30-5 … Has an older brother, Craig, Jr. … Majoring in public health … Career goal is to be a pediatrician … Enjoys writing poetry and reading … Athletic role models are Elena Delle Donne and Candace Parker.