University of Miami Athletics
Keith Crowley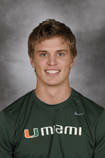 2010-11 (Senior):
Fall: 1-1 singles, 1-1 doubles. Spring: 14-10 singles, 9-14 doubles. 
Closes his career with a 60-44 singles record in four seasons as a Hurricane, ranking 23rd in Miami history… Put together six- and five-match win streaks, winning 11 of 13 matches between Feb. 21 and April 10, en route to a 15-11 singles record and a 10-15 mark in doubles as a senior… Played at No. 1 through No. 3 positions, going 9-4 at No. 3… Went 7-4 versus ACC opponents, including straight-sets win over No. 113 Tripper Carleton of 35th-ranked Wake Forest at No. 2… Six of his seven ACC wins came in straight sets… Also defeated opponents from No. 28 Florida State, No. 16 Georgia Tech, No. 23 Minnesota, No. 36 Virginia Tech, No. 43 Maryland and No. 59 NC State… Five of his losses were to Top 25 ranked players… Went 6-4 in ACC doubles matches – including a perfect 4-0 mark with Omar Aly at No. 2… They won four straight, defeating tandems from No. 43 Maryland and Boston College at home, and then at No. 19 North Carolina and No. 10 Duke… Pairing with Waylon Chin, the duo defeated No. 16 Georgia Tech's Eliot Potvin and Ryan Smith, 9-8 (7-1) at No. 1… Saw limited action during the fall, putting together a 1-1 record in both singles and doubles play at the Southern Intercollegiate Championships… Defeated Liberty's Siim Tuus, 6-7, 6-4, 1-0 and paired with Christian Blöcker to knock off Tennessee's Ed Jones and Max Stevens, 8-5, before falling in the Round of 16.
2009-10 (Junior):
Fall: 1-2 singles, 1-2 doubles. Spring: 10-12 singles, 13-8 doubles. 
Posted an 11-14 overall mark in singles play, including a 10-12 record during the spring… Played at the No. 3, 4 and 5 positions, going 8-8 at No. 3 and earning a win at both the No. 4 and 5 spots… Won four of his last six singles matches in straight sets, including a 6-3, 6-1 win over Rafael Paez of No. 40 NC State at No. 3 and a 6-1, 6-3 victory over Akash Gujarati of No. 51 NC State at No. 5 in the ACC Tournament… Took No. 33 Jarmere Jenkins of top-ranked Virginia to three sets at No. 3 before falling, 3-6, 6-3, 3-6… Went 14-10 overall in doubles play, including a 13-8 mark at No. 2 in dual match play… Teamed with Hector Nieto to go 12-7, including a 4-6 mark in ACC play… The duo was ranked for much of the spring, peaking at No. 53 and won eight-straight matches from Feb. 1 through March 14… They went 2-2 versus nationally-ranked duos, downing 51st-ranked Michael Nuesslein and Christian Saravia of No. 32 Rice, 9-8 (8-6) and 79th-ranked Luke Rassow-Kantor and Michael Dierberger of No. 30 Wisconsin, 8-4… Saw limited competition in the fall, posting a 1-2 record in singles play and a 1-2 mark in doubles with Waylon Chin… Won his final singles match with a 5-7, 6-4, 1-0 decision over Florida's William Federhofer at the Gator Invitational.
2008-09 (Sophomore):
Fall: 8-4 singles, 4-4 doubles. Spring: 15-5 singles, 9-15 doubles. 
Among three Hurricanes to win at least 20 singles matches, finishing the season 23-9 – including a 15-4 record in dual matches and a 7-1 mark versus league competition playing in the No. 4, 5 and 6 positions… Earned his team-high tying 23rd win of the season – and his eighth straight – with a 6-3, 6-1 decision over No. 53 Columbia's Ekin Sezgen in the first round of the NCAA Tournament… Defeated a pair of ranked opponents, knocking off No. 61 Sam Garforth-Bles of 24th-ranked Rice, 6-3, 4-6, 7-6, and No. 83 Lee Singer from top-ranked Virginia, 6-4, 6-2… More than doubled the 11 singles wins he earned during his freshman campaign in 2008, while improving his doubles victories threefold with a 15-17 record, including a 7-4 mark in ACC play… Went 5-3 versus league opponents with Carl Sundberg, playing predominantly at the No. 2 spot … In the fall, posted an 8-4 mark in singles play and a 5-3 record in doubles competition… Put together winning streaks of five straight and three straight in singles play… Won three matches during the pre-qualifying round of the All-American Championships to advance to the qualifying round… Bounced back from a first-round loss at the ITA Southeast Regional Championships to advance to the consolation finals… Compiled a perfect 2-0 record in doubles play with David Rosenfeld and went 3-3 with Ignacio Taboada… With Taboada, knocked off duos from Florida A&M and UAB to advance to the semifinals of the Seminole Invitational, where they fell to Louisville's 26th-ranked tandem of Simon Childs and Austen Childs… Won a pair of matches with Rosenfeld at the Wolverine Invitational.
2007-08 (Freshman):
Singles: 11-10. 
Compiled an 11-10 record in singles competition, including a 5-3 mark in ACC play… Went 11-9 at the No. 5 position and 0-1 at No. 3… Won his first three singles matches in ACC competition, downing opponents from three ranked teams — Georgia Tech, Clemson and Florida State… Overall, eight of his 11 singles wins came versus opponents from ranked teams… Competed in doubles play with HectorNieto, J.C. Whitner and Daniel Vallverdu… Earned four wins with Nieto, including their first two in dual match play at the No. 3 position… Defeated No. 11 North Carolina's David Stone and Tristan Heinrich, 8-5, to help clinch the doubles point in the second round of the ACC Tournament.
Prep:
Ranked No. 1 among under-18 players in both singles and doubles play in South Africa in 2005-06… Played at No. 1 in both singles and doubles at Paul Roos from 2004-06… Team was three-time national champs (2003-05) and four-time regional champs (2003-06)… Also played prep golf for one year.
 Personal:
The son of Keith and Linda Crowley… Father is a professional tennis coach… Has three sisters… Off the court, enjoys surfing and is an avid rugby fan… Lists Roger Federer as his favorite athlete… Graduated with a degree in business in May 2011… A UM Book Buster (3.0 GPA or higher) twice.