University of Miami Athletics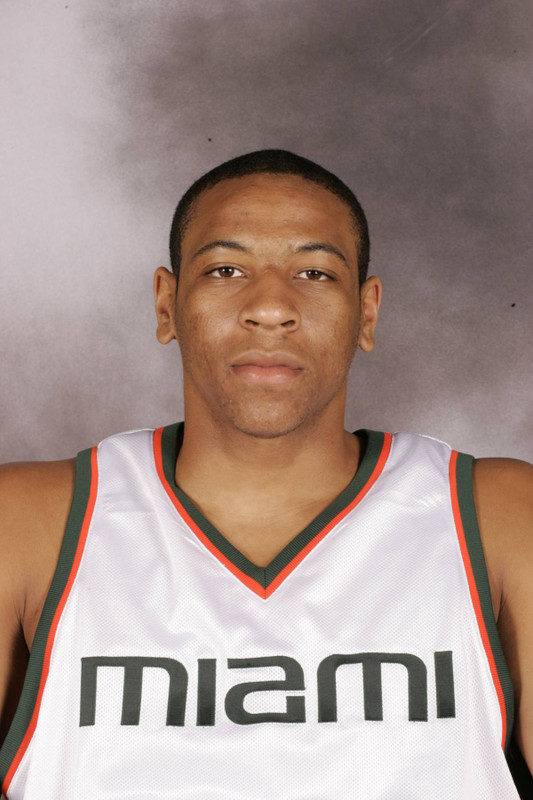 As a Junior (2005-06)
Played in five games averaging 1.6 points per game…is 4-5 (.800) from the field during his career including 3-4 this season…played 13 minutes this season surpassing last season's total (6). In The Regular Season: Did not score in two minutes against Wofford (12-10-05)…had two points and two rebounds in four minutes against Birmingham-Southern (12-3-05)…scored two points in one minute of playing time against North Carolina A&T (11-22-05)…matched a career-high playing four minutes against Wisconsin-Green Bay (11-15-05) recording three points, one assist, one block and one steal. In the ACC Tournament: Did not play. In the NIT: Did not play.
As a Sophomore (2004-05)
Played in two games averaging 1.5 points in 3.0 minutes per game. In the Regular Season: Did not score in two minutes of action against Appalachian State (12-30-04)…played in his first regular-season game against Stetson (12-18-04) recording three points in four minutes of action…played in both of the Hurricanes exhibition games averaging 3.0 points and 1.0 assist in 4.5 minutes per game…recorded three rebounds in three minutes of action against Barry (11-4-04)…played eight minutes against Inter-American Puerto Rico scoring six points and handing out two assists.
High School
Flanagan…averaged 11 points and 11 rebounds per game as a senior leading Flanagan to a conference championship….team captain as a senior…averaged 12 points and 10 rebounds as a junior earning honorable-mention All-County honors…also lettered two seasons in football…coached in basketball by Greg Samuels.
Personal
Majoring in Electrical Engineering…enjoys playing video games in his spare time.