University of Miami Athletics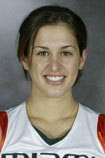 At Miami
A role player who has been one of UM's first options off the bench for most of her career…Hayek could make a huge impact this season with the potential to step into the starting lineup in her senior campaign…Always a dangerous threat from behind the arc, she poses a major threat to opponents as one of the Hurricane's purest shooters.
2004-05 (Junior)
One of only five players to see action in all 29 games…Recorded two starts, both of which came in the ACC Tournament…Averaged 5.5 points, 1.5 rebounds and 1.3 assists per game coming off the bench…Her 5.5 points per game ranked fifth on the UM roster and first among non-starters…Ranked second on the team in three point field goal percentage (.313) and third in three pointers attempted (112) and three pointers made (35)…Set career highs in every statistical category…Put together five double-digit scoring games…Recorded a career day against Clemson (1/31), scoring a career-high 17 points, including hitting 5-of-10 from behind the three point line and 6-of-11 from the floor…Scored 13 points, going 3-of-7 from beyond the arc against George Mason (11/30)…Scored 15 points, hitting three three pointers against Georgia Tech (3/4) at the ACC Tournament in her first career start.
2003-04 (Sophomore)
After missing the first seven games of the season with a hyper-extended knee, she returned to play in 14 games with limited playing time…Averaged 1.0 point and 5.3 minutes per game…Hauled in a career-high four rebounds against Villanova (1/7), while tying a career-high with two three pointers against the Wildcats…Also scored a season-high six points against Villanova.
2002-03 (Freshman)
Played in 15 games as a true freshman…Averaged 2.7 points and 8.1 minutes per game, hitting 13-of-29 (.448) from behind the three point line…Scored a career-high 12 points against Morris Brown (11/25), hitting 4-of-4 shots from the field…Recorded a season-high two rebounds on three different occasions…Hit 2-of-3 shots from beyond the arc against Florida Atlantic (12/16) and against Georgetown (3/4).
Prior to Miami
Left Lancaster Catholic High School as one of the best players to ever don the LCHS uniform…During her four-year high school career, became LCHS's second-leading all-time scorer with 1,510 career points…Averaged 20.6 points, four rebounds and four assists per game her senior season…Also led her team in assists and steals…Earned All-Star honors from the Intelligencer Journal, Harrisburg Patriot News and the New Era…Was named to the Pennsylvania All-State Second Team by the Associated Press her senior year.
Personal
Majoring in theatre…Enjoys acting and dancing.