University of Miami Athletics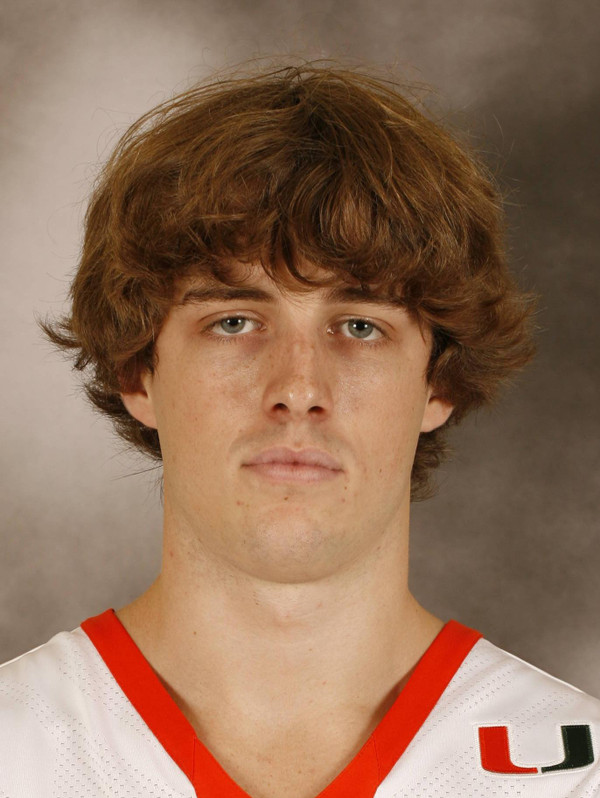 As a Junior (2006-07)
Appeared in three games…recorded an assist against Alcorn State (11/14)…averaged 2.0 minutes per game…recorded three field goal attempts.
As a Sophomore (2005-06)
Played in four games averaging 0.5 points and 0.3 rebounds per game. In the Regular Season: Did not score in one minute versus Clemson (1-18-06)…had one rebound in two minutes against Wofford (12-10-05)…recorded one steal in two minutes against Birmingham-Southern (12-3-05)…saw first action of the season against Michigan (11-29-05) scoring two points in one minute of playing time. In the ACC Tournament: Did not play. In the NIT: Did not play.
As a Freshman (2004-05)
Played in two games this season averaging 2.0 minutes per contest. In the Regular Season: Did not score in one minute of action against Appalachian State (12-30-04)…saw first action of the season playing three minutes against Stetson (12-18-04).
High School
Sandusky High School…averaged 10.7 points, 4.0 rebounds, 4.5 assists, 3.7 blocks and shot 44 percent from three-point range as a senior leading team to a 15-8 record, the Sectional Championship, and a trip to the District Semifinals…team captain and team Defensive Player of the Year as a senior…member of the National Honor Society…coached in basketball by T.J. James.
Personal
Majoring in Economics and Legal Studies with a minor in English…nickname is J-Strat…enjoys playing volleyball and wakeboarding in his free time…lists the Chicago Bulls as his favorite sports team and Michael Jordan as his favorite athlete.
 
Year
GP
GS
Min
Avg
FG
FGA
Pct
3FG
3A
3Pct
FT
FTA
Pct
Off
Def
Tot
Avg
PF
FO
A
TO
B
S
Pts
Avg
 2004-05
 2
 0
 4
 2.0
 0
1 
 .000
 0
 1
 .000
 0
 0
 .000
 0
 0
 0
 0.0
 0
0 
 0
 1
 0
 0
 0
 0.0
 2005-06
 1
 0
 1
1.0 
 0
 0
 .000
 0
 0
 .000
 0
 0
.000
 0
0 
 0
 0.0
 0
 0
 0
 0
 0
 0
 0
 0.0
 2006-07
 3
 0
 6
 2.0
 0
 3
 .000
 0
 3
 .000
0 
 0
 .000
 0
 0
 0
 0.0
 0
0 
1
 1
 0
 0
 0
 0.0
2007-08
7
0
10
1.4
1
5
.200
1
4
.250
0
0
.000
0
0
0
0.0
0
0
0
0
0
0
3
0.4
TOTAL
 13
 0
 21
 6.4
 1
 9
 .200
 1
 8
 .250
 
 0
 .000
 0
 0
 0
 0.0
 0
 0
 1
 2
 0
 0
 3
 0.4