University of Miami Athletics
John Tobin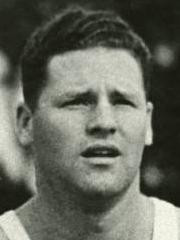 At Miami: Basketball was Tobin's natural game…He was a exceptional set-shooter, as well as being captain of the 1941-42 team, when he averaged 13.8 points per game… He lead the team in scoring all three seasons, the first Miami player to do so, scoring a career total of 586 points for a 11.3 career average…Back before 3 point shots and a shot clock made college basketball a high scoring affair, his total was nearly 35 % of the teams scoring…Red excelled at the wingback position out of the single wing system.  During this era, players played both offense and defense…Red also excelled as a defensive halfback. 
As a Senior (1941-42)
Captain of the Miami Men's Basketball team..8-2 season… 5 shutouts
As a Junior (1940-41)
Sharpshooter who led the team… most successful season for Hurricanes since 1930… recorded wins over Stetson, YMHA, Rollins and Florida Southern… won YMCA Gold Ball Tournament for second consecutive year… was part of Morris's innovative "fast" team… high scorer with sixteen points for 57-43 win over Florida Southern in Lakeland… tied for highest scorer in game against Rollins… recorded 17 points vs. University of Florida… highest scorer of the season.
As a Sophomore (1939-1940)
Basketball was back for second straight year as a major sport… won only 4 regular season games… had a huge performance against the Gators… team won their first game against University of Tampa 39-31 (2/10)… scored 11 points against Stetson… led team to fourth win against Florida Southern… team won Annual Gold Ball Tournament.
Personal: All-around athlete… lettered in baseball, too, as a pitcher… inducted into the University of Miami Sports Hall of Fame in 1969