University of Miami Athletics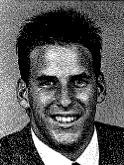 As a Junior (1987-88): Enjoyed his finest outing as a collegian establishing career-high marks by scoring 16 points (including 4 of 4 from the three point area) and grabbing a personal best 8 rebounds in the 79-76 overtime win over Marist at Madison Square Garden… played in all 31 Hurricane contests including 14 starts… averaged 3.1 points, 2.3 assists ad 1.6 rebounds per game… had the second-best three point goal shooting percentage on the UM squad with a 38.1 mark (16 of 42)… totaled 72 assists in logging 14 minutes of play per contest.
As a Sophomore (1986-87):  One of only three players to see action in all 31 games while drawing starting assignments at guard on four occasions… finished the year as the Hurricanes' second-leading assist man with 77 (2.5 per game)… averaged 18 minutes and 4.4 points per game… top overall game was an 11-point night in Miami's 79-75 overtime win over Yale… also tallied 11 markers against Florida State in Tallahassee… collected a career-high seven assists vs. St. Francis, and added six assists vs. Brooklyn.
As a Freshman (1985-86): Averaged nine minutes per game in a reserve role… finished the year ranked sixth in total minutes played (202), while scoring 24 points and adding 19 assists… longest rookie year game-playing stint came in Madison, Wisconsin where he logged 21 minutes vs. the Badgers… scored six points with three assists in that first road game at Wisconsin… showed poise at the free throw line, connecting on 10 of 14 for a 71.4% mark for the season (third-highest on the team).
High School: Led Princeton High School to its first undefeated regular season record as a senior (20-0)… team later finished No.5 in the final state poll with an overall 23-1 slate… captain of the squad during senior season when he averaged 17.0 points, 6.5 rebounds and 6.0 assists per game… team won Big Eight Conference in Southwest Indiana, while Warren won Southwest Indiana Player of the Year honors… selected to play in the Indiana East-West All-Star Game following senior year… was also named to all-county, all-conference and all-section teams… was an all-conference selection as a junior while team finished in a tie for conference title… Princeton was a state finalist in 1982-83 with Warren the sixth man on squad as a sophomore… also earned four varsity letters in football and served as team captain as a senior (quarterback)… broke school and state records for completed passes in single game (24)… also earned two letters in baseball… named to school's Senior Advisory Council…high school coach was Jim Jones who also tutored Larry Bird at French Lick High School in Indiana
Personal: Full name is Joel Warren… was pictured in poolside scene in Sports Illustrated feature on Miami basketball (1/6/86)… majoring in communications at Miami with hopes of a career in sports broadcasting… born 5/26/67.
| | | | | | | | | | | | | | | | | | | | | | | | | | |
| --- | --- | --- | --- | --- | --- | --- | --- | --- | --- | --- | --- | --- | --- | --- | --- | --- | --- | --- | --- | --- | --- | --- | --- | --- | --- |
| Year | GP | GS | Min | Avg | FG | FGA | Pct | 3FG | 3A | 3Pct | FT | FTA | Pct | Off | Def | Tot | Avg | PF | FO | A | TO | B | S | Pts | Avg |
| 85-86 | 23 | 0 | 202 | 9 | 7 | 29 | .241 | – | – | – | 10 | 14 | .714 | – | – | 20 | 0.9 | 20 | 0 | 19 | 20 | 0 | 5 | 24 | 1.0 |
| 86-87 | 31 | 4 | 546 | 18 | 56 | 153 | .395 | 15 | 51 | .294 | 32 | 50 | .640 | 12 | 35 | 58 | 1.9 | 38 | 0 | 77 | 46 | 2 | 8 | 135 | 4.4 |
| 87-88 | 31 | 14 | 496 | 16 | 31 | 80 | .388 | 16 | 42 | .381 | 18 | 25 | .720 | 12 | 39 | 61 | 1.8 | 48 | 1 | 72 | 36 | 2 | 19 | 96 | 3.1 |
| Total | 85 | 18 | 1244 | 15 | 94 | 262 | .359 | 31 | 93 | .399 | 60 | 89 | .674 | 24 | 85 | 129 | 1.5 | 106 | 1 | 188 | 102 | 2 | 19 | 255 | 3.0 |