University of Miami Athletics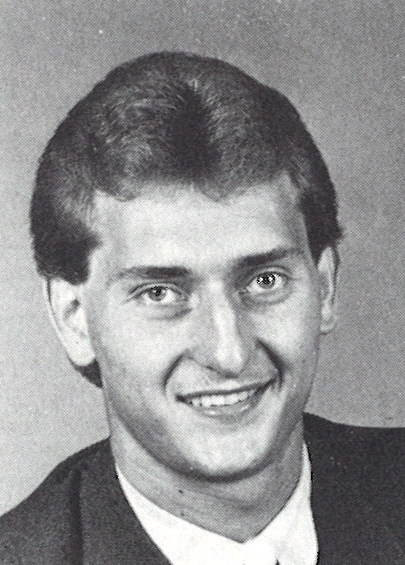 At Miami
Fifth-year senior who will vie for playing time at the center position…is the only Cane to have been with the program since 1986-87…strong showings by Ross would enable Joe Wylie to ply at No. 4 and greatly increase the strength of the Canes' front line…has made steady improvement since joining the UM squad in 1986 despite incurring heavy setbacks with two knee surgeries…has a solid shooting touch around the basket and one of the best three-points on the UM squad…is the tallest player on the Miami squad…the only current Hurricane from the state of Michigan.
As a Junior (1989-90)
Appeared in eight contests at an average of four minutes of playing time…developed a strong following both at home and on the road…did not see action through the first 10 games of the season…was greeted at each UM home game, and during a road trip to South Florida with cheers of "We want Ross!" and with T-shirts emblazoned with "Air Ross" worn by members of Miami's national championship football team…received a standing ovation when entering the Brooklyn College content…got his second standing "O" while entering the contest with three minutes remaining and kept them up by drilling a three-point short (22 feet) with 1:03 on the clock…finished the contest one-of-one from the field for three points while adding ten rebounds in three minutes of action, an outing that earned him "Player of the Game" honors by SportsChannel Florida…continued his three-point barrage vs. Notre Dame when he hit on two-of-three trifectas while pulling down four rebounds in 11 minutes of PT…Miami vs. Florida served as n unofficial "Joe Ross Night" as nearly 100 fans donned Ross masks for Miami's 62-59 come-from-behind win.
As a Sophomore (1988-89)
Saw limited action, appearing in just five contests, averaging four minutes per outing…most playing time came against Stanford following Mark Richardson's ankle injury when Ross tallied six points and one rebound in 15 minutes of action…other appearances came vs. Maryland-Eastern Shore, Bethune-Cookman, Long Island and Marquette.
As a Freshman (1987-88)
Underwent arthroscopic knee surgery at the beginning of fall practice and saw limited action in 16 games…best overall outing as a collegian came in Miami's 110-82 loss against Purdue in the championship game of the Eastern Airlines Palm Beach Classic, Ross scored 14 points (4 of 4 from the floor and 6 of 6 from the charity stripe) and grabbed 5 rebounds in 16 minutes…connected on his first 11 free throws finishing 11 of 14 (78.6%)…averaged just four minutes per contest played…with the same playing time as Horford, stats would add up to over 18 points and seven rebound per game and 72 blocked shots.
As a Redshirt (1986-87)
Gained valuable experience while facing Horford and Mark Richardson every day in practice…used redshirt season to improve in overall strength from hard work in the weight room…also showed considerable progress on the floor, gaining confidence while making the adjustment to major college basketball…suffered a knee injury which caused him to miss the final few weeks of the season.
High School: Averaged 16.7 points and 13.1 rebounds as a senior at Lincoln High School…led team to its first conference title in 20 years…team also captured district…earned MVP honors in final two prep campaigns…established school records for career blocked shots and rebounds…voted third-tem all-state while earning all-conference, all-area, and all-region honors…led team to an18-4 record as a senior and 17-5 mark the year before…coached by Rob Rowley.
Personal: Full name is Joseph Allen Ross…Signed a national letter of intent with UM in the spring of 1986…majoring in business…born 6/7/67.