University of Miami Athletics
Jesse Flores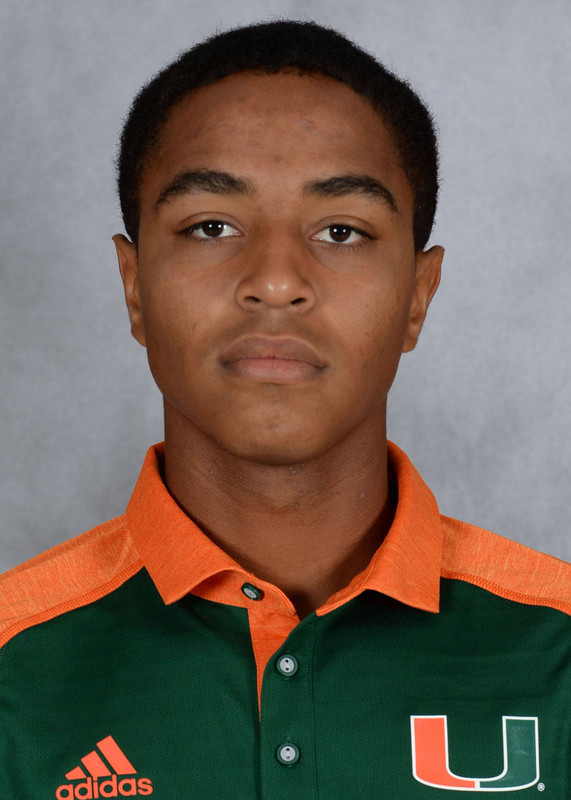 ACC Academic Honor Roll, 2016-17
As a Senior (2016-17)
Jesse Flores 2016-17 match-by-match 
Fall:5-3 singles, 2-2 doubles … In singles, opened the season with five consecutive victories to reach the semifinals of the Southern Intercollegiate Championships … Began the tournament with a victory over Lipscomb's Daniel Cardenas … In the round of 64, defeated Nicole de Fraia (UCF) in a straight set … Took down Sebastian Acuna of Georgia State in the round of 32 … Earned a victory over Panu Virtanen of Vanderbilt to reach the quarterfinals … Advanced to the semifinals after defeating Miguel Este of Eastern Tennessee State.
Spring: 7-11 singles, 9-8 doubles … 2-8 singles, 4-5 doubles in ACC play … Earned back-to-back victories at the No. 3 position over Troy's Pablo Moreno (Feb. 4) and Florida Atlantic's Anthony Schohn (Feb. 12) … Won a trio of consecutive matches from March 6 to March 12, including an ACC victory over No. 17 Georgia Tech's Carlos Divar, at the No. 4 position … Defeated Boston College's Kent Mukai, in the opening round victory of the ACC Tournament … Paired with Max Andrews, the duo took down three opponents ranked in the ITA top-40 … Had three straight victories while teamed up with Andrews from Feb. 19 to March 19 … Took down duo of No. 39 Matic Spec and Felix Corwin (Minnesota) (March 17) … Defeated the nation's top-ranked doubles pair (Apr. 2), Skander Mansouri and Christian Seraphim, 6-4 … Downed No. 24 Eddy Covalschi and Josh Hagar of Notre Dame, 6-4 (Apr. 9) … The duo joined the rankings at No. 56 on April 4, rising to as high as No. 40 and ended the season at No. 55.
Spring 2017: Book Buster Honor Roll (3.0+ GPA), Athletic Director Honor Roll  (3.2+ GPA), Dean's List (3.5+ GPA), Provost Honor Roll (3.75+ GPA), President's List (4.0 GPA).
As a Junior (2015-16)
Jesse Flores 2015-16 match-by-match 
Fall: 6-6 singles, 4-5 doubles … Won two consecutive matches of four at Ivy Plus Invitational … Posted a win at the ITA Men's All-American Championship against Fedor Baev (Northwestern) … Downed Jack Haffey (Florida State) and Felipe Jaworski (Georgia State) at the 2015 USTA/ITA Division I Men's Southeast Regional Championship … In doubles Flores and Nile Clark were 2-5 … Played in the Ivy Plus Invitational where they downed duo Darragh Galvin and Zvonimir Podvinski (Old Dominion) … In the Bedford Cup, were victorious over Loic Blanco and Cojlin MacNamara (Stetson). Were then defeated by Joshua Wardell and Chase Perez-Blanco (Florida) in the Round 16 of the tournament … At the ITA Men's All-American Championship with partner Christian Langmo. Defeated duo Chase Gordon and Daniel Santos (Tulsa). Fell to No. 29 duo Hayden Sabatka and Bart Van Leijsen (New Mexico) in Round of 64 of the tournament … Tallied another win against Andrei Morin-Kougoucheff and Anthony Schonn (Florida Atlantic) in Round of 64 of 2015 USTA/ITA Men's Division I Southeast Regional Championship.
Spring: 10-10 singles, 8-10 doubles … In ACC play 4-6 singles, 2-8 doubles … Won seven of nine singles matches in straight sets from Jan.16 to March 6 … Secured three more victories against ACC opponents. Began doubles season with Christian Langmo … Secured five straight wins on home court. Played six matches in the top position and two at No.2 … Was then paired up with Kevin Bondar for another three consecutive wins against ACC opponents in the No. 3 position … Was 5-2 with Christian Langmo, 3-6 Kevin Bondar and 0-2 Piotr Lomacki.
Fall 2015: Book Buster Honor Roll (3.0+ GPA), Athletic Director Honor Roll  (3.2+ GPA).
As a Sophomore (UCF) (2014-15)
8-5 in singles … Won three matches at both No. 5 and No. 6 positions … Won seven doubles matches, five of which were at No. 3.
As a Freshman (UCF) (2013-14)
8-5 in singles … 6-3 at No. 6 … Played at the No. 1 doubles spot in all 18 matches.
Juniors
Born Jess Armando Flores on Mar. 31, 1995 in Oakville, Ontario, Canada … Son of Hazel Flores … Brother to Jennison and Dylan, who is a professional soccer player, currently with Tondela F.C. in Portugal … Ranked as high as No. 4 in the Canadian Junior rankings … Second-ranked junior in Ontario … Grade 5 singles finalist at the All-Canadian ITF Championship … Multi-sport standout … Captain of high school basketball team three years … Majoring in Psychology Pre-Med with a minor in Chemistry … Provincial finals MVP for both soccer and basketball.