University of Miami Athletics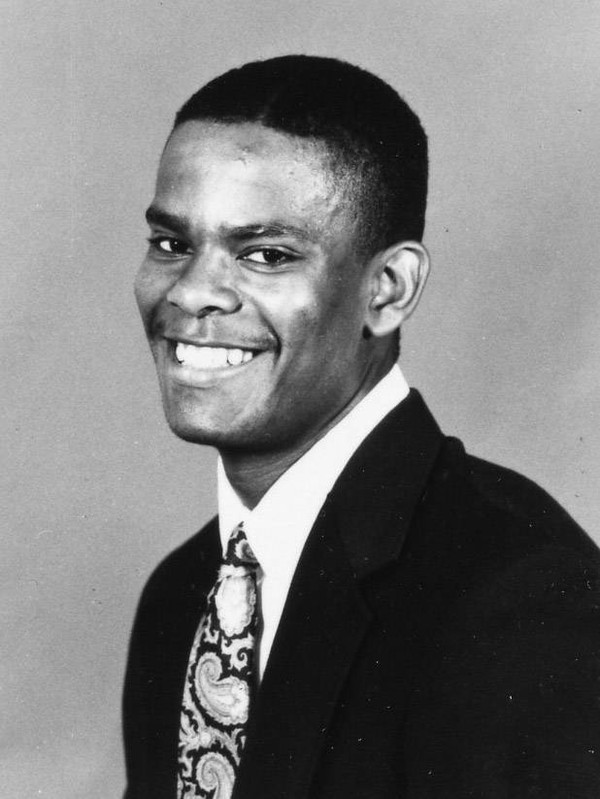 At Miami
Fourth-year senior who has developed into key factory in the Um's backcourt…shared Miami's MVP honors in '90-91 along with Jowe Wylie…moved to the point guard slot late in his sophomore year and has started at that position ever since…considered one of the top defenders on the UM squad…has a very explosive first step and likes to push the ball up court and penetrate…complements his aggressiveness with excellent ability to dish off and can be deadly from three-point range…voted Miami's "Most Improved Player" and "Outstanding Defender" in '89-90…signed a NLI to come to Miami in April of 1988…is joined by freshman Michael Gardner as the two Hurricanes from the state of Virginia.
As a Junior (1990-91)
Started all 28 contests…emerged as a strong team-leader and floor general while still learning to play the point position…led Miami in assists (111), steals (70), and average minutes per game (37)…was second on the UM squad in rebounding pulling down a remarkable 4.6 boards per contest…recorded 79 rebounds in the final 13 games for an average of 5.1 per game…had a strong four-game rebounding streak with seven boards vs. Kansas, six vs. Memphis State-1, eight vs. Penn State-2 and nine against Wake Forest…pulled down a career-high 12 rebounds vs. Virginia Commonwealth…hit 50% or better from the field in 13 games…broke the 20-point barrier with 20 points against South Florida-1, 21 points vs. Miami (Ohio), and a personal-best 23 points against West Virginia, all of which were on the road…had a streak of eight consecutive contests with at least one three-point goal as he went 18-of-31 (.581)…had a then career-high five steals vs. Kansas and tied the mark vs. DePaul-1 before shattering the mark with nine thefts vs. FIU…dished out a personal-best 11 assists in win over St. Joseph's-while picking up four steals and committing just one turnover in 36 minutes of PT.
As a Sophomore (1989-90)
Developed into a major assent at both the "1" and "2" guard positions despite previously never having played the point and became Miami's most potent backcourt scorer…had a then personal-best in his first start vs. George Mason as former Head Coach Bill Foster started all D.C. area players…tallied 18 points, including three trifectas and four overtime points, while adding five rebounds, two assists and four steals…had a potential game winner waived off at the regulation buzzer…vs, Kansas, notched 10 points on five-of-seven shooting from the field while adding four assists in just 14 minutes of action…was a perfect two-of-two, including a three-pointer, for five overtime points vs. Florida State-1…received his second starting nod of the season vs. Mercer in place of an Thomas Hocker and responded by leading Miami with 12 points, two assists and three steals…kept the starting slot the rest of the season…vs. UNC, drew the praise of UNC coach Dean Smith by totaling 12 points and a career-high 10 assists…scored in double figures for the third straight game vs. Davidson with 12 points while adding two steals and two assists while being tagged with just one turnover…led Miami in scoring for the second time with 14 points vs. Central Connecticut…was Miami's No. 2 scorer vs. both FSU-2 (15 points) and Florida (12 points)…also added four steals and four rebounds against the Gators and hit a key three-pointer as Miami stormed back from a 13-point deficit in the final 5:27…led the UM vs. Providence with first 20-point outing while adding four assists and six boards…hit for another 20 vs. Tulane while adding four assists…led Miami with a personal high 22 points vs. FIU while dishing out six assists…as a starter in the final 12 games, averaged 14.9 points and added 37 assists, 19 steals and 15 turnovers in 33 minutes of average PT.
As a Freshman (1988-89)
Saw action in 17 contests, averaging seven minutes per outing…picked up four points, four rebounds and one assist in 15 minutes of action in his first collegiate game vs. Maryland-East Shore…had five points, including his first career three-pointer, one assists and one steal in 10 minutes against Bethune-Cookman…shot a perfect two-for-two from three-point land for six points in Miami's win over Pennsylvania in the first round of the Eastern Airlines Palm Beach Classic…scored a then career-high 12 points and pulled down three rebounds in 12 minutes vs. VCU…had three steals and one assists in five minutes vs. Florida Atlantic.
High School: Three-year starter at South Lakes High School…led his team to records of 21-1 during his senior year, 19-5 in his junior season and 16-7 in sophomore campaign (56-13 overall)…South Lakes was the Great Falls District Champion three straight years and advanced to regional play four years straight…voted first-team all-district and all-northern region and second-team all-metropolitan…senior year statistics include averaging 22 points, five assists, anf four steals per game…shot 45% on two-point field goals, 38% on three-pointers and 85% from the free-throw line…broke Michael Jackson's (who starred at Georgetown ands is now with the NBA's Sacramento Kings) South Lakes career scoring mark of 1,197 career points…played against fellow Cane Jake Morton in the preliminary round of the 1988 McDonald's Capital Classic…coached in high school by Windell Byrd.
Personal: Full name is Jerome Andrew Scott…youngest of 11 children…enjoys tennis, fishing and bowling…nicknames are "Icewater" and "Scotty"…majoring in business…born 9/26/69.