University of Miami Athletics
Ignacio Taboada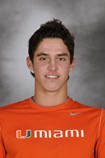 Fall 2009 (Sophomore): 
Fall: 3-0 singles, 0-3 doubles. Spring: 10-7 singles, 6-5 doubles. 
Posted a solid 3-0 singles record in tournament competition at the USF Fall Invitational, including a pair of straight-sets wins over LSU's Stefan Szacinski, 7-5, 7-4, and USF's Mark Oljaca, 6-2, 6-3… Also competed in doubles with Waylon Chin and Carl Sundberg.
2008-09 (Freshman): 
Fall: 11-5 singles, 3-5 doubles. Spring: 12-7 singles, 4-5 doubles. 
The first freshman to post 20 wins since Josh Cohen accomplished the feat in 2003-04 and is the 21st in Miami history – but is one of just nine Miami freshmen in program history to reach the 23-win mark in their debut… Among three Hurricanes to win at least 20 singles matches in 2008-09, finishing the season 23-12 – including a 12-7 record in dual matches and a 5-3 mark versus league competition in his inaugural spring season… After winning a team-high 11 matches during fall play,the true freshman — who has competed in every position between No. 2 and 6 — won five-straight matches to open the spring… Earned his team-high tying 23rd win of the season – and his seventh straight – with a straight-sets 6-1, 6-4 victory over No. 53 Columbia's Rajeev Deb-Sen at No. 6 in the first round of the NCAA Tournament… Posted an 8-9 mark in doubles play, including a 1-1 record in ACC competition with Carl Sundberg… During the fall, put together winning streaks of six and four straight… Won two matches in straight sets during the pre-qualifying round of the All-American Championships… Defeated Tennessee Tech's Mario Gutierrez, 6-7, 6-1, 6-0 in the first round of the ITA Southeast Regional Championships, and then bounced back from a second-round loss to advance to the consolation finals… Knocked off Auburn's Alexander Stamchev and Florida's No. 108 Jeff Dadamo to advance to the Seminole Invitational's Round of Eight… Put together a 3-3 record with Keith Crowley and a 1-1 mark with David Simon in doubles competition… With Crowley, downed duos from Florida A&M and UAB to advance to the semifinals of the Seminole Invitational, where they fell to Louisville's 26th-ranked tandem of Simon Childs and Austen Childs.
Prep: 
Rated as high as No. 150 in the ITF rankings… Has won five national tournaments and one national doubles title… Qualified for the main draw in the Baton Rouge and Tampa Futures Tournaments… Won an ITF grade four tournament in Jamaica and reached the semifinals of grade three and four tournaments in Bermuda, Bahamas, Dominican Republic and New Jersey.
Personal: 
The son of Ignacio and Maria Taboada… Has one brother… Off the court, enjoys water sports, soccer and spending time with friends… Lists Rafael Nadal as his favorite athlete… Selected the University of Miami because of the coaching staff, strong athletic and academic programs, and the overall environment of a small, private campus… Plans to major in marketing and finance.