University of Miami Athletics
Fermin Calvo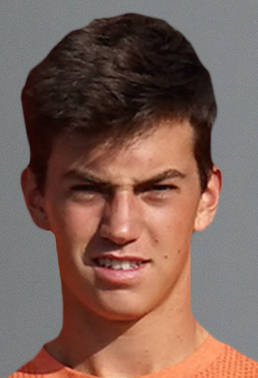 As a Freshman (2015-16)
Fermin Calvo 2015-16 match-by-match 

Book Buster honor roll (3.0)
Fall: Midseason transfer. 
Spring: 7-15 singles, 0-3 doubles … In ACC play 3-9 singles, 0-3 doubles … Posted wins at the No. 4 position (3-9), No. 5 spot (2-3) and No. 6 (2-1), was 0-3 at the No. 3 spot … Two consecutive victories in matches against Michael Sienko in the No. 6 position (Army) and Jordan Hart (Davidson) at the No. 5 … Tallied three ACC victories against opponents Alexandre Thirouin (Boston College), Andrew Li (Georgia Tech) and Igor Saveljic (NC State) all in the No. 4 position … Only appeared in four doubles matches, one of which was unfinished.
Spring 2016: Book Buster Honor Roll (3.0+ GPA).
Personal
Son of Cipriano and Agustina … Coached by his father, who has coached various players to the ATP Tour, including Carlos Berlocq (as high as No. 37 in ATP), and many others.