University of Miami Athletics
Eric Hechtman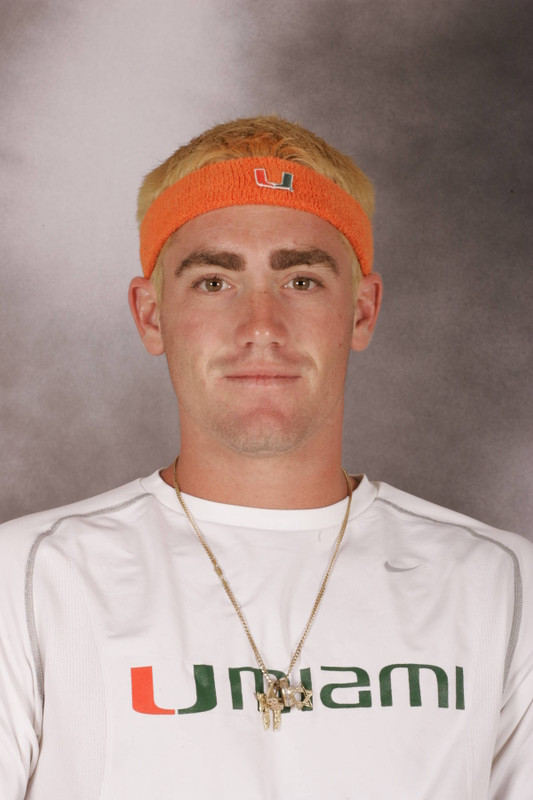 2004-05 (Junior):
Played mostly at the No. 3 spot, posting a 12-3 record …finished with a dual match record of 14-6, and an ACC record of 5-6… defeated Peter Rodrigues 6-4, 6-4 of No. 5 Duke…defeated Val Banada 6-3, 6-4 in a victory over No. 46 North Carolina State…four of his losses came to players who were ranked at the time or finished the season ranked…finished third on the team in overall victories (18)…compiled at 2-3 record at the No. 2 position…had a nine-match winning streak during the season downing opponents from Florida Atlantic, South Florida, Georgia Southern, Jacksonville, Stetson, Central Florida, Florida A&M, Virginia Tech and Wake Forest…teamed with Josh Cohen for an 11-4 record, including a 7-4 record at the No.1 doubles spot and 4-0 record at the No. 2 position…with Cohen finished with a 15-7 record overall, tying for the highest number of doubles wins…in the fall posted a 4-7 record…defeated Todd Paul, 5-7, 6-4, 10-6 of Wake Forest in the Crimson Tide Fall Championships…won three matches in that same Championships… with Cohen won all three matches at the Gator Invitational.
2003-04 (Sophomore):
In singles play, finished the season second on the team in dual wins, posting an overall record of 15-5 in dual matches while going 8-2 in the No. 2 spot for the Hurricanes…ended the season ranked No. 29 in the final ITA Southeast Region Individual rankings…named to the BIG EAST Championships All-Tournament Team…stepped into the No. 1 position during the season, downing 20th-ranked Mat Cloer of Florida State in a dramatic three set victory, 6-4, 4-6, (10-7) in his first career match at No. 1 singles…opened the 2004 dual season with ten consecutive wins in singles play…four of his five losses came at the hands of players that were either ranked at the time or finished the season ranked nationally…led All-American Janne Holmia of fourth-ranked Florida, 6-4, 4-2 before the match was called due to rain…opened the season with a win over Paul McNaughton, 6-7, 6-2, 6-2 of No. 38 SMU followed by a win over Renato Silveira, 7-6, 6-3 of No. 34 South Florida…downed Tommy Dennis, 6-2, 7-6 (6) of No. 63 Western Michigan and Brent D'Amico, 6-3, 6-3 of No. 43 Notre Dame…posted an overall record of 13-6 in doubles play during the dual season…with teammate Josh Cohen, went 8-3 in doubles play with an 8-2 mark in the No. 3 position…paired with Colin Purcell to go 2-1 in the No. 1 slot in doubles play…split singles play in the fall with an overall record of 5-5…took his first victory in opening round of the Miami Fall Classic with a win over N.C. State's R.J. Murray 6-4, 6-3…posted two consecutive victories at the Gator Invitational, downing Renato Silveira from South Florida 3-6, 6-4, 6-4 and Luiz Carvalho from Mississippi State 6-4, 6-4…won in the opening round of the ITA Southeast Championships over Murray State's Zakaria Bahri 6-0, 6-3 before falling to No. 9 Jesse Witten of Kentucky 6-0, 6-2…paired with teammate Josh Cohen for an overall record of 7-3 in doubles play during the fall…along with Cohen, put together a streak of five consecutive victories over the course of play in three tournaments before falling to the No. 5 tandem Bo Hodge and John Isner of Georgia 9-7 at the ITA Southeast Championships…with Cohen, won three straight matches at the Icy Hot/ITA All-American Championships.
2002-03 (Freshman):
Posted an overall record of 22-10 in singles play during freshman campaign with a .687 winning percentage…finished the season ranked second on the team in total wins (22) behind teammate Todd Widom…a solid player at the No. 5 spot with an overall record of 10-2 in dual matches…saw action in the No. 4 slot with a record of 3-2…overtook Dartmouth's David Webb 6-3, 6-4 to lead the Hurricanes to a 5-2 victory in his only time at No. 2…turned out a victory in his only appearance at No. 3 with a 6-3, 6-0 win over Blake Baratz of Wisconsin…put together a streak of nine consecutive victories, downing opponents from Clemson, Virginia Tech, American University, TCU, Georgia Southern, Wisconsin, Dartmouth, Notre Dame and South Florida in just two sets each…in doubles play, teamed with Widom for an overall record of 13-2 record primarily playing at No. 3.
Prep:
Named team captain and No. 1 player at Miami Sunset…led team to three state championship titles…garnered All-Dade honors each of his four years…earned Dade-County Most Valuable Player honors his senior year…named team's Most Valuable Player…won district and regional championship titles three-consecutive years…ranked No. 28 in Boys' 18 by the USTA…was a Miami Herald Scholar Athlete finalist.
Personal:
Majoring in English…graduated high school in the top one percent of his class.