University of Miami Athletics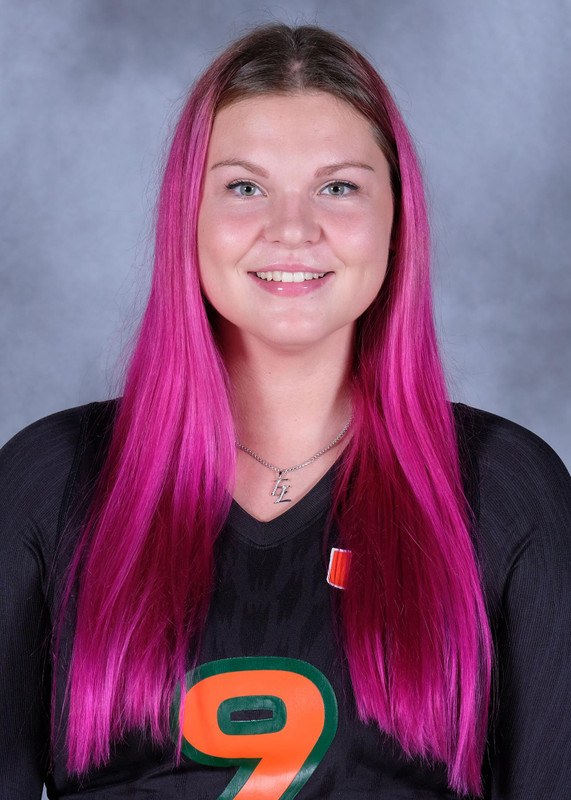 Second-Team All ACC 
2018 (Redshirt Sophomore): Tied a career-high in kills with 17 against FAU (Aug. 24), which she recorded last November against Virginia… Posted 10 kills and one block against FGCU (Aug. 25) and 12 kills and two blocks against UCF to end the Sunshine State Challenge… Finished with eight kills and one block in the opening match at the Puerto Rico Classic (Aug. 31)… Recorded 12 kills, two digs, and four blocks and had a .308 attack percentage against Missouri (Sept. 1)… Had five kills and one block assist against the Islanders (Sept. 7) and recorded nine kills against Texas Southern, posting a .727 hitting percentage (Sept. 8)… Tallied 10 kills, two digs and three blocks against Wake Forest (Sept. 21) and 15 kills and two solo blocks, a career high, against Duke (Sept. 23)… Recorded four kills and two block assists against Pitt (Sept. 28)… Finished with 15 kills, a .519 attack percentage and three blocks against Virginia (Sept. 30)… Tallied 11 kills and one solo block against UNC (Oct. 5)… Recorded her third-straight double digit kill match with 13 and a career high six block assists against NC State (Oct. 7)… Was a force on both sides of the net with 16 kills and a .375 attack percentage and three blocks against Syracuse (Oct. 12)… Continued to perform well with 13 kills and two solo blocks and one block assist against Boston College (Oct. 14)…Recorded five kills, three digs and one block assist against Clemson (Oct. 19) and 14 kills and two blocks against Georgia Tech (Oct. 21)… Produced a career-high 24 kills off a career-high 45 attacks and the led the Canes to a 3-2 win against Florida State (Oct. 24)… Finished with 10 kills off 15 attempts, one dig and one block in the 3-0 sweep against Virginia Tech (Oct. 26)… Recorded 11 kills and three blocks against then-No. 24 Louisville (Nov. 2)… Finished with nine kills and one dig at Notre Dame (Nov. 4)… Registered eight kills and one block at Wake Forest (Nov. 9)… Totaled a team-leading 16 kills and three blocks at UNC (Nov. 11)…Logged 15 kills and tied a career high with six blocks against No. 10 Pitt (Nov. 18)… Led the team with 22 kills and five blocks in the final match of the season at Duke (Nov. 23).
2017 (Redshirt Freshman): Debuted for the Hurricanes with three kills, an assist and two blocks against Little Rock (Aug. 25) … demonstrated enormous potential with 16 kills and a block at Southern Miss (Aug. 25) … hit a career-best .500 for two kills against Nicholls State (Aug. 26) and contributed two blocks … Had 19 kills over the course of the Sunshine State Classic, including weekend-best nine kills on a .533 hitting display against UCF (Sept. 2) … recorded career-high performances with three digs against FAU (Sept. 1) and four blocks at FGCU (Sept. 2) … finished the weekend with seven blocks … Debuted in the ACC with three kills, one assist and her first career solo block in the 3-2 win against Virgina (Sep. 24) … Contributed three kills and a block against Pittsburgh (Oct. 8) … Recorded her first career service ace along with ACC-best six kills and career-high four digs in win against North Carolina (Oct. 29) … Contributed six kills and a dig in a sweep over rival Florida State (Nov. 1) … Recorded five kills, three digs and two blocks at Pittsburgh (Nov. 3) … Recorded eight kills, two blocks and a dig in a win over Boston College (Nov. 9) before taking it a kill further for ACC-best 10 kills, two blocks and a dig in 3-1 win over Syracuse (Nov. 12) … Picked up a career-high of 17 kills on a team-best .467 hitting and topped it with three blocks in a 3-2 win at Virginia (Nov. 17) … Followed up the big performance with eight kills, a dig and three blocks at Virginia Tech (Nov. 19) … Tallied 12 kills, three digs and three blocks in a win over Georgia Tech (Nov. 22) before recording 13 kills and a block in a win over Clemson (Nov. 24) … Recorded 14 kills and two blocks in a four set win over Charleston (Nov. 30) in the NCAA Championships opener before adding nine kills, four digs and two blocks against Florida (Dec. 1).
2016 (Freshman):  Did not appear for the Hurricanes to retain eligibility.
High School: Lukianova is a big prospect with even bigger potential. The 6-foot-6 outside hitter has lots of experience playing in her native Russia. Lukianova has played for the VC Omichka club since 2013, playing for the junior team for three years before moving up to the Super League team in 2015. Lukianova helped her team win the championship of Russia, Siberia and the Far East in 2013 and finish second in the same tournament in 2014. Lukianova, who was a tennis player for seven years before trying volleyball in 2013, served as team captain of her Omsk youth team in 2014 and 2015 when they competed in the Russian Youth Championship.