University of Miami Athletics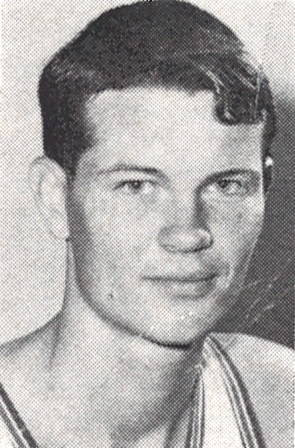 As a Junior (1968-69)
Named to the Helms Foundation All-America. At the time, the greatest shooting guard in UM basketball history. He averaged 27.6 points as a junior and became the nation's No. 7 scorer. He had 1,296 points to show in his first two years. In each of his first two campaigns, Curnutt averaged better than .800 from the free throw line. Four times as a sophomore and 11 times as a junior he scored more than 30 points a game and this came despite the fact he was double and triple teamed by every foe. He could not be checked on one-on-one situations. Don's big game as a sophomore was 39 points against Florida State, while he tallied 40 points against the same team as a junior. The slender 171-pound Tipton guard was a picture shooter with amazing skill from the outside. He could score from either side and last season became a strong threat on the drive-in shot. UM coach Ron Godfrey said: "Don Curnutt is without a question one of the truly great offensive performers in the country. The different defenses which opponents decised to use against him last yeast tells of his tremendous offensive power and the respect other teams have for him. He is without doubt the greatest outside shot I have ever seen anywhere at any grade of basketball."
As a sophomore (1967-68)
Don Curnutt shattered all UM sophomore offensive records, including those of Rick Barry. His 635 points and 268 field goals are the third highes ever for one season at Miami, as is his season scoring average of 22.7 points per game. Primarily an outside shooter, Curnutt was not fouled as frequently as some of the other top scorers in Miami history, but his deadly accuracy from the free throw line (.825) is seventh best for one season at Miami. Only Barry had more 20-point games in a season that the 19 turned in by Curnutt. The Hoosier wizard chalked up for 20-surplus point games. He saved his big night for his final appearance, when he hit 17 of 30 field goal tries and was five for five from the free throw line for 39 points against Florida State. His best free throw night was against Maryland when he hit on all 11 attempts. He had one stretch of 14 consecutive games in which he was above the 20-point mark. Only once was he under 10, and that was the second game of the season when he had nine against Washington in Seattle. Only once all season did Curnutt collect five personals fouls. While his lond, soaring two-pointers got the headlines, Don had an amazing assortment of shots from right or left and was a Grade A dribbler.
As a freshman (1966-67)
He redshirted his freshman season so he could have an edge over the other sophomores.
High School
As a senior he scored 639 points, and as a junior 368 points, including a night of 42 points. His coach Dick Barr, rated him as the finest player he has ever coached. As a junior he had individuals games of 29 points, 28 points, 25 points and 11 games of more than 20 points. In his senior years, the Tipton whiz averaged 22 points a game. His individual high was 42. 
| | | | | | | | | | | | | | | | | | | | | | | | | | |
| --- | --- | --- | --- | --- | --- | --- | --- | --- | --- | --- | --- | --- | --- | --- | --- | --- | --- | --- | --- | --- | --- | --- | --- | --- | --- |
| Year  | GP | GS | Min | Avg | FG | FGA | Pct | 3FG | 3A | 3Pct | FT | FTA | Pct | Off | Def | Tot | Avg | PF | FO | A | TO | B | S | Pts | Avg |
| 1967-68 | 28 | – | – | – | 268 | 559 | .480 | – | – | – | 99 | 120 | .825 | – | – | 64 | 2.3 | 51 | 1 | – | – | – | – | 635 | 22.7 |
| 1968-69 | 24 | – | – | – | 262 | 613 | .428 | – | – | – | 138 | 170 | .812 | – | – | 72 | 3.0 | 40 | 0 | – | – | – | – | 662 | 27.6 |
| 1969-70 | 25 | – | – | – | 283 | 644 | .439 | – | – | – | 143 | 166 | .861 | – | – | 54 | 2.2 | 41 | 1 | – | – | – | – | 709 | 28.4 |
| TOTAL | 77 | – | – | – | 813 | 1816 | .447 | – | – | – | 380 | 456 | .833 | – | – | 190 | 2.4 | 132 | 2 | – | – | – | – | 2006 | 26.1 |