University of Miami Athletics
Dominika Paterova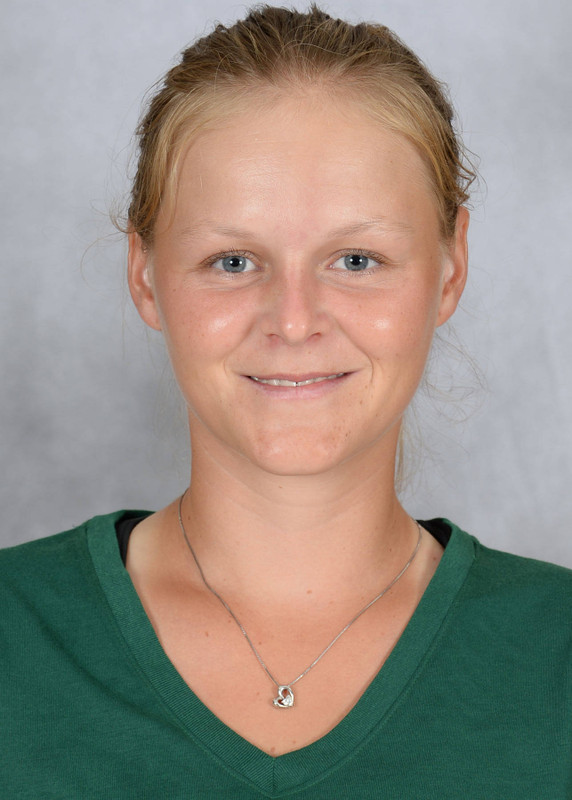 As a Sophomore (2017-18): Ended the campaign with records of 13-8 in singles and 19-6 in doubles … Ranked in doubles for three straight weeks with Ulyana Shirokova, peaking at No. 85 … Finished second among Hurricanes in overall doubles winning percentage (.760) … Also placed second in spring doubles victories (19) and winning percentage (.760), dual match doubles triumphs (16) and winning percentage (.727), as well as ACC doubles wins (10) and winning percentage (.833) … Ranked third in overall doubles wins and ACC singles winning percentage (.700) … Went 13-6 in spring singles action, including going 7-3 in ACC play and winning her final seven completed matches, while mainly playing at No. 6 … Logged a 6-4, 6-3 victory against UC Santa Barbara's Elizaveta Volodko at the No. 4 spot … Downed Shir Hornung, 6-4, 6-1, at No. 12 Oklahoma State … Topped No. 31 Clemson's Daniela Ruiz, 6-1, 6-0 … Began her winning streak by defeating Joanna Zalewski, 6-3, 6-3, in the Hurricanes' triumph at No. 19 Wake Forest … Beat No. 25 Syracuse's Dina Hegab, 6-3, 2-6, 1-0 (11-9) … Capped her streak by posting a 6-2, 6-3 victory against Emilia Granstrom of No. 22 UCF to clinch Miami's 4-3 comeback win in the NCAA Team Championship Round of 32 … Notched a 19-6 record in spring doubles action, including a 16-6 mark in dual matches at the No. 2 and No. 3 spots and a 10-2 ledger in ACC competition, with three different teammates … Partnered with Daniella Roldan for a 7-6 (7-4) win at Baylor over Angie Shakhraichuk/Theresa Van Zyl …  Competed with Shirokova for the final two-plus months and notched a 14-3 record in dual matches … Topped No. 16 Florida State's Ariana Rahmanparast/Carla Touly, 6-4 … Defeated Nadia Gizdova/Johnnise Renaud, 6-3, at sixth-ranked Georgia Tech … Logged a 6-3 victory over top-ranked North Carolina's Marikka Akerman/Makenna Jones … Won, 6-0, against Teodora Radosavljevic/Erica Susi at No. 21 Virginia … Recorded a 6-4 triumph over Courtney Meredith/Joanna Zalewski in Miami's victory at No. 19 Wake Forest … Downed No. 25 Syracuse's Dina Hegab/Maria Tritou, 6-4 … Went 3-0 in NCAA Team Championship matches, with a 6-2 win over LIU Brooklyn's Jennifer Gogova/Malin Leysen, a 6-2 victory against No. 22 UCF's Monica Matias/Natalia Serrano and a 6-3 triumph versus second-ranked Vanderbilt's Amanda Meyer/Christina Rosca … Missed most of the fall due to injury … Went 0-2 in singles, with both matches at the ITA Southeast Regional Championships … Did not play any fall doubles matches.
As a Freshman (2016-17): Went 16-19 overall in singles and 12-19 in doubles … Twice ranked, with Sinead Lohan, in spring doubles, peaking at No. 47 … Posted a 9-15 mark in spring singles action, including a 5-8 mark against ACC opponents, playing primarily at No. 3 … Earned her first spring victory with a 7-5, 3-6, 6-3 triumph against No. 17 Texas Tech's Sarah Dvorak in the Miami Spring Invite … Tallied her first dual match win by topping Ariana Rahmanparast of Florida State, 6-4, 6-3, in the opening ACC match of her career … Defeated Theresa Van Zyl of No. 10 Baylor, 6-3, 6-2 … Logged a 6-2, 6-0 victory versus Lyndsay Boos of Florida Atlantic for her first road victory … Tallied her first three-set spring win with a 6-4, 2-6, 6-2 victory on the road against Syracuse's Anna Shkudun … Downed Sydney Riley of No. 46 Clemson, 7-6 (7-3), 6-2 … Beat Pittsburgh's Gabriela Rezende, 7-6 (7-5), 6-3 … Stretched her winning streak to four in a row at Virginia Tech, edging Elena Cerezo-Codina, 4-6, 6-1, 1-4, ret. … Topped Juliana Cardoso of USF, 6-1, 6-1, in the opening round of the NCAA Team Championship … Recorded a 5-17 spring doubles mark, almost entirely at the No. 1 spot, while playing with five different partners … Posted a 5-4 record over her final nine completed matches … Playing with Maci Epstein, picked up her first spring doubles win by topping Alisa Rudenko/Heather Walton, 6-3, at Florida Atlantic … Registered her first ACC triumph with a 6-3 victory against Mariana Humberg/Abbie Pahz of Louisville … Won, 6-0, with Sinead Lohan against Longwood's Jamie Breunig/Fallon Burger … Topped the Boston College duo of Dasha Possokhova/Kylie Wilcox, 7-5, in the quarterfinals of the ACC Championship … Beat USF's Vera Bessonova/Olga Martinez, 6-2, in the NCAA Team Championship Round of 64 … Notched a 7-4 record in fall singles play … Defeated FIU's Maryna Veksler, 6-4, 5-7, 6-3, for the first win of her career, en route to going 2-1 at the Miami Fall Invite … Notched a 2-1 mark at the Bedford Cup and won her flight's consolation draw … Went 2-1 at the Wolverine Invitational … Finished 1-1 at the ITA Southeast Regional Championships … Logged a 7-2 mark in fall doubles action, all with Lohan … Tied for the team lead in fall doubles victories and fall doubles winning percentage (.778) … Opened her career with a 3-0 record in doubles in the Miami Fall Invite … Went 2-1 at the Wolverine Invitational … Posted a 2-1 mark at the ITA Southeast Regional Championships and made the quarterfinals.
Prior to Miami: Peaked as high as No. 54 in the ITF Juniors singles rankings … Achieved a WTA ranking as high as No. 773 in singles and No. 779 in doubles … Reached the quarterfinals of seven $10,000 singles tournaments, including the semifinals of the Sharm El Sheikh 6 in Egypt in February of 2014 … Advanced to the quarterfinals in 14 of 24 $10,000 doubles tournaments she competed in, making the semifinals seven times, including a trio of finals appearances … Earned 39 WTA singles wins, with 23 of them over players who have achieved WTA rankings, including 11 in the top 700 and four in the top 400 … Of those victories, 12 were against players ranked at the time, including six in the top 700 … Recorded 19 WTA doubles victories, with nine coming versus ranked pairs … Won ITF 2 singles titles in Tunisia in February 2012 and Germany in July 2012, as well as an ITF 1 doubles crown in Germany in June 2012 … Three-time singles runner-up in the Championship of Czech Republic … Played in junior grand slam events.
Personal: Full name is Dominika Paterova … Last name is pronounced Pat-Er-OH-Vuh … Nickname is Domi … Born Sept. 9, 1995 … Parents are Pavel Patera and Petra Paterova … Father, who is now a hockey coach, played in the NHL for the Dallas Stars and Minnesota Wild, won the 1998 Olympic gold medal and won four World Championship titles … Has a younger brother, Pavel, and a younger sister, Natalia … Intended major is undecided … Enjoys reading, listening to music and both watching and playing hockey … Favorite athlete is her father because he never gives up … Best sports memory is winning her first tournament as a child … Eats the same dinner the night before each match and the same breakfast the day of it … Chose Miami because of its quality academics and the level of the tennis team … Committed to Miami over Cal and TCU.
 SINGLES
YEAR
TOTAL
FALL
SPRING
DUAL
ACC
*RNK
2016-17
16-19
7-4
9-15
8-13
5-8
0-6
2017-18
13-8
0-2
13-6
11-5
7-3
0-1
CAREER
29-27
7-6
22-21
19-18
12-11
0-7
DOUBLES
YEAR
TOTAL
FALL
SPRING
DUAL
ACC
*RNK
2016-17
12-19
7-2
5-17
5-14
1-8
0-11
2017-18
19-6
0-0
19-6
16-6
10-2
0-2
CAREER
31-25
7-2
24-23
21-20
11-10
0-13
*RNK = record vs. ranked opponents