University of Miami Athletics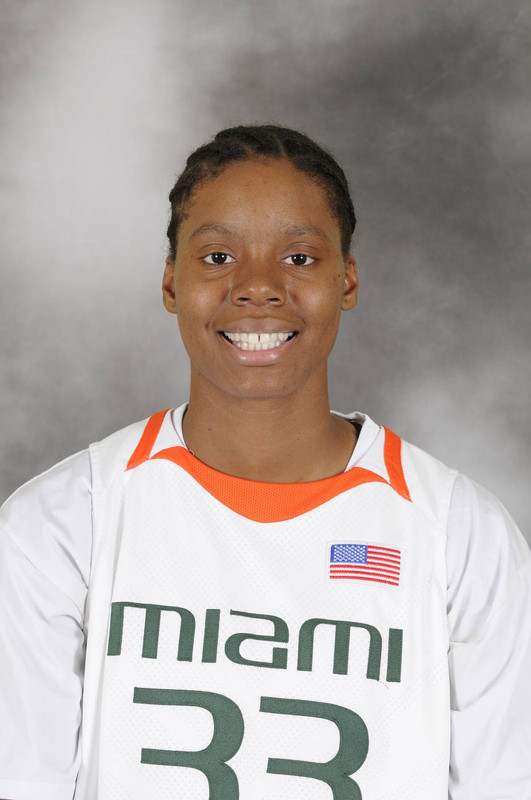 2008-09 (JUNIOR)
Scored eight points at Virginia (2/19)… Had seven rebounds and six points versus Wake Forest (2/1)… Scored eight points and grabbed 6 rebounds versus NC State (1/22)… Scored 10 points and recorded six rebounds at Boston College (1/18)… Led Miami with 11 points versus Georgia Tech (1/12)… Grabbed six rebounds and scored six points versus Clemson (1/5)… Scored 10 points and had six rebounds versus Indiana (12/5)… Scored a career-high 15 points versus Florida A&M (12/1)… Scored six points and a grabbed six rebounds versus Santa Clara (11/29)… Picked up a career-high three steals versus Austin Peay (11/28)… Played 22 minutes, grabbing six rebounds at FIU (11/25)… Scored 14 points versus Green Bay (11/16)… Recorded her first career double-double while setting a career-high with 10 rebounds with 12 points versus Norfolk State (11/14
2007-08 (SOPHOMORE)
Played in 29 games, starting nine… Averaged 2.3 points and 3.1 rebounds per game… Tied a career-high with six points while pulling down six rebounds at Florida State (2/28)… Pulled down a career-high seven rebounds at Clemson (1/10)… Scored four points and added two assists against No. 8 LSU… Recorded two steals against Southern Miss (12/18)… Scored four points versus Ole Miss (12/15)… Played 20 minutes versus Florida International (12/4)… Grabbed four rebounds versus Michigan (11/19)…Scored four points versus Jacksonville (11/13)… Blocked two shots versus Florida Atlantic (11/9).
PRIOR TO MIAMI
Played basketball for one year at Trinity Valley Community College (Texas)… Among the NJCAA Region XIV's leaders in both field goal percentage and scoring, averaging better than 10 points per game at higher than a 55-percent clip… Helped her team to the top of the regular-season standings in the conference with a 24-7 overall record and a 15-3 Region XIV mark… Played prep basketball for Kathleen High School and was named to the Florida Sports Writers Association Girls Class 4A Honorable Mention All-State Team as a senior in 2005… Four-time letterwinner.
PERSONAL
An English major, with aspirations to play professional basketball… Has two brothers and a sister.