University of Miami Athletics
Daniel Vallverdu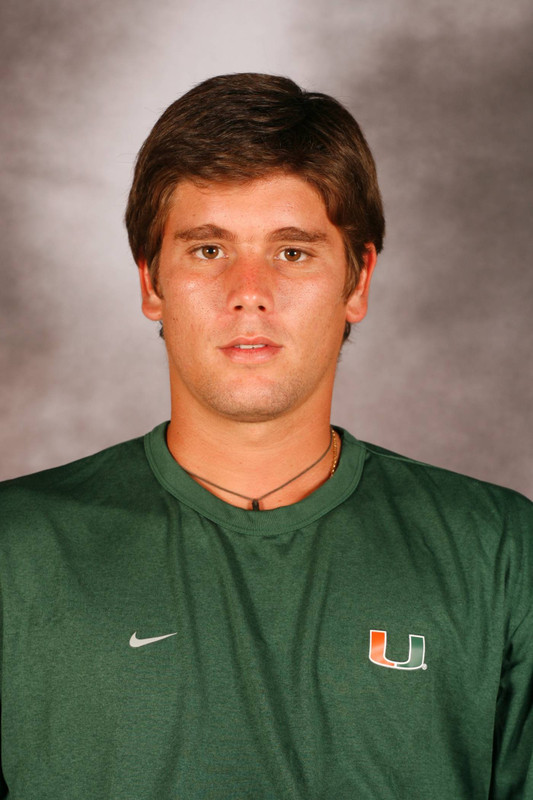 Senior 2008-09:
Fall: 7-2 singles, 1-1 doubles. Spring: 11-3 singles, 10-6 doubles. 
Entered the fall ranked No. 1 in doubles play with Carl Sundberg and No. 3 in singles competition… Went 8-2 in singles play, including four wins versus ranked opponents, and advanced to the finals of the ITA Southeast Regional Championships after topping Southern Cal's No. 5 Robert Farah, 7-6, 2-6, 6-1… Ranks among the top-five Hurricanes with 67 doubles wins and among the top 10 with 80 singles victories… Went 1-1 in doubles play with Sundberg… The top-ranked duo defeated North Carolina's No. 16 Clay Donato and Taylor Fogleman, 8-6, in the Round of 16 at the All-American Championships.
2007-08 (Junior):
Ranked in the top 10 throughout spring and as high as No. 3 en route to All-America (in both singles and doubles play), All-ACC and ITA Southeast Region Player to Watch honors… Played at the No. 1 position in both singles and doubles… Compiled a team-best 29-9 mark in singles play, including a 16-8 record versus ranked opponents and a 7-3 mark in the ACC… Went 11-8 during regular season versus players that advanced to the NCAA singles field — accounting for all of his losses… Knocked off two top-10 opponents — with straight-sets wins over Florida's No. 8 Greg Ouellette and Illinois' No. 9 Ryan Rowe… Seeded third in doubles and fifth in singles at NCAAs… Advanced to the NCAA Tournament's Round of 32 in singles and Round of 16 in doubles… Went 27-10 in doubles play, including a 25-9 record with Carl Sundberg… Those 27 doubles victories ties teammate David Rosenfeld for second-most doubles victories in a season — just one shy of the record… With Sundberg, went 17-6 in dual match play , 8-6 versus ranked duos and 6-3 in the ACC… Downed three top-10 tandems in ACC play — including an 8-4 victory over North Carolina's No. 4 Chris Kearney and Taylor Fogleman.
2006-07 (Sophomore):
Earned his second All-America honors — and first in singles play — after advancing to the Round of 16 in the NCAA Singles Tournament… Finished the season ranked 34th in the country with a 26-10 singles record… Selected to the All-ACC Men's Tennis Team and the Academic Men's Tennis Team for the second-straight season… Went 9-7 versus ranked opponents, including 2-1 versus top-10 players… Dominated third-ranked Ivan Puchkarov of No. 14 Oklahoma State, 6-0, 6-3, and also used straight sets to down No. 2 Ohio State's seventh-ranked Steven Moneke, 6-3, 6-4… Went 14-6 in dual match play, incluidng an 11-6 record at No. 2 and a 3-0 mark at No. 3… Won nine-straight singles matches in fall play, and opened dual play with a streak of six-straight victories… Picked up three match-clinching wins — versus No. 17 Rice, No. 30 Virginia Tech and in the ACC Tournament versus No. 45 Georgia Tech… At NCAAs, defeated Baylor's 11th-ranked Lars Poerschke, 7-5, 7-6, in the first round and again defeated Oklahoma State's Puchkarov , 6-4, 6-2, before falling to Moneke of Ohio State, 7-5, 6-3, in the Round of 16… Pairing with Vivek Subramanian, posted a 14-7 doubles record, including an 11-6 mark in dual matches at the No. 2 spot… Went 5-3 in ACC play… After wins over doubles pairs from No. 6 UCLA and No. 14 Oklahoma State, the tandem was ranked No. 52 in the nation… The duo won six-straight during the spring, including five versus pairs from ranked teams.
2005-06 (Freshman):
Helped Hurricanes sweep ACC accolades for the first time in league history as the 2006 ACC Freshman of the Year… Earned All-America honors in doubles play with Luigi D'Agord, and finished his inaugural season ranked 109th in the nation… Ranked as high as 30th during the season… Compiled a 17-7 overall singles record and went 9-2 in ACC play, including an 8-1 mark at the No. 2 position and a 1-1 mark at No. 3… Defeated four ranked players, including a straight-sets win (6-2, 6-1) over Michigan's No. 62 Ryan Heller to open collegiate play… 11 of his wins were versus opponents from ranked teams… All of his losses came to opponents from ranked teams… Went 21-6 in doubles, including a 19-5 mark in the No. 1 position with Luigi D'Agord… The pair finished 9-2 in ACC play and ranked as high as No. 10 in the nation… Finished the spring No. 13… Downed North Carolina's sixth-ranked pair of Brad Pomeroy and Raian Luchici, 8-3… Defeated a pair of top-30 doubles teams en route to a quarterfinal appearance in the NCAA Doubles Tournament… Had won seven straight, before falling in the NCAA quarterfinals to Pepperdine's third-ranked Scott Doerner and Andre Begemann, 6-7, 6-7… Named to the inaugural All-ACC Academic Men's Tennis Team.
Prep/Juniors:
Accomplished doubles player… Ranked as high as 15th in the ITF Junior Doubles rankings… In 2003, won both the 20th International Junior Tournament of Salsomaggiore and the 11th International Junior Tournament "Citta Di Prato"… Also picked up his third straight doubles tournament victory at the 25th International Junior Tournament Citta Di Santa Croce in 2003… That same year, advanced to the final round in both the Yucatan Cup and the Asuncion Bowl.
Personal:
Has played with Venezuela's Davis Cup team since 2004… Alongside Andy Murray, advanced to the second round of the Artois Championships in London in June 2008 after topping France's Richard Gasquet and Nicolas Mahut, 4-6, 7-5, 10-4 in the first round… Enjoys soccer and playing golf… A business management major.