University of Miami Athletics
Dane Dunlap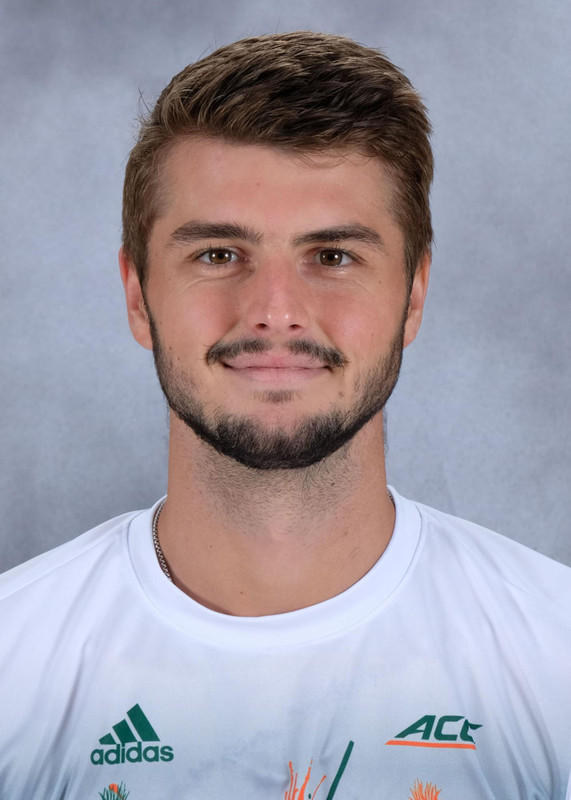 ACC Academic Honor Roll, 2015-16, 2016-17
All-ACC Men's Tennis Academic Team, 2017
As a Redshirt Sophomore (2017-18)
Fall: 5-4 singles, 6-2 doubles … earned two singles wins at the ITA Men's All-American Championships, advancing to the final pre-qualification round … triumphed in the Doubles A bracket of the Bedford Cup alongside Christian Langmo, defeating teammates Bojan Jankulovski and Adria Soriano, 6-3, in the final … defeated Georgia State's Amari/McCullough pair 8-5 to advance through the opening round of the ITA Southeast Championships (Oct. 12-16) doubles competition, where he was partnered by Langmo.
Spring: 12-12 singles, 15-7 doubles … made the No. 4 position his own, earning his first singles victory against New Orleans' Nicolas Kramer, losing only two games (Jan. 19) … swept singles play on home-opening weekend with a straight-set victory over Georgia Southern's Artemie Amari (Feb. 2) and a nail-biting 6-3, 2-6, 7-6 (2) win against Iowa's Joe Tyler (Feb. 4) … contributed a 6-2, 6-0 win over Bucknell's Max McDonald in Miami's 7-0 sweep over the Bison (Feb. 11) … Won 12 of the last 15 games against Charleston's Alec Angradi (Feb. 23) to prevail for second straight singles victory, 6-4, 6-2 … Returned to the win column with straight-set victories against Finbar Talcott (William & Mary) and Benjamin Slade (Cleveland State) in first doubleheader of the season (March 11) … Earned first ACC victory at No. 3 position, besting Tadas Babelis of No. 23 NC State, 4-6, 6-2, 6-3 (March 25) … completed a comeback against Notre Dame's Guillermo Cabrera (April 13) to reach double-digit singles victories … picked up two straight-set victories against No. 22 Duke (April 20) and Dayton (April 22) representatives, losing just six games across the two matches … In doubles, dominated the No. 3 position with Langmo, winning all seven matches together … partnered freshman Bojan Jankulovski to four more victories at No. 3, including duo's first ACC triumph, 7-6 (7-3), against No. 1 Wake Forest's Skander Mansouri and Alan Gadjiev (March 23) … The duo swept the weekend against South Alabama (March 30) and No. 38 Louisville (April 1) … Dunlap completed a sweep against Notre Dame's Cabrera, defeating him and Alexander Lebedev, 6-3, alongside Jankulovski (April 13) …The two finished the season with a 6-3 victory over North Florida's Till Von Winning and Sahil Deshmukh (May 12) in the first round of the NCAA Team Championship.
As a Redshirt Freshman (2016-17)
Fall: 2-4 singles, 2-7 doubles … After sitting out his freshmen year due to injury, opened his career with a pair of victories at the ITA Southeast Regional Championships … Defeated North Florida's Dominic Lea in the opening round … Defeated FAU's Arthur Stefani in the second round of the ITA Southeast Regional Championships … In doubles, teamed up with Christian Langmo to defeat Georgia Tech's Cole Fiegel and Phillip Gresk at the ITA Southeast Regional Championships … In the Bulldog Scramble, the duo defeated Dennis Uspensky and Alan Gadjiev (Wake Forest).
Spring: 6-9 singles, 8-8 doubles … In ACC play 2-5 singles, 2-4 doubles … Opened the spring campaign with a pair of singles victories at the No. 6 position … Against No. 39 Minnesota (March 17), defeated Justin Levin … Earned an ACC Victory at the No. 6 position over Boston College's Jeffrey Melvin (Apr. 7) … Defeated Michael Ogden (NC State) at the No. 6 position (Apr. 14) … Won against Boston College's Conor Mullins in the opening round victory of the ACC Championship (Apr. 26) …  In doubles, partnered with Langmo defeating Daniel Skripnik and Ognjen Trejgut (St. John's) to kick off the spring season (Jan. 20) … Earned back-to-back ACC victories against Boston College's Aldan McNulty and Kent Mukai (Apr. 7) and Notre Dame's Grayson Broadus and Brendon Kempin (Apr. 9) … Ended the season on a high note with a doubles victory in the ACC championship over Duke's Catalin Mateas and TJ Pura (Apr. 27).
Fall 2016: Book Buster Honor Roll (3.0+ GPA), Athletic Director Honor Roll  (3.2+ GPA) … Spring 2017: Book Buster Honor Roll (3.0+ GPA), Athletic Director Honor Roll  (3.2+ GPA), Dean's List (3.5+ GPA).
As a Freshman (2015-16)
Sat out the season with injury.
Fall 2015: Book Buster Honor Roll (3.0+ GPA), Athletic Director Honor Roll  (3.2+ GPA), and Dean's List (3.5+ GPA) … Spring 2016: Book Buster Honor Roll (3.0+ GPA), Athletic Director Honor Roll  (3.2+ GPA), and Dean's List (3.5+ GPA).
Juniors
Ranked as 25th-best junior player in Canada in singles and No. 21 in doubles, according to Tennis Canada's Rogers Rankings … Ranked No. 529 in ITF … No. 444 in USTA rankings … Played futures events in Greece, Canada and Mexico.
Personal
Born Dane Cooper Dunlap on Aug. 12, 1997 in Orilia, Ontario, Canada … Son of Nadine Deschenes and Lance Dunlap … Originally from Canada, has most recently been living in Plantation, Fla. … Majoring in business technology … Enjoys fishing, water skiing and cooking on the grill.