University of Miami Athletics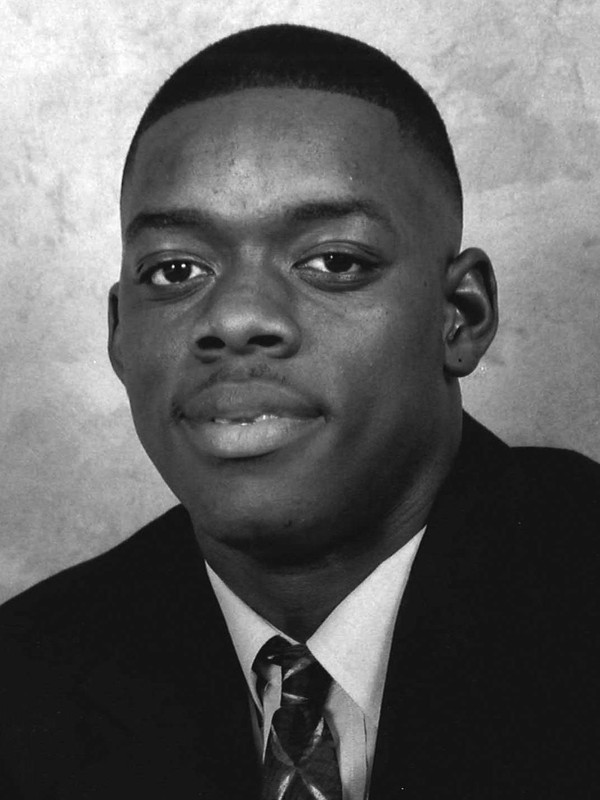 At Miami: Fourth-year senior who enrolled at UM in the fall of 1995…can play both the small forward and shooting guard positions and should battle for significant playing time again this season…possesses outstanding athletic ability and is a solid defender…chose UM because he wanted to play in the BIG EAST and felt comfortable with the coaching staff…is one of three Hurricanes from the state of Georgia.
As a Junior (1995-1996): Was one of nine Hurricanes to play in all 28 games…started UM's first 19 games…was co-recipient of the team's Hustle Award at its post-season banquet…finished tied for fourth on the team in steals (22) and tied for third in dunks (eight)…scored a game-high 24 points in 27 minutes against Seton Hall (Dec. 2)…the 24-point performance was the second highest by a Hurricane in his BIG EAST debut, one shy of Steve Rich's school-record 25-point outburst at Syracuse (Dec. 22, 1993)…his 24-point performance against Seton Hall also tied for the fifth highest scoring effort in a BIG EAST debut in league history and is tied for the fifth best scoring output by a Hurricane in a BIG EAST regular season game…let the 'Canes in scoring three straight games (Dec. 2-9), becoming the first Hurricane to lead the team in scoring in three consecutive games since Jamal Johnson accomplished the feat from Dec. 7-17, 1993…hit his first six field goal attempts against Florida A&M (Dec. 9) and finished with a team-high 16 points…scored in double figures on four occasions and led the team in scoring three times.
As a Sophomore (1994-95): Started all 29 games at Atlanta Metropolitan Junior College and earned National Junior College Athletic Association (NJCAA) All-America honorable mention honors after averaging 25.3 points, 6.2 rebounds, 3.5 assists and 2.8 steals…set school records in scoring (25.3 ppg) and steals (81)…was named a Blue Chip First-Team All-America selection…also received GJCAA all-conference and all-tournament honors while leading his squad to a 15-14 record…recipient of the team's MVP Award and Best Offensive Player Award…averaged 7.5 free throw attempts per contest…finished his career as the all-time leader in steals (122) in Atlanta Metropolitan Junior College history and second in scoring (1,046, 16.1 ppg), assists (227) and three-point filed goal percentage (.325)…connected on 51.4 percent (401-780) of his field goal attempts in junior college…had 10 30-point scoring efforts (nine in 1994-95) during his two-year stint, including a 38-point performance against Nassau Community College as a sophomore.
As a Freshman (1993-94): Appeared in 36 games and made 12 starts at Atlanta Metropolitan Junior College…received the team's Freshman of the Year Award and it's Scholarship Athlete Award…played point guard and led his squad to a 28-8 record, conference and regional championships and a trip to the National Junior College Finals in Hutchinson, Kansas…averaged 8.7 points, 3.5 assists, 2.6 steals and 1.1 steals in just over 21 minutes per game.
High School: Stewart Quitman High School in Lumpkin, GA…was an all-state performer and team MVP in basketball (guard), baseball (pitcher), and football (quarterback) as a senior…was runner-up for the Georgia Player of the Year in basketball as a senior after averaging 22 points, seven rebounds and five assists…named team MVP in basketball and football as a junior…received the team's Most Improved Player Award in both basketball and football his sophomore season…coached by Donald Stroy.
| | | | | | | | | | | | | | | | | |
| --- | --- | --- | --- | --- | --- | --- | --- | --- | --- | --- | --- | --- | --- | --- | --- | --- |
|   |   |   |   |   | 3-point |   |   |   | Rebounds |   |   |   |   |   |   |   |
| Year | GP-GS | MIN-AVG. | FGM-FGA | PCT. | FGM-FGA | PCT. | FTM-FTA | PCT. | OFF-DEF | TOT-AVG. | AS | ST | BK | TO | PF-DQ | PTS-AVG. |
| 1993-94* | 36-12 | 775-21.5 | 124-247 | .502 | 6-14 | .429 | 58-102 | .569 | 41-53 | 94-2.6 | 125 | 41 | 4 | 69 | N/A | 312-8.7 |
| 1994-95* | 29-29 | 805-27.8 | 277-533 | .520 | 21-69 | .304 | 159-218 | .729 | 69-111 | 180-6.2 | 102 | 81 | 3 | 88 | N/A | 734-25.3 |
| 1995-96 | 28-19 | 497-17.8 | 61-149 | .409 | 5-20 | .250 | 41-65 | .631 | 29-47 | 76-2.7 | 30 | 22 | 3 | 40 | 38-0 | 168-6.0 |
| Totals | 93-60 | 2077-22.3 | 462-929 | .497 | 32-103 | .311 | 258-385 | .670 | 139-211 | 350-3.8 | 257 | 144 | 10 | 197 | N/A | 1214-13.1 |
| At UM | 28-19 | 497-17.8 | 61-149 | .409 | 5-20 | .250 | 41-65 | .631 | 29-47 | 76-2.7 | 30 | 22 | 3 | 40 | 38-0 | 168-6.0 |
*At Atlanta Metropolitan Junior College