University of Miami Athletics
Christian Langmo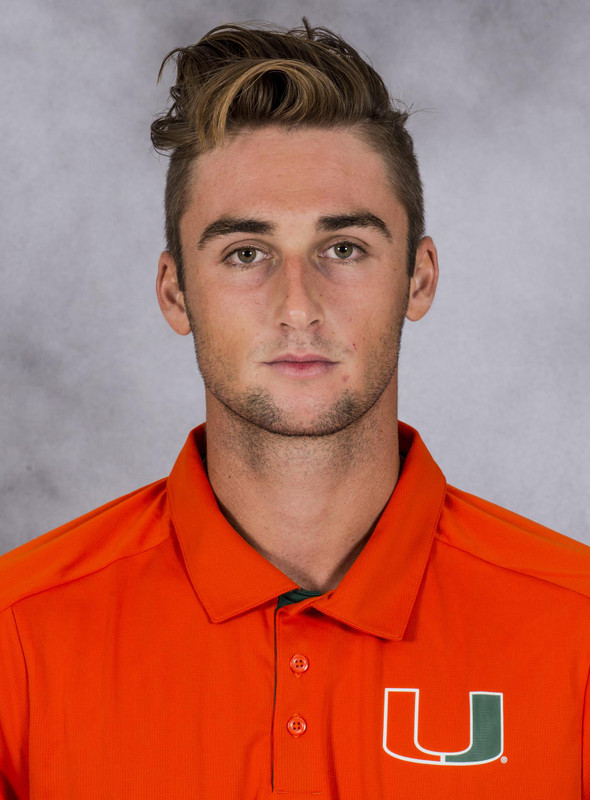 ACC Honor Roll – 2014-15, 2016-17
As a Senior (2017-18)
2018 All-ACC Third Team
ACC Doubles Team of the Week – March 20, 2018 (w/ Adria Soriano)
Fall: 8-6 singles, 8-3 doubles … advanced to the qualification stage of the ITA Men's All-American Championships with four straight victories … helped Dane Dunlap to the Doubles A trophy at the Bedford Cup in Tallahassee, Fla., defeating teammates Adria Soriano and Bojan Jankulovski, 6-3, in the match at the trophy, while also advancing to the semifinals in singles play … continued his fine form in both the singles and doubles competitions at the ITA Southeast Championships (Oct. 12-16) with a three-set comeback victory over FGCU's Oliver Landert and a doubles triumph over Georgia State alongside Dunlap … partnered freshman Tatsuki Shimamoto to two victories at the CCB Collegiate Invitational and the third place in the eight-pair White Doubles Draw (Nov. 10-12).
Spring: 16-8 singles, 17-9 doubles … quickly grew into the No. 1 singles position, earning his first victory against Georgia Southern's Stefano Di Aloy (Feb. 4), 6-2, 6-4 … undefeated in first seven home matches this spring, each of those duals won by the Hurricanes … extended his win streak to 10 matches with a three-set victory over UCF's Korey Lovett, 7-5, 4-6, 6-1 (March 18) … debuted at the No. 2 position with a 6-4, 4-6, 6-3 win against No. 23 NC State's Igor Saveljic (March 25), contributing to Miami's first ACC win over a top-25 opponent in over three years … holds a 5-1 record in three-set matches this season … contributed a key victory at three-time-reigning national champion Virginia (April 6) as Miami became the first ACC team to win in Charlottesville since 2006 … contributed Miami's first postseason point with a straight-set victory over NC State's Tadas Babelis at the ACC Championship (April 26) … earned his first NCAA Championship victory in Miami's sweep of North Florida (May 12), taking down Lasse Muscheites in straight sets … dominated the No. 3 doubles position alongside Dunlap, winning seven straight matches, losing a total of four games in last three victories … promoted to No. 1 alongside Nile Clark in doubleheader against William & Mary and Cleveland State (March 11), in which the senior tandem recorded two victories … defeated No. 11 Korey Lovett and Eero Vasa in debut with Adria Soriano, jumping to No. 50 in Oracle/ITA rankings … pair recorded second win in Miami's first ACC win of the season against No. 23 NC State (March 25), knocking down No. 53 Igor and Ivan Saveljic … defeated Louisville's 14th-ranked duo of Christopher Morin-Kougoucheff and Parker Wynn (April 1), 6-3, and No. 20 Aswin Lizen and Gianni Ross of Virginia (April 6), 7-6, to become the first Miami tandem to break into the top 20 nationally since 2009 (No. 18) … dominated at the No. 1 position against Boston College (April 15), grabbing a 6-2 victory … partnered fellow senior Niclas Genovese to a narrow 7-6 (7-4) victory against Dayton (April 22) in Miami's last home match of the season … edged North Florida's top pair, 7-6, alongside Soriano to clinch Miami's first point in the sweep over the Ospreys (May 12) and his first doubles win on the national stage … partnered with Soriano to a 7-5, 6-3 victory over Arkansas' Oscar Mesquida and Adam Sanrujo (May 24), for the program's first NCAA Doubles Championship victory since 2008.
As a Junior (2016-17)
Christian Langmo 2016-17 match-by-match 
Fall: 4-6 Singles, 3-5 Doubles … In the Southern Intercollegiate Championships, partnered with Piotr Lomacki to defeat Vanderbilt's duo, Daniel Valent and Tate Allwardt … Opened with a singles victory over Tennessee's Jack Schipanski at the ITA Men's All-American Championships … Defeated Georgia Tech's Cole Fiegel in straight sets at the ITA Southeast Regional Championships … Earned a victory over Chris Yun of Georgia Tech at the ITA Southeast Regional Championships … In a singles match with Wake Forest's Dennis Uspensky, won a straight set victory at the Bulldog Scramble … In doubles, teamed up with Dane Dunlap to take down Georgia Tech's duo of Cole Fiegel and Phillip Gresk at the ITA Southeast Regional Championships … In the Bulldog Scramble, the duo defeated Dennis Uspensky and Alan Gadjiev (Wake Forest).
Spring: 8-11 singles, 8-10 doubles … 2-9 singles, 2-6 doubles in ACC play … In singles, opened the season 3-0 in non-conference play, playing at the No. 2 position … From Jan. 20 through March 17, won six out of seven finished matches all at the No. 2 position … Kicked off the spring season with a win over St. John's Alan Nunez-Aguilera (Jan. 20) … Defeated Troy's Hassan Ndayishimiye (Feb. 4), followed by a victory over Remi Chancerel of FAU (Feb. 12) … Won three consecutive straight set matches against Ezequiel Cerrini (FGCU), No. 90 Nunez Diego (ETSU) and Jay Leelavanich (Boston University) from Feb. 25 through March 10 … Earned a pair of ACC victories against Boston College's Derek Austin (Apr. 7) and Notre Dame's Eddy Covalschi (Apr. 9) … In doubles, partnered with Dunlap defeating Daniel Skripnik and Ognjen Trejgut (St. John's) to kick off the spring season … Earned back-to-back ACC victories against Boston College's Aldan McNulty and Kent Mukai and Notre Dame's Grayson Broadus and Brendon Kempin (Apr. 9) … Ended the season on a high note with a doubles victory in the ACC championship over Duke's Catalin Mateas and TJ Pura (Apr. 27) … Finished 8-8 with Dane Dunlap (all at the No. 3 position) and 0-2 with Kevin Bondar.
Fall 2016: Book Buster Honor Roll (3.0+ GPA) … Spring 2017: Book Buster Honor Roll (3.0+ GPA), Athletic Director Honor Roll  (3.2+ GPA).
As a Sophomore (2015-16)
Christian Langmo 2015-16 match-by-match 
Book Buster honor roll (3.0), Athletic Director Honor Roll (3.2), Dean's List (3.5) 
Fall: 10-4 singles, 4-3 doubles … Played in singles finals at UVA ranked 1+1 after winning three matches … Upset No. 90 William Buschamuka (Kentucky) in three sets in quarterfinals … Posted two more wins at the ITA All-American Championship. Upset No. 82 Ricardo Jorge (Mississippi) and No. 95 Nick Bybel (Bucknell) in qualifying singles rounds … Went 2-1 at the 2015 USTA/ITA Division I Men's Southeast Regional Championship as the No. 9-16 seed. Defeated No. 108 Gordon Watson (Florida) and Karlyn Small (Florida A&M), fell to No. 24 Christopher Eubacks (Georgia Tech) in Round of 16 … Made it to the Lakewood Ranch Dick Vitale Intercollegiate Clay Court Classic quarterfinals. Defeated Jeffery Brown (Louisville) in quarterfinals then fell to teammate Max Andrews, the third seed, in semifinals … In doubles Langmo and Jesse Flores were 2-4 … Earned a victory over duo Chase Gordon and Daniel Santos (Tulsa). Then fell to No. 29 Duo Hayden Sabatka and Bart Van Leijsen (New Mexico) in Round of 64 of the ITA Men's All-American Championship … Tallied a win against Andrei Morin-Kougoucheff and Anthony Schonn in Round of 64 at 2015 USTA/ITA Men's Division I Southeast Regional Championship … At the Lakewood Ranch Dick Vitale Intercollegiate Clay Court Classic paired with Max Andrews, posting two straight victories. Appeared in semifinals but fell to Andres Alfonzo and Oliver Landert (Florida Gulf Coast). 
Spring: 7-1 singles, 5-2 doubles … 1-0 singles, 0-1 doubles in ACC play … Opened 2016 singles season ranked No. 70, then was No. 81 in early March … Only loss in singles play was against No. 106 Korey Lovett (Alabama) … Tallied five straight wins, including victory against No. 85 Marco Nunez (Florida State) … In doubles partnered with Jesse Flores in all seven matches, two at the top position and five at No. 2 … Won five consecutive matches from Jan. 16 to Feb. 15.
Spring 2016: Book Buster Honor Roll (3.0+ GPA), Athletic Director Honor Roll  (3.2+ GPA), and Dean's List (3.5+ GPA).
As a Freshman (2014-15)
Christian Langmo 2014-15 match-by-match
Fall 2014 – Athletic Director's Honor Roll (3.2+ GPA) and Book Buster (3.0+ GPA).
Fall: 4-8 singles, 2-8 doubles … Won a pair of matches at Olympia Fields Country Club Invitational.
Spring: 8-12 singles, 3-4 doubles … Tied for third on the team with eight singles wins, posting 8-12 overall mark … Played at the top four spots: No. 1 (1-2), No. 2 (5-8), No. 3 (1-0) and No. 4 (1-2) … Defeated No. 4 Ryan Shane of Virginia 3-6, 6-3, 6-4 and downed No. 20 Eddy Covalschi from Notre Dame 6-4, 6-4, to earn a pair of Top 20 victories … Won three-straight ACC matches against Clemson, Notre Dame and Boston College … Recorded 3-4 doubles mark playing all three positions … Paired with Wilfredo Gonzalez (1-2), Nile Clark (1-0) and Bernard Tefel (1-2) … Strong day against Clemson with both a singles and doubles win.
Juniors
Blue chip recruit and five-star recruit according to Tennis Recruiting Network … Ranked as high as No. 13 nationally and No. 2 in Florida on Tennis Recruiting … Attended Boca Raton High School where he played No. 1 in 2011 and 2012 … No. 4 Boys 18s national combined standings ranking as of August 2014 … 2014 Florida State Closed singles champion … 2014 National Sectional Tournament singles finalist and doubles champion … 2014 Level 4 designated champion … 2014 National Spring Team Championships-bronze ball … 2013 State Closed doubles champion … 2013 American Cup finalist … 2013 Bahamas ITF singles and doubles champion … 2013 Daytona Beach ITF singles finalist and doubles champion, earning a win over a Top 40 ITF player) … 2013 Plaza Cup Singles Champion … 2012 Copa Horizontes ITF doubles finalist and singles quarterfinalist … 2012 Pensacola Level 2 National singles finalist.
Personal
Born Christian Bradley Langmo Jun. 1, 1996 … From Boca Raton, Fla. … Son of Bradley and Anna Langmo … One sister, Alexandra, who played tennis and ran cross country at Georgia Southern University … Aspires to play professional tennis after college … Majoring in international studies … Chose Miami over Georgia Tech and Florida.