University of Miami Athletics
Christian Blocker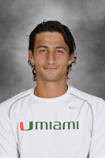 2010-11 (Senior):
Fall: 3-7 singles, 4-4 doubles. Spring: 10-14 singles, 11-12 doubles. 
Finished 13-20 in singles and 15-16 in doubles, playing at No. 1 position in doubles and at No. 1 and 2 in singles… Ranked No. 72 in singles in the preseason rankings… Posted a 3-6 singles record during fall competition and finished 10-14 in dual match play, with a 7-5 mark at No. 2 and a 3-9 mark at No. 1… Earned back-to-back wins over ACC opponents at No. 1, downing No. 59 NC State's Dominic Hodgson, 6-3, 7-6 (7-4), and No. 43 Maryland's 86th-ranked Maros Horny, 4-6, 6-4, 6-0… Opened dual match play with five straight-sets victories over his first seven matches, including knocking off No. 32 Arizona's Jay Goldman, 6-4, 6-4, during the ITA Kick-Off Weekend in College Station, Texas… After dropping the first set, bounced back to beat Florida State's Blake Davis, 2-6, 6-2, 10-7, in the first round of the UM Invitational… Knocked off Texas Tech's Ryan Ybarra, 6-4, 6-3, in consolation play at the Texas Invitational… Posted a 9-7 mark in doubles competition with Carl Sundberg – with a 7-4 record versus league opponents and an 8-3 mark at No. 2…The tandem put together winning streaks of four straight versus ACC duos and three straight… Defeated No. 36 Virginia Tech's 52nd-ranked pair of Luka Somen and Corrado Tocci, 8-4, at No. 2, and cruised past No. 16 Georgia Tech's Guillermo Gomez and Dean O'Brien, 8-2… Also knocked off No. 23 Minnesota's Tobias Wernet and Rok Bonin, 8-3… Went 4-4 in doubles during fall tournament competition, including a 3-1 mark pairing with Santiago Nieto, winning three straight… Routed Florida State's Andres Bucaro and Owen Long, 8-2, at the UM Invitational… Also defeated two duos at the Texas Invitational, downing Marquette's Jonathan Schwerin and Dan Mamalat, 8-6, and UT-San Antonio's Kolby Kilgo and Jannick Junger, 8-5.
2009-10 (Junior):
Fall: 5-4 singles, 5-3 doubles. Spring: 12-9 singles, 12-9 doubles. 
Put together a 17-13 singles record as a junior, playing predominantly at the No. 1 and 2 positions… Ranked as high as No. 99 in singles competition during the spring and as high as No. 60 in doubles action with David Simon… Went 12-9 in singles during dual match play, compiling a 10-2 mark at No. 2 and earned another two wins at No. 1… Knocked off a pair of ranked opponents, including rallying to defeat Duke's 86th-ranked Reid Carleton, 6-3, 6-7, 6-4, in a match that lasted more than three hours to clinch the match for the Hurricanes over No. 14 Duke… Used straight sets to defeat No. 50 USF's 91st-ranked Jamal Adderley, 7-5, 6-3… Won four of his last five matches that finished in ACC play, including defeating No. 51 NC State's Dominic Hodgson, 6-3, 6-0, in the ACC Tournament… Won six of his first seven matches in non-conference dual match play in the spring, with the lone loss in that span to No. 19 Bruno Rosa of 32nd-ranked Rice… Won six of seven matches that went to a third set during the spring… Compiled a 17-12 mark in doubles play, including earning a team-high 16 wins with Simon as the duo went 16-11 overall on the year, including a 12-9 mark in dual match play at No. 1… Earned five wins versus ACC duos… Defeated a pair of ranked opponents, downing No. 30 Wisconsin's 15th-ranked tandem of Moritz Baumann and Marek Michalicka, 8-5 and UCF's 24th-ranked duo of Marc Rocafort and Blaze Schwartz, 8-4… In the fall, went 5-4 in singles play, with three of those victories coming in straight sets… Advanced to the Round of 32 at the ITA Southeast Region Championships after knocking off Georgia's Will Reynolds, 6-0, 4-6, 6-4… Compiled a 5-3 record in doubles competition, including a 4-2 mark with Simon… The pair used an 8-2 victory at the ITA Southeast Region Championships to advance to the Round of 16, where the UM duo fell to the second-ranked tandem from host Georgia, 8-5.
2008-09 (Sophomore):
Spring: 9-12 singles, 10-12 doubles. 
Compiled a 9-12 overall record, including a 5-5 mark in ACC play in his debut for the Hurricanes… Played in the top-five singles positions during the spring, including two wins at No. 1, three wins at No. 2 and a perfect 2-0 showing at No. 5… Knocked off a pair of ranked opponents, including a 6-2, 6-4 win over No. 7 UCLA's No. 100 Michael Look in the NCAA Round of 16… Also defeated No. 16 Florida State's 55th-ranked Clint Bowles, 7-5, 4-6, 6-3, at the No. 2 position in ACC play… Won two-straight matches to close the season, including a 6-4, 1-6, 6-2 win over No. 10 Florida's Johnny Hamui in the second round of the NCAA Tournament… Posted a 10-12 mark in doubles competition, including a 10-10 record with David Simon… The duo – which played predominantly at No. 3 – won more doubles matches than any other Hurricane tandem, including a team-best 7-3 ACC mark… Did not compete during the fall season.
Prep:
Three-time German doubles champion… Advanced to the semifinals of the German singles championships four times… Ranked among the ETA's top 10 in under-14 division… Reached the Orange Bowl semifinals for under-12 players and then advanced to the quarterfinals in the under-14 division… Played Rafael Nadal in front of 4,000 spectators in the semifinals of an under-14 tournament.
Personal:
The son of Peter and Katja Blocker… Has one sister… Off the court, enjoys playing soccer and the guitar… Lists Roger Federer as his favorite athlete… An accounting and finance double major, earning a perfect 4.0 GPA in five straight semesters… Earned All-ACC Academic Men's Tennis Team accolades in 2008-09 and 2009-10… Also selected All-District III First Team in 2009-10 with a 3.91 GPA and in 2010-11 with a 3.94 GPA… Named to the Athletic Director's Honor Roll seven times (3.2 GPA or higher), as a UM Book Buster seven times (3.0 GPA or higher), to the Dean's List six times, to the Provost's Honor Roll six times and to the President's Honor Roll five times.